Anna Duggar Gets Support Amid Hubby Josh Duggar's Scandals
Anna Duggar has become famous for standing by her man Josh Duggar. And the 19 Kids And Counting alum did so even after his arrest for child pornography. But fans thought that Anna stayed loyal because she lacked choices.
However, now Amy Duggar King has revealed that Anna actually did get an option other than standing by Josh. And Amy revealed the offer she made to her cousin Josh's wife. Get all the details below.
Anna Duggar Spoilers – Didn't Need To Stand By Josh Duggar
Amy Duggar King repeatedly tried to contact Anna Duggar, the wife of Amy's cousin Josh Duggar, amid his scandals. But Amy did not get a response to her offers of support. However, Josh's cousin told People that she won't give up on Anna.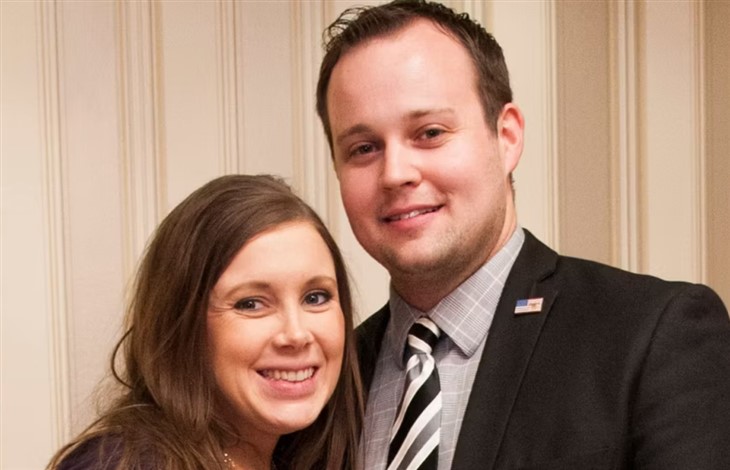 But Anna hasn't given up on Josh. And she stayed true to the 19 Kids And Counting alum amid his confessions of sexually abusing multiple young girls, including some of his own sisters. But Anna even forgave Josh for paying a woman from Ashley Madison, the website famed for supporting extramarital affairs. And amid Josh's sentencing for child porn, Anna stood by Josh.
However, Amy feels that Josh's actions shouldn't hurt his wife Anna. And she shared, "With Anna, I have tried. I have sent text messages, I have sent emails. I've tried, I've tried," added King. But Amy expressed concern that she could not get responses from Anna via social media or phone. And King underscored her desire to give Anna options.
Amy Duggar King Says She Feels She's 'Condoning' Abuse If She Doesn't Speak Out Against Her Family https://t.co/3k4CbL6ac9

— People (@people) June 2, 2023
Anna Duggar – Remains In 'Broken Place'
Josh's cousin shared her worries that someone could have decided to monitor Anna's phone. But although King tried various ways to contact Anna, "she wants nothing to do with it at all," added Amy. "And that's her decision."
But King also worried that Anna has gotten into "a very broken place." And she described the situation as "just heartbreaking." As a result, Amy thinks it will "take a really long time" for Anna to recover. "And if she ever does reach out, I am here for her," added Josh's cousin. She shared her willingness to "welcome all of those kids and Anna into our home. We have bunk beds, we could do something really cool," said Amy.
And so as Anna stays loyal to Josh, Amy feels positive that she "offered" shelter. "And that's really all I can do is just hope and pray that she opens her eyes. That's all you can do," added Amy. "It just sucks because I want to be there and I want to help. And it doesn't have to involve cameras or fame or anything. It's just family reaching out to family. Unfortunately, she doesn't see it."
Josh Duggar's – Hand 'Stuck In Cookie Jar'
But Amy will not offer that same support to her cousin Josh. "Josh, I will not reach out to, honestly," she said. "Because it's just so heartbreaking. I can't, I literally can't," added Amy. "And I don't want to. I'll just be honest. His hand was stuck and found in the cookie jar with Ashley Madison. And his hand was stuck again in the cookie jar when the last scandal, it just took the cake."
As a result of Josh's child porn sentence, King views his actions as "so filthy and so wrong and so evil. And I hate it. It just hurts my heart so much. I'm not going to reach out. I am done with that. It's just so sad. So for me, I won't reach out."
Tell us what you think. Do you feel that Anna Duggar might accept Amy's offer? And after you share your views, check back on our site for more reality TV news.