Days of Our Lives Spoilers Tuesday, July 18: Belle's Tug of War, Leo's Guilt, Brady's Criminal Consequences
Days of Our Lives spoilers for Tuesday, July 18 reveal that Belle Brady (Martha Madison) gets involved in Kristen DiMera's (Stacy Haiduk) tug of war. Jada Hunter (Elia Cantu) grills Brady Black (Eric Martsolf) about his shooting threat. Plus, Leo Stark (Greg Rikaart) goes home to Gwen Rizczech (Emily O'Brien) but is overwhelmed with guilt about Dimitri von Leuschner (Peter Porte).
Belle Brady's Tug of War
DOOL spoilers for Tuesday, July 18 reveal that Belle will get involved in a tug of war. Fans recall when Kristen demanded that Brady revise the custody agreement. In a surprise, Brady signed the paperwork without missing a beat. However, Brady then pulled out a gun and pointed it at Kristen.
While fans understand what finally led Brady to this point, Rachel Black (Finley Rose Slater) doesn't. Granted, the child is a brat who really needs some firm guidance. However, she is also a little girl who walked in to see her father pointing a gun at her mother.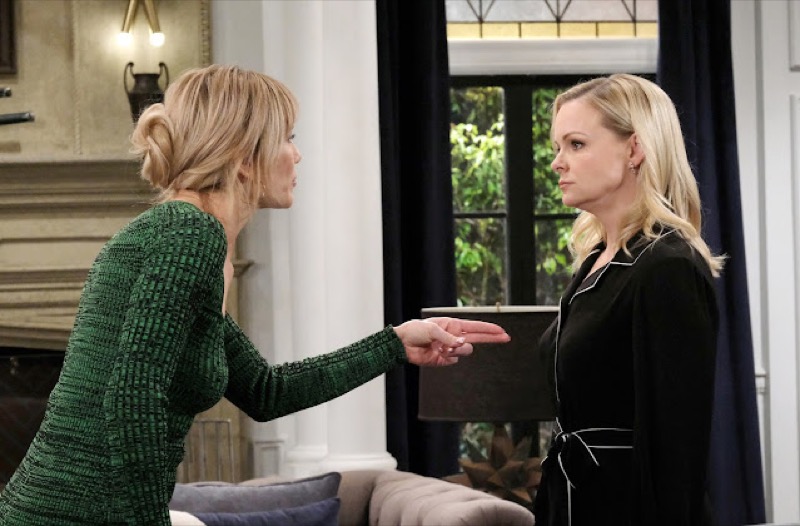 Remember, Rachel doesn't know all the awful things her mother has done. All she knows is that her father was going to kill her mother – at least in her eyes. It could damage Brady and Rachel's relationship forever.
DOOL Spoilers: Brady Black Grilled
Speaking of Rachel, Brady's problems will just continue to grow. Kristen tells Belle that Brady threatened her with a gun. Then, Brady is blindsided when Jada questions him about the incident. Even though Brady pleads his case, but what will Jada do about this?
Unlike other detectives in Salem, Jada doesn't know everyone the way Shawn Brady (Brandon Beemer) or Rafe Hernandez (Galen Gering) does. So, Jada might get caught up in Kristen's web.
Leo Stark's Guilt
Days of Our Lives spoilers for Tuesday, July 18, fans can also expect Leo to return home to Gwen. Fans were pretty shocked when Dimitri suddenly expressed his passionate interest in Leo. At first, Leo thought that Dimitri was pulling some kind of trick. However, Dimitri and Leo ended up in bed together.
Despite the fact that Gwen is Leo's BFF, he will try to keep his passion with Dimitri a secret. The only problem is that Gwen is marrying Dimitri. So, when Leo and Dimitri's secret comes out, how will Gwen handle it? What we do know is that Leo's guilt will become overwhelming.
Days of Our Lives Spoilers: Tuesday, July 18
On Tuesday, July 18, fans can also expect Li Shin (Remington Hoffman) to get a surprise. After everything, Li gets an unexpected visitor. It turns out to be Gabi Hernandez (Camila Banus). So, what is Gabi's visit all about and could it lead to her exit?
Share your thoughts in the comment section below. Remember to keep watching the soap on Peacock to find out what happens next.
Be sure to catch up on everything happening with DOOL right now. Come back often for Days of Our Lives spoilers, news, and updates.