Days Of Our Lives Spoilers Tuesday, September 26: Hidden Heirs, Secrets Overheard, Wedding Crashed
Days of Our Lives spoilers for Tuesday, September 26 reveal that Alex Kiriakis (Robert Scott Wilson) learns a paternity bombshell. Meanwhile, Chloe Lane (Nadia Bjorlin) decides to end her engagement.
Days of our Lives Spoilers Highlights
Elsewhere, Sarah Horton (Linsey Godfrey) is torn over her upcoming wedding to Rex Brady (Kyle Lowder). Also, Justin Kiriakis (Wally Kurth) and Maggie Horton (Suzanne Rogers) deal with a new revelation. Keep reading to find out what is coming up in the Peacock soap opera.
Days Of Our Lives Spoilers – Sarah Horton's Torn Heart
DOOL spoilers for Tuesday, September 26 reveal that Sarah is planning to marry Rex. Even though Maggie urged Sarah to reconsider, the new mother isn't changing her mind. Despite Sarah's stubbornness, she will still doubt if she's making the right decision.
Sarah could continue to have flashbacks of Xander Cook Kiriakis (Paul Telfer) helping her during childbirth. Meanwhile, Xander could keep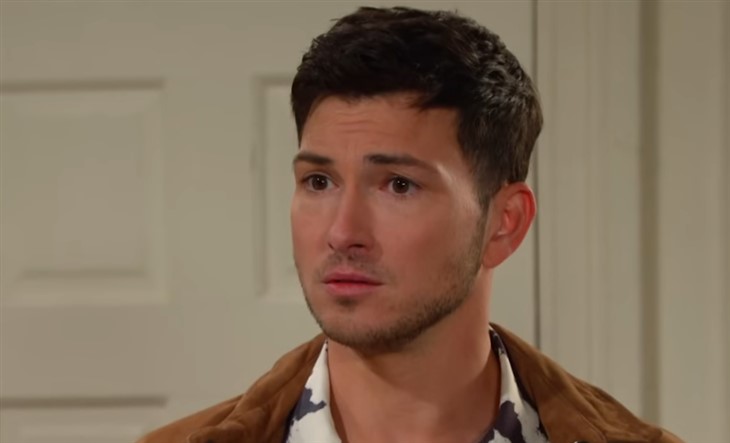 DOOL Spoilers – Chloe Lane's Decision
Sarah does go ahead with the plan to marry Rex. That doesn't necessarily mean the two characters will end up husband and wife, though.
It is teased that on Tuesday, September 26, Rex opens up to Philip Kiriakis (John-Paul Lavoisier) about Sarah's baby daddy secret. However, the men are unaware that Chloe accidentally overhears their conversation.
This leads Chloe to make a big decision. After some thinking, Chloe cries as she returns the engagement ring to Xander. Then, Chloe explains why she can't marry him… because he is the father of Sarah's baby.
MUST READ – DOOL Spoilers: Lamon Archey, Who Plays Eli Grant, Welcomes Baby Daughter
Days Of Our Lives Spoilers – Alex Kiriakis' Life-Changing Discovery
Days of Our Lives spoilers for Tuesday, September 26 reveal that Alex will make a discovery that changes his life forever. Justin admits the truth to Alex. Justin confesses that he isn't Alex's father.
Alex will be confused, which will lead Justin to explain. According to Soap Opera Digest magazine, Victor Kiriakis (John Aniston) is Alex's biological father.
There might also be a scene showing how the truth impacts Justin emotionally. Alex isn't the only one that will have mixed emotions. Justin is seen in the weekly preview clip sobbing in Bonnie Lockhart Kiriakis' (Judi Evans) arms.
READ THIS: Find out what happens next on Days Of Our Lives.
Days Of Our Lives Spoilers – Tuesday, September 26
On Tuesday, September 26, fans can also expect Justin and Maggie to deal with another bombshell revelation.
This must be connected to Victor's will, but why all the secrecy and mystery? Plus, what does this mean for Maggie, Vivian Alamain (Louise Sorel) and the other Salemites?
Which storyline are you looking forward to seeing the most on Tuesday, September 26? What are your predictions for Sarah, Xander, Chloe, Rex, Alex and Justin?
What does the future hold for Maggie, Vivian, Philip and the other Salem residents? Share your thoughts in the comment section below. Remember to keep watching the soap on Peacock to find out what happens next.
Be sure to catch up on everything happening with DOOL right now. Come back often for Days of Our Lives spoilers, news, and updates.