General Hospital Spoilers Tuesday, September 26: Carly Blasts Ava, Dante's Warning, Gladys Freaking, Chase Suspicious
General Hospital spoilers for Tuesday, September 26, 2023, reveal a lot of drama in the aftermath of Sasha Gilmore's (Sofia Mattsson) escape and Drew Cain's (Cameron Mathison) attack.
Gladys Corbin (Bonnie Burroughs) pretends to be concerned. Dante Falconeri (Dominic Zamprogna) issues a warning to Cody Bell). Carly Spencer (Laura Wright) confronts Ava Jerome (Maura West) and more.
General Hospital Spoilers Highlights
General Hospital Spoilers reveal Harrison Chase (Josh Swickard) wonders what is going on. Of course, Sam McCall (Kelly Monaco) and Dante have been working with Cody Bell to save Sasha.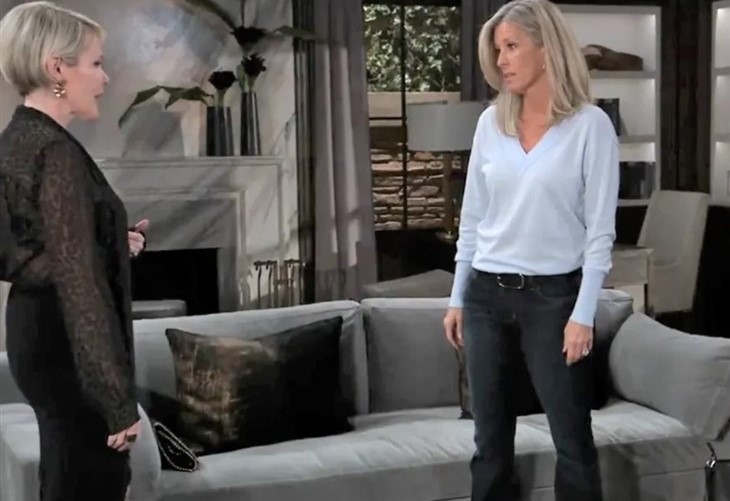 General Hospital – Gladys Corbin Knows Her Times Is Up
After all, Cody knew what Gladys had been up to and had himself committed to save Sasha. Now Cody has to prove what happened and Chase just maybe who they need to help them.
Gladys asks where Sasha is as if she didn't know that Sasha had been on the run. Gladys has been stealing from Sasha for months and Cody finally told Sasha the truth.
Now is it time for Gladys to be put in the hot seat and pay for what she has done? Can someone get a confession out of Gladys before Cody ends up in prison?
GH Spoilers – Dante Falconeri Worries About Cody Bell
Dante gives Cody bad news. Cody attacked a doctor and assaulted him while kidnapping Sasha for all intents and purposes.
If the cops cannot get the truth out of Gladys, Cody could end up in prison even though he saved Sasha's life.
READ THIS: Find out what happens next on General Hospital.
Will Sasha finally get justice for herself and Cody? Will Gladys finally pay for everything she has done to Sasha?
MUST READ – GH Spoilers: Nikolas Here And Gone Again, Is Tyler Christopher Returning?
Jake needs Liz's help. Jake has turned to his mother about the issues Charlotte has been having. Of course, that doesn't mean that Liz knows everything that is going on.
Valentin knows what Charlotte has been up to. Charlotte is very afraid of Anna's relationship with her father and that has been driving her to do some very bad things.
General Hospital Spoilers – Valentin Cassadine Has Thinks He Has A Solution
Valentin Cassadine (James Patrick Stuart) has a question for Charlotte Cassadine (Scarlett Fernandez). Valentin believes that Charlotte is acting out because she is upset over everything she has been through in her life.
Valentin wants to know how Charlotte feels about Anna Devane (Finola Hughes) moving in with them. Will Charlotte give her secret away?
Carly Confronts Ava. Carly is furious over what happened to Drew at Pentonville and she not only unleashes on Sonny Corinthos (Maurice Benard) but she comes at Ava too.
Carly knows that Ava is tied to whatever Sonny is dealing with and it almost got Drew killed. Of course, Ava could remind Carly that she is the reason Drew is behind bars.
Be sure to catch up on everything happening with GH right now. Come back here often for General Hospital spoilers, news, and updates.