Days Of Our Lives Spoilers: Victor's Chaotic Aftermath, Alex Turns To Vivian After Kiriakis Family Betrayal?
Days of Our Lives spoilers reveal that Vivian Alamain (Louise Sorel) tried to use Alex Kiriakis' (Robert Scott Wilson) vulnerabilities to get him to accept a job at Titan. Alex didn't take the bait, but he could after learning about Victor Kiriakis' (John Aniston) paternity bombshell. Keep reading to find out how Vivian could use Alex's family situation to sway him to her side.
Days Of Our Lives Spoilers – Vivian Alamain's Target
DOOL spoilers reveal that ever since Victor's death, Vivian has made her presence known in Salem.
Usually, Vivian targets the DiMera family. This time, Vivian has her hooks into Victor's estate, fortune and company.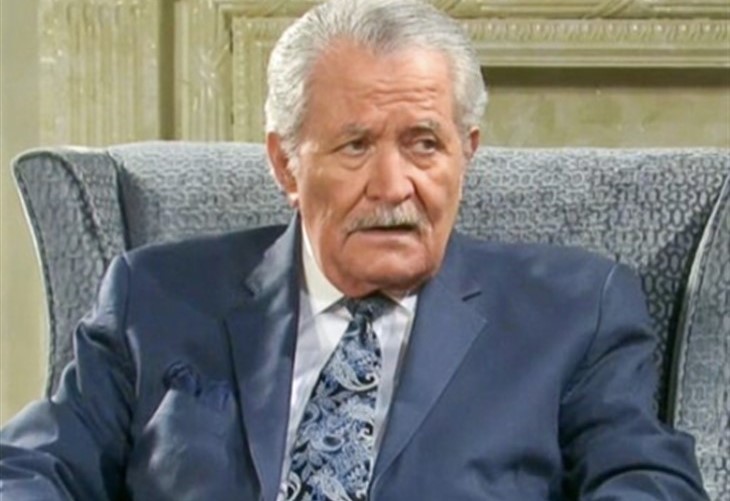 Vivian has been trying to find someone in Salem to be her right hand at Titan Industries. So far, Vivian has received rejections from John Black (Drake Hogestyn), Chad DiMera (Billy Flynn), Philip Kiriakis (john-Paul Lavoisier) as well as Alex.
DOOL Spoilers – No Traitor Stance
During Vivian's conversation with Alex about Titan, the villain did plant a little seed. Even though Alex rejected the villain's offer, Vivian brought up a tiny detail that could change everything in a few weeks. Vivian mentioned that Alex seems to have a "killer instinct," which is what Victor always said to him.
So, that comment definitely tugged at Alex. Even though Alex still said no, that could change once a paternity bomb drops.
Days Of Our Lives Spoilers – Justin Kiriakis' Paternity Bombshell
Days of Our Lives spoilers reveal that Justin will probably tell Alex the truth on Tuesday, September 26, 2023.
Now, there is still reason to doubt these letters that claim Alex is Victor's son. However, that might not come out for a while.
In the meantime, Vivian learns shocking information about Victor's will. By Friday, September 25, 2023, Vivian finds out that Victor's rewritten will was found.
Vivian also learns that Victor split his estate into two halves. One half goes to Maggie Horton (Suzanne Rogers) and the other to his unacknowledged son.
Now, Victor's will didn't specify the name of the individual. However, Justin and Maggie figured it out by reading the letters.
One of the letters was allegedly from Anjelica Deveraux (last played by Morgan Fairchild) to Victor. So, that led them to the conclusion that Victor was referring to Alex.
DOOL Spoilers – Alex Kiriakis' 180?
Alex just made a big speech to Vivian about how Maggie and Bonnie Lockhart Kiriakis (Judi Evans) are his family. Alex also told Vivian that he isn't a traitor.
However, Alex's "no traitor" and "family" stance could change. Alex might feel that the people he trusted the most deceived him.
Alex might also want to blame someone. In situations like these, sometimes the blame gets tossed toward innocent people.
Alex isn't very good at handling deep and complex emotional situations. So, Alex might take Vivian's bait. If Alex does, let's hope that "killer instinct" will stop Vivian dead in her tracks.
Be sure to catch up on everything happening with DOOL right now. Come back often for Days of Our Lives spoilers, news, and updates.