Days Of Our Lives Spoilers Wednesday, July 26: Leo's Guilt, Nicole's Discovery, Alex's Interruption
Days of Our Lives spoilers for Wednesday, July 26 reveal that Leo Stark (Greg Rikaart) will try to ignore his guilt to support Gwen Rizczech (Emily O'Brien). Nicole Walker (Arianne Zucker) finds out about Sloan Petersen's (Jessica Serfaty) pregnancy. Plus, Alex Kiriakis (Robert Scott Wilson) once again interrupts Stephanie Johnson (Abigail Klein) and Chad DiMera's (Billy Flynn) special evening.
Days Of Our Lives Spoilers – Leo Stark's Guilt
DOOL spoilers for Wednesday, July 26 reveal that Leo will be overwhelmed with guilt. Leo is keeping two huge secrets from his BFF and partner-in-crime. Leo is having a secret romance with Gwen's soon-to-be-husband, Dimitri von Leuschner (Peter Porte). Plus, Leo is aware of why Dimitri is marrying Gwen so quickly. It is due to the fact that Dimitri must marry a woman before his 40th birthday to inherit a massive amount of money.
Leo feels bad about deceiving Gwen, especially after all the heartbreak she's endured. However, Leo will keep his mouth shut and support Gwen on her wedding day.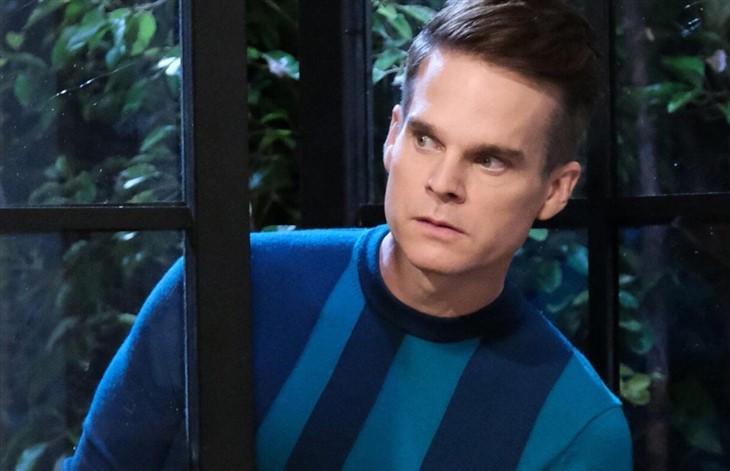 DOOL Spoilers – Nicole Walker's Discovery
On Wednesday, July 26, fans can expect Nicole and EJ DiMera (Dan Feuerriegel) to learn that Sloan is carrying Eric Brady's (Greg Vaughan) baby. Now, it's clear that "Ericole" still have feelings for each other. However, a lot has happened, and both feel that there is no going back.
At the same time, when Nicole learns that Eric and Sloan are having a baby together, it could make her a bit sad.
Days Of Our Lives Spoilers – Sloan Petersen Panics
Days of Our Lives spoilers for Wednesday, July 26 reveal that a whole lot of effort is being put into stopping Nicole from finding out the real identity of the baby daddy. Sloan doesn't even know if the baby belongs to Eric. So, Sloan could be doing all this scheming for nothing.
DOOL Spoilers – Wednesday, July 26
On Wednesday, July 26, fans can also expect Chad and Stephanie to plan a nice evening together. Fter all, their first night together in the apartment was rudely taken over by Alex.
It seems that will happen once again. It is teased that Chad and Stephanie's evening plans are interrupted once again. This will probably be some kind of "emergency" visit from Alex.

Chad is already starting to lose his cool. Stephanie can only hold back her man for so long. So, Alex might want to tread carefully. At the same time, Stephanie needs to lay down firmer boundaries.
Which storyline are you looking forward to seeing the most on Wednesday, July 26? Share your thoughts in the comment section below. Remember to keep watching the soap on Peacock to find out what happens next.
Be sure to catch up on everything happening with DOOL right now. Come back often for Days of Our Lives spoilers, news, and updates.
For more about what's happening on your favorite soaps and more ways to connect with us, join the conversation on our YouTube Page or our Facebook Page, check out our Twitter feed, look for an update on our Instagram, follow us on Threads , Always stay up-to-date with us on Google News, or drop us an e-mail HERE! See you there!