DOOL Spoilers: Chanel Reunites With Johnny, Allie Horton Returns?
Days Of Our Lives (DOOL) spoilers hint that Chanel Dupree (Raven Bowens) and Johnny DiMera (Carson Boatman) could reunite soon.
They had a great thing going before the Devil and Allie Horton (Lindsay Arnold) came between them.
Still, they've danced around a romantic reunion for months now. Allie broke Chanel's heart and left Salem in February 2023.
Now that Dupree's inching towards Johnny again, could Ms. Horton return?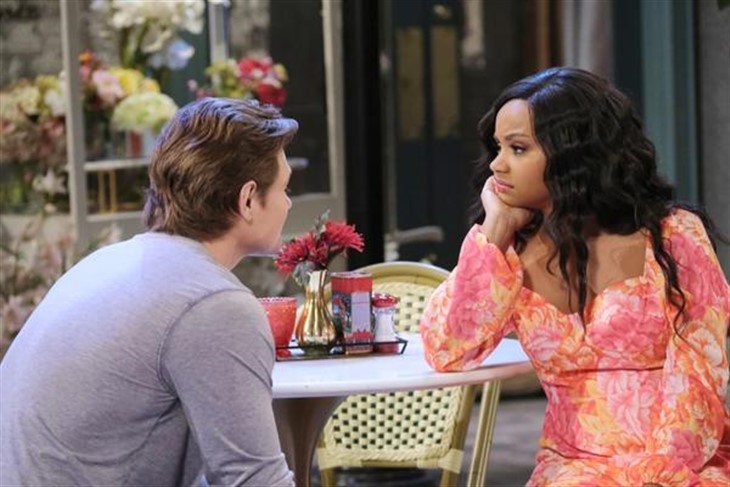 Days Of Our Lives Spoilers – It's Taken Chanel Dupree & Johnny DiMera Far Too Long To Come Together
Days spoilers hint that Chanel and Johnny may finally get a chance to come together and give their relationship another try.
The two made a fantastic super couple, with tremendous chemistry, and great communication. Makes no wonder why they remained good friends despite the breakup.
Still, after Allie left town, instead of running into Chanel's arms, Johnny seemed adamant about trying to give a romance with Wendy Shin (Victoria Grace) a go, despite the clear attraction she had to Tripp Johnson (Lucas Adams).
Wendy ended up "choosing" Tripp because she could shake the connection, she saw Johnny had with Chanel. It's like she could see something he couldn't.
It's taken a little longer than fans of the Johnny-Chanel coupling would have liked; however, it's nice to see the two coming together.
DOOL Spoilers – Trouble In Paradise?
As Chanel and Johnny are finally coming back together, it makes complete sense that Allie will roll back into town, even if it is just for "a visit".
Her name has been tossed around recently, as it was mentioned that she's doing well in New Zealand and has even found a new love interest of her own.
But what if this new person in her life breaks her heart? What if they "do her wrong"? Could she run back to her hometown for support?
Could this cause issues for Johnny and Chanel? Would Dupree naturally allow Allie back into her life, heart, and bed?
Could Allie Horton return to Salem now that Johnny and Chanel are on the cusp of a romantic reunion? Comment below!
Tune into the popular Peacock soap daily to see what happens next and visit this site regularly for the latest Days of Our Lives spoilers, news, and updates.