DOOL Weekly Update: Drugs & Murder, Baby Demands, Holly's Criminal Consequence
Days of Our Lives spoilers for the week of November 20 are in. Fans can expect Ava Vitali (Tamara Braun) to be the victim of an attempted sexual assault. That leads to Harris Michaels (Steve Burton) questioning Ava about Gil's (David. S. Lee) murder. Nicole Walker DiMera (Arianne Zucker) demands to see her "dead" baby.
Plus, Holly Jonas (Ashley Puzemis) exhibits suspicious behavior, which could connect to Harris investigating Salem's drug crisis. Keep reading to find out what is coming up in the CBS soap opera.
Days of our Lives Spoilers Highlights
DOOL spoilers for Monday, November 20 reveal that Xander Cook (Paul Telfer) makes a decision about the custody war. After Sarah Horton's (Linsey Godfrey) scathing words, Xander makes a bold decision.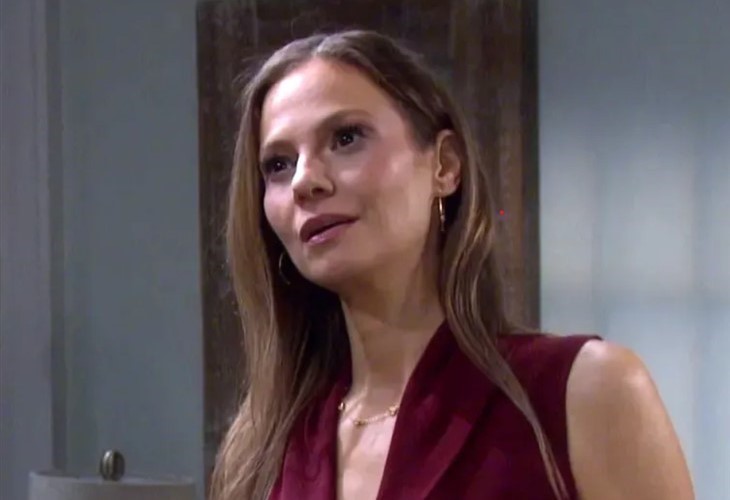 Meanwhile, Alex Kiriakis (Robert Scott Wilson) catches Brady Black (Eric Martsolf) and Theresa Donovan (Emily O'Brien) bickering. Paulina Price (Jackee Harry) orders Harris to lead the task force on the town's growing drug problem.
Plus, Ava stands her ground when Gil makes a demand. This leads to Gil trying to sexually assault Ava.
Days Of Our Lives Spoilers – Weekly Recap
On Tuesday, November 21, Harris finds Ava in a compromising position. Ava is standing over Gil's dead body. Johnny DiMera (Carson Boatman) reunites with Chanel Dupree (Raven Bowens). EJ DiMera (Dan Feuerriegel) tries to be supportive of Nicole after the baby's "death."
However, EJ will really struggle in knowing how to do this properly. Plus, Sloan Petersen's (Jessica Serfaty) secret is nearly exposed.
DOOL Spoilers – Week Ahead
Days of Our Lives spoilers for Wednesday, November 22 reveal that Clyde Weston (James Read) meets with Stefan DiMera (Brandon Barash). Perhaps Stefan will want Clyde to protect Gabi Hernandez-DiMera (Camila Banus) in prison.
Plus, Paulina invites Abe Carver (James Reynolds) to Thanksgiving dinner. Ava receives yet another warning. Elsewhere, Sloan tells Eric Brady (Greg Vaughan) some exciting news.
Days Of Our Lives – Upcoming DOOL Spoilers
On Thursday, November 23, fans can expect Salem to celebrate Thanksgiving. Stephanie Johnson (Abigail Klein) will become suspicious of Chad DiMera (Billy Flynn).
Johnny informs Chanel of something concerning he sees. Chanel will have suspicions about Holly. Plus, Paulina and Abe have a memorable moment together.
Days of Our Lives Spoilers – Friday, November 24: Nicole Walker DiMera's Demand
On Friday, November 24, Nicole demands to see her "dead" baby. Ava receives a new surprise partner. Could this end up being Stefan? Plus, Leo Stark (Greg Rikaart) learns shocking information from Harris.
For the week of November 20, it appears that Holly might get roped into the drug storyline. Photos released a while back show Holly in the ICU.
Then, Tate Black (Jamie Martin Mann) is seen being handcuffed and led away from his loved ones. So, stay tuned to see what happens.
Which storyline are you looking forward to seeing the most during the week of November 20? Share your thoughts in the comment section below. Remember to keep watching the soap on Peacock to find out what happens next.
Be sure to catch up on everything happening with DOOL right now. Come back often for Days of Our Lives spoilers, news, and updates.
For more about what's happening on your favorite soaps and more ways to connect with us, join the conversation on our Facebook Page, check out our Twitter feed, look for an update on our Instagram, follow us on Threads , Always stay up-to-date with us on Google News, or drop us an e-mail HERE! See you there!