General Hospital Early Weekly Spoilers Sept 19-22: New Friendships, Biz Clashes, Celebrations & Shocks
General Hospital spoilers for the week of September 18 are in. Early weekly spoilers state that Maxie Jones (Kirsten Jones) and Lucy Coe (Lynn Herring) clash. Kristina Corinthos-Davis (Kate Mansi) makes a new friend.
Molly Lansing-Davis (Brooke Anne Smith) gets welcome news. Plus, Valentin Cassadine (James Patrick Stuart) discovers shocking news. Keep reading to find out what is coming up in the ABC soap opera.
General Hospital Early Weekly Spoilers – Business Clashes
GH spoilers for the week of September 18 reveal that there will be some business clash storylines. One of these has to do with the future of Deception.
The Deceptor lawsuit has blindsided the business partners. Plus, with Maxie being a single mom and just moving her kids into a new home, finances and stability are really important.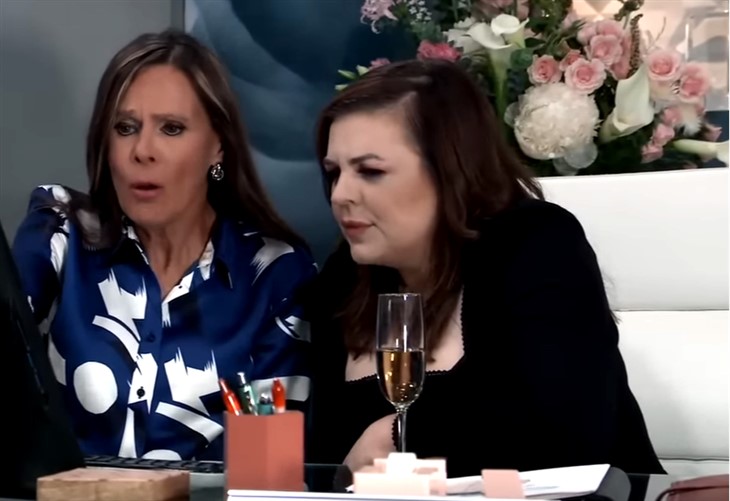 Lucy understands this but seems determined to do things her way. This could result in Lucy and Maxie battling each other instead of the situation.
GH Spoilers – Celebrations
During the week of September 18, fans can expect Ned Quartermaine aka "Eddie Maine" (Wally Kurth) to book a gig. Cody Bell (Josh Kelly) makes an apology.
Spencer Cassadine (Nicholas Alexander Chavez) and Trina Robinson (Tabyana Ali) are filled with anticipation. Plus, Molly gets welcome news while Kristina makes a new friend.
Molly and TJ Ashford (Tajh Bellow) seem to be fast-tracking the surrogacy. Their anxiousness to be parents is understandable.
MUST READ – Who Is Blair Cramer On General Hospital?
However, this surrogacy situation is a bit too picture-perfect. That usually means there is a complication, tragedy or bombshell ahead. What could this be for TJ and Molly? Plus, could it open the door to smooth the rift between Molly and Kristina?
General Hospital Early Weekly Spoilers – Week of September 18
General Hospital spoilers for the week of September 18 reveal that Valentin gets a shock. Martin Grey (Michael E. Knight) is interrogated. Brook Lynn Quartermaine (Amanda Setton) will also have a confession to make.
Speaking of Brook Lynn, she rebukes Tracy Quartermaine (Jane Elliott). Anna Devane (Finola Hughes) hits a dead end. Sam McCall (Kelly Monaco) asks for Willow Tait's (Katelyn MacMullen) help.
Could this have to do with Cody being accused of kidnapping Sasha Gilmore (Sofia Mattsson)?
After all, Willow and Sasha are close friends. Now that Willow can be outside of her protective bubble, perhaps she can help Sasha and Cody.
Meanwhile, Drew Cain (Cameron Mathison) is targeted as Portia Robinson (Brook Kerr) feels left out.
Which storyline are you looking forward to seeing the most during the week of September 18? What are your predictions for Anna, Valentin, Brook Lynn, Tracy, Lucy and Maxie?
What does the future hold for Spencer, Trina, Cody, Sasha, Sonny Corinthos (Maurice Benard), Molly, Kristina and the other residents of Port Charles?
Share your thoughts in the comment section below. Remember to keep watching the soap on ABC to find out what happens next.
Be sure to catch up on everything happening with GH right now. Come back often for General Hospital spoilers, news, and updates.