General Hospital Spoilers: Ava's Downward Spiral Over Shocking Kiki Killer Truth – Can Franco Save Her?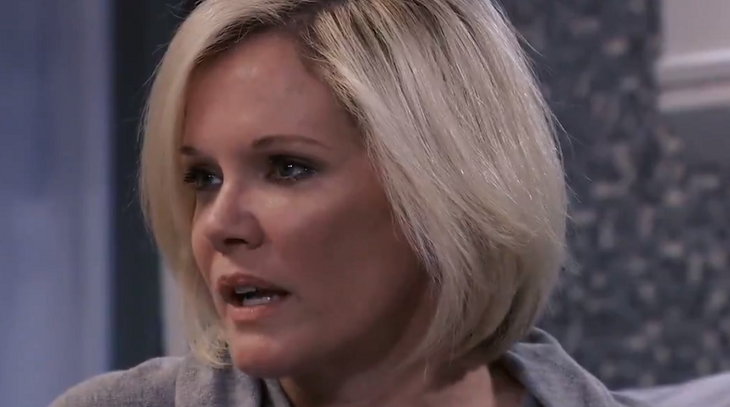 General Hospital spoilers tease that Franco Baldwin (Roger Howarth) will offer his support and try to help his old friend and former lover Ava Jerome (Maura West) as tries to reconcile her conflicting feelings about "Kevin Collins" (Jon Lindstrom).
She will come to realize that he, under his true identity of Ryan Chamberlain, murdered her daughter Kiki Jerome (Hayley Erin), and as a gift to her at that!
Ava truly loved him – she just didn't know who or what he really was. She was in love with the illusion he presented, just as he was in love with his own illusion of her. When she discovered Carly Corinthos (Laura Wright) bloody, bruised and bound in the trunk of the car at Niagara Falls, it was her first clue that something was wrong.
General Hospital – When Ava Saw Carly She Started Putting It Together
But when Ryan told her Carly was a gift for her, she started to put it all together. And even though she couldn't stand to go there in her mind, he had done the same thing to Kiki, and for the same reason.
Of course, as many people have said in the last few days on GH, no one suspected Ryan was alive and impersonating Kevin – not even people who had known both of them going years back – he fooled everybody! Franco will no doubt tell Ava that too.
He will wish he could have prevented Kiki's death somehow, and maybe get Ava away from Ryan before she got in so deep with him.
General Hospital – Franco Suspected Something Was Off
Franco always did suspect something was off with "Kevin", as many did, but couldn't quite put it together because Ryan was supposed to be dead for more than twenty-five years.
General Hospital Spoilers: Laura Struggles To Forgive Kevin's Deadly Lie https://t.co/I9IKV1Qc5x pic.twitter.com/psEGoPHYcp

— SOS/CTS/HH (@SoapOperaSpy) March 12, 2019
Oddly enough, General Hospital spoilers aren't teasing that Julian Jerome (William DeVry) will be there for Ava. He may be he'll be busy supporting Kim Nero (Tamara Braun) because of Oscar (Garren Lake Stitt) getting worse.
So it's a good thing Ava still has Franco as a good friend, in spite of her previous doubts about his innocence. Stay tuned to GH and keep checking General Hospital spoilers frequently for the latest news updates!
Read more news, spoilers, and gossip on our Celebrating The Soaps General Hospital home