General Hospital Spoilers: Carly In Trouble, Sonny To The Rescue
General Hospital spoilers reveal Carly Spencer (Laura Wright) is headed for a seriously bumpy road ahead, and there are going to be some core people in her corner, much to Nina Reeves' (Cynthia Watros) dismay. Despite Carly's latest stunt — keeping the truth from Willow Tait (Katelyn MacMullen) that Nina was her biological mother — all has been forgiven and Michael Corinthos (Chad Duell) is treating his mother like she has done no wrong.
When trouble starts brewing for Carly, her family will rally around her, as expected — only, Nina will be pulling the strings that got her into trouble, and she will not expect Sonny to be a part of the caravan looking to transport Carly to safety.
General Hospital Spoilers — Nina Reeves Intends To Put Carly Spencer Away
General Hospital spoilers show Nina just happened to overhear Sonny talking to Olivia Quartermaine (Lisa LoCicero) about Carly and Drew Cain's (Cameron Mathison) secret love affair — and the reason it needed to be kept a secret. Knowing that Carly and Drew were involved in insider trading makes it hard for Nina to resist reporting them to the SEC after all they've done to her.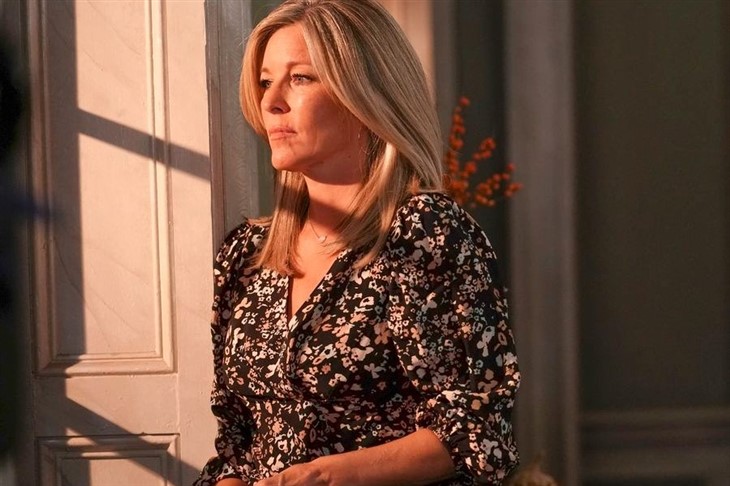 Drew may not have acted out of malice to hurt Nina, but he isn't holding Carly accountable for doing so. As far as Nina is concerned, they deserve to pay for their crimes. It's too bad for Nina that Sonny won't agree.
GH Spoilers – Hint Sonny Corinthos Goes Way Out Of His Way to Help Her
Instead of backing Nina or just staying out of the mess altogether, Sonny is going to be furious when he finds out someone reported Drew and Carly. Initially, he may take that anger to Ned Quartermaine's (Wally Kurth) door, but he and Olivia will swear up and down that word of Carly and Drew's crime didn't come from any Q's.
So whodunnit? That's just what Sonny will set out to discover as he offers the best legal help — and illegal help — to his ex that he can. Nina will be shaking in her boots and praying Sonny isn't able to trace this back to her.
General Hospital Spoilers — Nina Reeves Feels Like A Third Wheel
Nina couldn't have possibly known what it would feel like to exist inside of this family. When Sonny divorces a woman, he apparently doesn't walk away the same way Nina left Silas Clay (Michael Easton) and Valentin Cassadine (James Patrick Stuart) in her past.
Sonny will always care about what happens to Carly because she is the mother of his children. What a convenient excuse for Sonny to hide behind as he continues to carry a torch for his ex-wife. Will Nina call him out on it when he risks everything to keep Carly safe no matter what it costs their relationship? Keep checking back with us for more GH news, updates, and spoilers to see how this storyline continues to unfold.