General Hospital Spoilers: Dr. Monty's Human Trafficking Plan For Sasha Gilmore
General Hospital (GH) spoilers suggest Dr. Damon Montague (Darin Toonder) also known as "Dr. Monty" is quite a sketchy character. He happily stepped up to help Gladys Corbin (Bonnie Burroughs) keep her daughter-in-law Sasha Gilmore (Sofia Mattsson) under guardianship so she could spend her money and continue gambling. In fact, he whole-heartedly offered his services without really being prompted.
So, what's his real motivation, and how much more will Sasha suffer at Ferncliff?
General Spoilers – Dr. Monty Is Vile Human Being
One would think a doctor, especially court-appointed, could be trustworthy; however, this is not the case with Dr. Monty. He's part of Selina Wu's (Lydia Look) gambling ring, but so is Cody Bell (Josh Kelly), so it's hard to judge him on that end.
GH viewers know little about Montague, other than the fact that he's clearly a vile human being. Why would he help Gladys? They weren't exactly "friends" before all this went down, simply two strangers who played poker together at the Savoy. Sasha worked so hard to recover from everything that's happened to her in the past year and giving her the wrong medication so that she purposely spirals was a heinous move.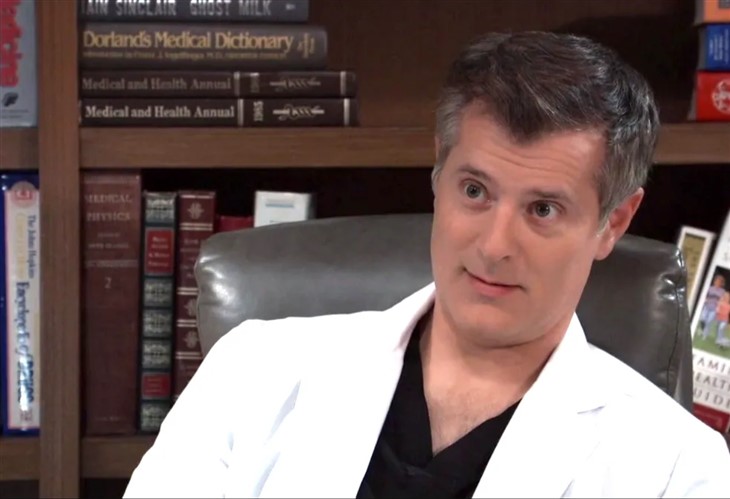 Dr. Monty promised Gladys, he'd help her with her "guardianship" situation, but never provided a stipulation on how she would help him back. Will he use Sasha as part of a human trafficking ring? She's pumped up with a ton of drugs right now, and as fans know all too well from the time Carly Spencer (Laura Wright) spent at the facility, Ferncliff isn't exactly the safest or most well-run mental health center. Doctors and nurses get away with a lot. Who's to say that clients aren't illegally registered on the down low to take advantage of unconscious patients? Who's to say that Dr. Monty isn't someone running the show around this illegal activity?
GH Spoilers – Will Anyone Else Get Caught Up In Dr. Monty's Plan?
There are a ton of people who are very skeptical about Sasha's current condition. Especially in light of the fact that she was doing so well and on the right path. Cody and Sonny Corinthos (Maurice Benard) are two men that have Ms. Gilmore's back; however, there are also a ton of women in Sasha's circle who love and support her and would go the extra mile to "save her". Could they fall victim to Dr. Monty's plan?
Gladys is most at risk, but she may deserve what's coming to her, considering she placed this in motion. Nina Reeves (Cynthia Watros) is one woman who would go above and beyond to help Sasha, and so is Maxie Jones (Kristen Storms). Brook Lynn Quartermaine (Amanda Setton) could also get wrapped up in this too. If any of these women see what Montague is really up to, they'll try and stop him. But in an attempted rescue, the doctor could outwit them, and these women could end up becoming a victim, just like Sasha.
What is Dr. Monty really up to? Share your thoughts in the comment section! Tune into the popular ABC soap daily to watch the drama unfold and visit this site regularly for the best General Hospital news, spoilers, and updates.