General Hospital Spoilers: Explosive Promo – Liz Slapped Silly, Unholy Fears, Victor's Final Comeuppance?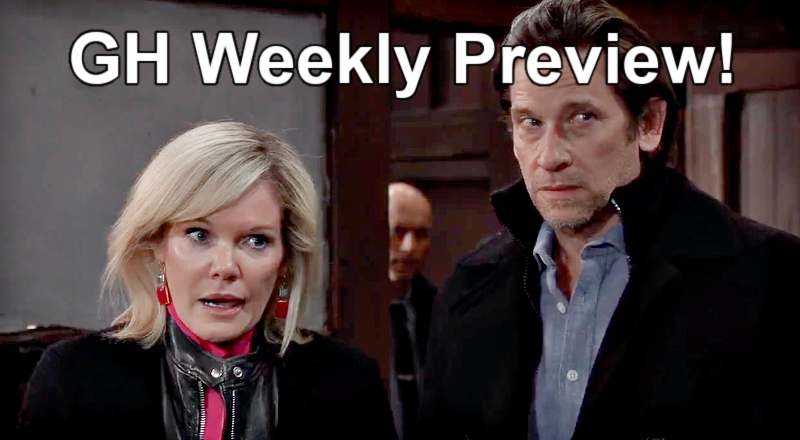 General Hospital spoilers and updates for Monday, February 27-Friday, March 3 tease regrets, fears and fallout in Port Charles. Elizabeth Baldwin (Rebecca Herbst) regrets turning herself in, Ava Jerome (Maura West) fears a PCPD sweep of Spoon Island, and Laura Collins (Genie Francis) warns the fallout will be glorious.
General Hospital Spoilers: Elizabeth Baldwin Has Regrets
Elizabeth now regrets turning herself into the Port Charles Police Department for her role in keeping Esmé Prince (Avery Kristen Pohl) captive to help Nikolas Cassadine (Adam Huss). She calls Dr. Hamilton Finn (Michael Easton) in a panic as they are both at work at GH.
She asks him if she's made a mistake by turning herself in, likely wondering if the effects on her boys are going to be worse than her relieving her guilt.
She thought her boys would think better of her if she admitted her guilt and paid for her crimes. But it may not turn out that way, since there may be more consequences than she ever imagined.
GH Spoilers: Liesl Obrecht Unleashes Her Anger
Elizabeth suffers an unintended consequence for helping Esmé already, and she hasn't even been booked. Liesl Obrecht (Kathleen Gati) slaps her silly in the hallway of the hospital, right in front of Scott Baldwin (Kin Shriner) and Nina Reeves (Cynthia Watros).
Liesl apparently is out of the loop and not listening to the news, because Esmé isn't the Hook and she didn't kill Britt Westbourne (Kelly Thiebaud). That honor belongs to Esmé's birth mother, Heather Webber (Alley Mills) who just confessed at the PCPD.
General Hospital Spoilers: Ava Jerome Is Full Of Fears
Also at GH, Ava is full of fear as she visits Austin Gatlin-Holt (Roger Howarth) and fears a PCPD sweep. Thanks to Elizabeth's confession, now the PCPD is about to descend on Spoon Island, only this time they're going to be looking for Nikolas.
Austin and Ava were interrupted when they were getting ready to dispose of Nikolas' body when Felicia Scorpio (Kristina Wagner) showed up at the door.
Then Ryan Chamberlain, (Jon Lindstrom) Heather and Esmé showed up and Austin got hooked by Heather. No one has had a chance to take Nikolas' body out of the Cassadine stable tack closet and bury him!
GH Spoilers: Skeletons And Closets
Detectives Bennett (Kendrick Cross) and Dante Falconeri (Dominic Zamprogna) are shown breaking a lock off a door and it looks like it's the tack closet at the Cassadine stable.
Nikolas may not quite be a skeleton yet, but Ava's certainly got skeletons in her closet because of trying to hide him! As the door is opened, will they find a dead Cassadine or perhaps nothing at all-you never know with Cassadines.
Someone could have gotten to it before Ava and Austin had a chance-Mason Gatlin (Nathanyael Gray) was there!
General Hospital Spoilers: Laura Collins' Warning
Laura has a warning for Victor Cassadine (Charles Shaughnessy) if he thinks he's getting away with anything. There's another missing Cassadine son presumed dead only it's not Laura's, it's Victor's.
Laura, Robert Scorpio, (Tristan Rogers) Valentin Cassadine, (James Patrick Stuart) and Anna Devane (Finola Hughes) are all in on the sting, as well as Lucy Coe (Lynn Herring) and Felicia.
Victor only thinks Valentin is dead, but he's looking for Nikolas too, perhaps unknown to Laura.
Laura tells Victor the fallout is going to be glorious, talking about the fallout for him. Victor still looks like he's clueless and he's about to be taken down.
Be sure to catch up on everything happening with GH right now. Come back here often for General Hospital spoilers, news, and updates.
https://www.youtube.com/watch?v=c6xYb4FWJck