General Hospital Spoilers: Will Esme's Baby Suffer With A Chamberlain Family Curse?
General Hospital (GH) spoilers hint that Esme Prince (Avery Pohl) will have a reason for concern. The young mom has had a hard go as of late. Since her bout with amnesia, she's been kidnapped while in labor, watched people get slashed, had her psycho father berate her, and had to give birth on a couch. More importantly, the young lady found out her parents are criminals. Now that her little one has arrived, is there a reason for her to worry about her baby's genetics?
GH Spoilers – Esme Prince's Baby Boy Could Be Cursed
GH spoilers suggest that Esme will draw a line in the sand. While she was once a bad girl herself, perhaps motherhood and amnesia will provide a fresh and new chapter for her in the land of Port Chuckles. But will that be enough for her baby boy? The poor kid has some terrible genes.
His grandparents Ryan Chamberlain (Jon Lindstrom) and Heather Webber (Alley Mills) are serial killers, and the Cassadine family tree doesn't offer any relief either. There are silver linings for the young lad in grandmother Laura Collins (Genie Francis) and half-brother Spencer Cassadine (Nicholas Chavez), but the odds are stacked against the infant boy.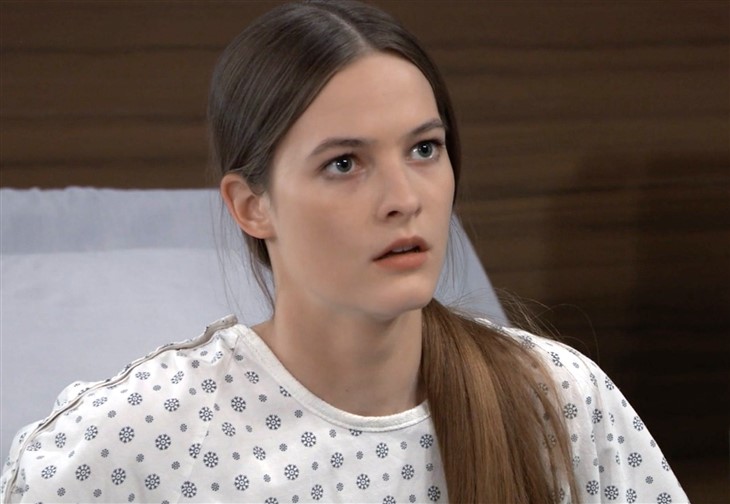 GH Spoilers – Could A Creepy Kid Storyline Be On The Horizon?
Overall, kids on soaps (no matter who their parents are), are portrayed as sweet, intuitive, smart, and adorable. There are some cases where children do bad things, but generally, kids in daytime dramas are portrayed as "good". There have been some instances in soaps where kids have crossed a line. The Young and the Restless (Y&R) had an angle in 2016 where Max Rayburn (Jared Breeze) did some terrible things to Abby Newman (Melissa Ordway) and his dad Ben "Stitch" Rayburn (Sean Carrigan). He tortured his stepmom, and the couple lost their baby. The boy ended up having a brain tumor and dealt with some unresolved trauma over the years. GH even had a storyline where Jake Webber (Hudson West) almost released the Chimera virus; however, it turned out he was brainwashed by Helena Cassadine (Constance Towers) to do so.
Could baby boy Cassadine's storyline unravel, similarly? Could he be a baby that is eerily good but turns out to be a reckless toddler with terrible intentions? As he grows, could Esme, Laura, and Spencer worry about his genes because of his odd behaviors? Could it be that Ryan himself cursed the little one before his death? Is it any coincidence that the moment Chamberlain was shot dead was also the moment Esme's newborn boy was welcomed into this world? Could this little one be Ryan, reincarnated? It's a terrible thought but could turn into an interesting storyline.
Will Esme's son be cursed? Share your thoughts, below! Plus, make sure to watch General Hospital on ABC to see how the drama will unravel and don't forget to visit this site daily for the latest GH spoilers, news, and updates!