General Hospital Spoilers Friday, February 24, 2023: Joss Torn, Laura and Sonny Comfort Spencer, Esme Freaks
General Hospital spoilers for Friday, February 24, 2023 reveal that Dante Falconeri (Dominic Zamprogna) and Jordan Ashford (Tanisha Harper) start asking questions. Josslyn 'Joss' Jacks (Eden McCoy) feels conflicted.
Laura Collins (Genie Francis) and Sonny Corinthos (Maurice Benard) will need to be there for Spencer Cassadine (Nicholas Chavez). Scott Baldwin (Kin Shriber) looks to Robert Scorpio (Tristan Rogers) for help.
Heather Webber (Alley Mills) skips out of Spring Ridge — again. Esme Prince (Avery Kristen Pohl) has some serious anxiety about what lies ahead.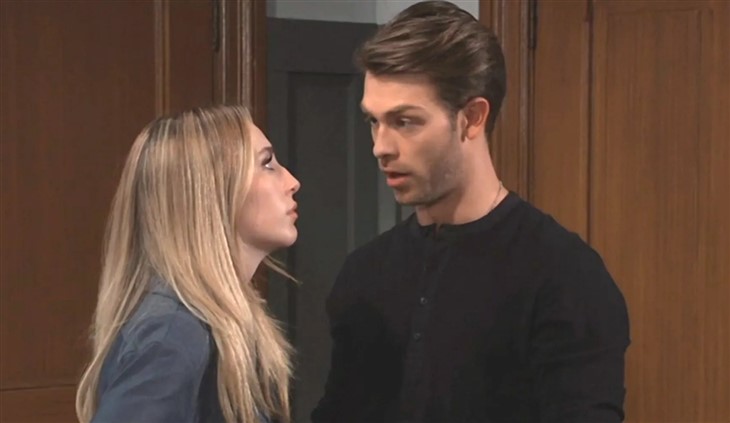 General Hospital Spoilers – Friday, February 24, 2023: Dante Falconeri And Jordan Ashford Jump Right Into The Tough Questions
Dante is back on American soil to help Jordan get to the bottom of a few cases that have ended up intermingled with one another. Heather says she's The Hook; Nikolas Cassadine (Adam Huss) is gone; and Jordan wants answers. When someone comes clean about attacking Nikolas, will she believe it?
GH Spoilers – Say Joss Jacks Is Torn Between Her Feelings
When Dex Heller (Evan Heller) tells his girlfriend, Joss, that he doesn't have a way to separate his work from her personal life, she's going to be more confused than ever.
Joss and Dex can't be together out in the open as long as he's working for Sonny, but Dex can't stick around Port Charles if he's not. What gives?
GH Spoilers — Laura Collins And Sonny Corinthos Are There For Spencer Cassadine
Laura and Sonny will try to lend Spencer some comfort, but he's still going to be focused on cleaning up the mess his father left behind. Will his uncle be able to talk any sense into him and persuade him not to take on his dad's responsibilities?
General Hospital Spoilers – Tease Scott Baldwin Has A Pitch For Robert Scorpio
Scott thinks he can schmooze his way into a good deal for Elizabeth Baldwin (Rebecca Herbst). Will Robert be in a good enough mood to help him out?
GH Spoilers — Heather Webber Pays A Visit
Heather manages to wiggle her way out of the chains that bind her once again. This time, she's at General Hospital checking in on her daughter and grandbaby, which leaves Esme feeling rather uneasy.
General Hospital Spoilers — February 24 — Esme Price Is Worried Sick
Esme is stressed about what lies ahead for her baby. If she goes back to prison, her child is going to be placed in the system. Will anyone sane come to her baby's rescue?
Which storyline are you most looking forward to following on GH on Friday, February 24th? Let us know, and keep checking back for more GH news and spoilers.