General Hospital Spoilers: Hang On Cub, Mama Bear's Coming-Lois Makes Mincemeat Of Tracy!
General Hospital spoilers and rumors tease "hang on, cub, Mama Bear's coming!" Soon, Brook Lynn Quartermaine (Amanda Setton) won't have to worry about Tracy Quartermaine (Jane Elliot) because when Lois Cerullo (Rena Sofer) hits town, it's Tracy who'll have to worry!
General Hospital Spoilers – Tracy Quartermaine Forced Her Granddaughter To Do What?
It's high time that Lois came to Port Charles to check on her daughter, and when she hears that Tracy blackmailed her into corporate espionage, she's on the next plane.
Brook Lynn isn't the only one who needs Lois in Port Charles-Lois hopes to help her father find himself again; from what she hears, Eddie Maine (Wally Kurth) is back.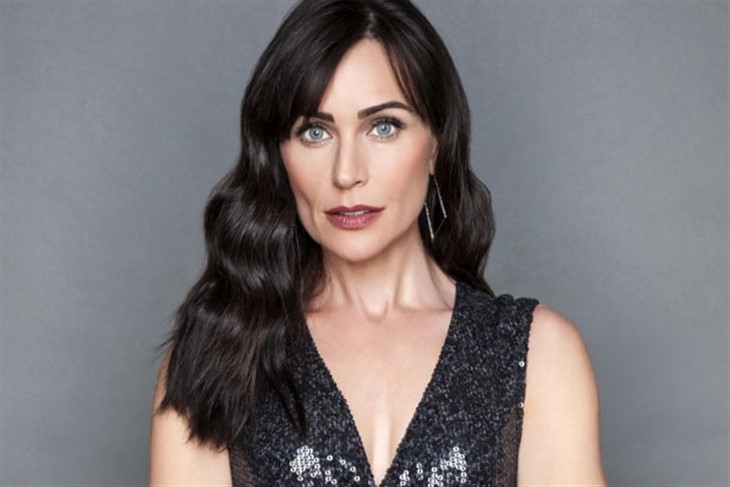 But this Eddie isn't the Eddie that Lois knew and once loved, he's not even Ned Quartermaine (Wally Kurth)-Lois hopes she can spark some memory.
Lois also wants to hear the new record Eddie made, it's been years since he did music. She also wants to catch up with fellow Bensonhurst girl and "Neddie's" new wife Olivia Quartermaine (Lisa LoCicero)-they hung out back in the day.
GH Spoilers – Making Mincemeat
Tracy has always had an intense hatred for Lois, feeling that she corrupted Ned's morals and tried to drag him down to a unrespectable level.
Tracy views Lois as a trollop, and never will forget the time she ruined Ned's wedding to Tracy's choice of bride, Katherine Bell (Mary Beth Evans).
Tracy disrespects Lois and Lois disrespects Tracy even more, and an intense argument ensues when Tracy enters the Quartermaine living room and finds her talking to Olivia Quartermaine (Lisa LoCicero).
Tracy makes the mistake of moving near the liquor in the Quartermaine living room and gets a bourbon hair treatment thanks to Lois, and that was expensive bourbon! Olivia tries to stifle a laugh-Lois put Tracy in her place like she'd wanted to do for years!
READ THIS: Find out what happens next on General Hospital.
General Hospital Spoilers: Nobody Puts My Eddie Maine In An Institution
Olivia had told Lois about Tracy wanting to institutionalize Ned for not meeting Tracy's refined standards. Lois had said refined, reshmined-there's nothing refined about Tracy unless referring to her smelling like a refinery!
Lois is really torqued off about Tracy blackmailing Brook Lynn to do her corporate spying just to get back at Lucy Coe (Lynn Herring) for some years-old imagined offence!
The two Bensonhurst buddies continue to talk about Tracy, Brook Lynn, and Eddie, as well as catching Lois up on Sonny Corinthos (Maurice Benard).
As for Tracy, it will take a thousand dollar hair treatment to repair the damage the bourbon did to her hair!
Be sure to catch up on everything happening with GH right now. Come back here often for General Hospital spoilers, news, and updates.
For more about what's happening on your favorite soaps and more ways to connect with us, join the conversation on our Facebook Page, check out our Twitter feed, look for an update on our Instagram, follow us on Threads , Always stay up-to-date with us on Google News, or drop us an e-mail HERE! See you there!