General Hospital Spoilers: Laura's Kids Are Absent — Is Lulu About To Wake Up?
General Hospital spoilers tease Laura Collins (Genie Francis) might not be that busy this Easter without much family around her to fill the dinner table. It seems Laura's children are falling by the wayside. Although her duties as the Mayor of Port Charles keep her busy from time to time, Laura is hardly sneaking around with spies or hiding out in a safe house talking strategy.
In other words, she doesn't have much going on in her own life, and no offense to the great Dr. Kevin Collins (Jon Lindstrom), but he doesn't bring nearly enough drama to the table to sustain a storyline for his wife.
It'll be interesting to see how he maintains interest absent the lure of his psychopathic brother lurking in the shadows. As for Laura, her storyline may struggle without much meat to it, too, which means it's in need of a break. Could that shift be the reprisal of the role of Lulu Falconeri by Emme Rylan?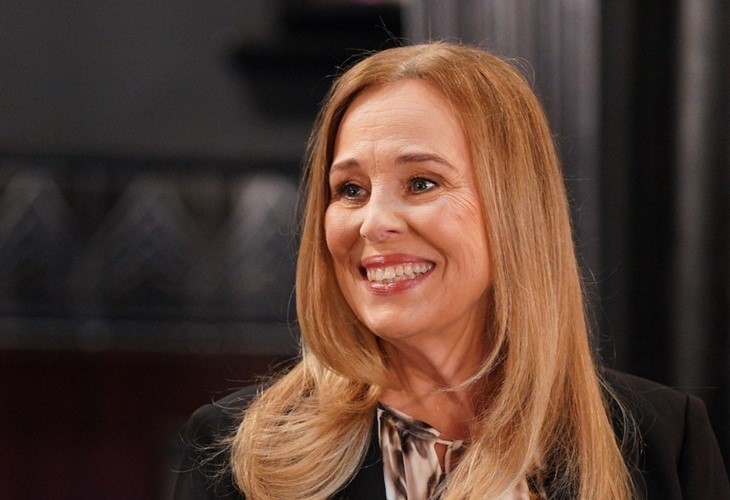 General Hospital Spoilers — Emme Rylan Left A Hole In The GH Heart — And Plotline
When Emme Rylan was let go from GH, fans wept pretty universally. No one saw it coming, and of course it had to happen just as Lulu was preparing to tell Dante Falconeri (Dominic Zamprogna) she was still in love with him.
Now, she's spent a few years in a coma that virtually no one expects her to wake from, and everyone's lives have moved on without her in them.
Laura will certainly have her hands full helping Lulu get back on track and recover when she wakes up, but she's not the only one whose life will be upended.
GH Spoilers – Say Dante Falconeri Isn't Expecting a Miracle
When Dante first got involved with Sam McCall (Kelly Monaco), he assured her he was over his ex. He wasn't longing for a life with Lulu anymore and he didn't really expect her to wake up, though he will always pray she does since that is the mother of his children.
Nonetheless, when Lulu wakes up, everything will change. How could it not?
It was easy for Dante to claim he wasn't waiting on a future with Lulu when he thought the very idea of one was impossible. Once it's back on the table and Lulu makes it clear how she feels about him, it's not going to be easy for Dante to shoot her down.
General Hospital Spoilers — Laura Collins Still Gets One
No one may have been expecting this miracle to occur, but when it does, everyone will be overjoyed — including Dante and Sam. Laura's sons are both out of the picture, and that won't work well with the caretaker that she is. Laura always needs someone to play off of that she can nurture and care for.
Who better than a daughter who is bouncing back from a major medical trauma and trying to pick up the pieces of her life again? Can Laura help piece Lulu back together as GH fans await a recast for Nikolas Cassadine (Adam Huss)? Keep checking back with us for more GH news and spoilers to find out.