General Hospital Spoilers: Nina Isn't Comfortable With Liesl's New Relationship With Willow
General Hospital spoilers tease Nina Reeves (Cynthia Watros) isn't going to be happy with the outcome of her aunt, Liesl Obrecht's (Kathleen Gati), attempt to zero in on Willow Tait (Katelyn MacMullen). Obviously, no one could have predicted how Willow would react to Liesl, but she's going to take to her rather well, and that will leave Nina feeling defeated.
General Hospital spoilers show Willow doesn't want anything to do with Nina and she's made that abundantly clear. Even though she's dying, she won't spare any time for her birth mother. So when she embraces her great aunt, Nina won't take kindly to it, and her bitterness isn't going to paint her in a good light.
General Hospital Spoilers — Willow Tait Warms Up to Aunt Lies Obrechtl
Willow was a bit standoffish when Liesl first visited with her, but it spoke volumes that it was Carly Spencer (Laura Wright) who was willing to introduce the two of them. That surprised Liesl as much as it surprised Willow. Still, Carly wasn't wrong in saying there was no way that she could present a relationship with Nina to Willow as a smart choice and have Willow buy her act.
Everyone knows far too well how Carly feels about Nina and the lengths she went to in order to ensure Willow never learned Nina was her birth mother. Doing an about face on it now wouldn't help anyone. However, while it means a lot to Liesl to get the chance to know Willow, it's going to mean more to Nina that she doesn't.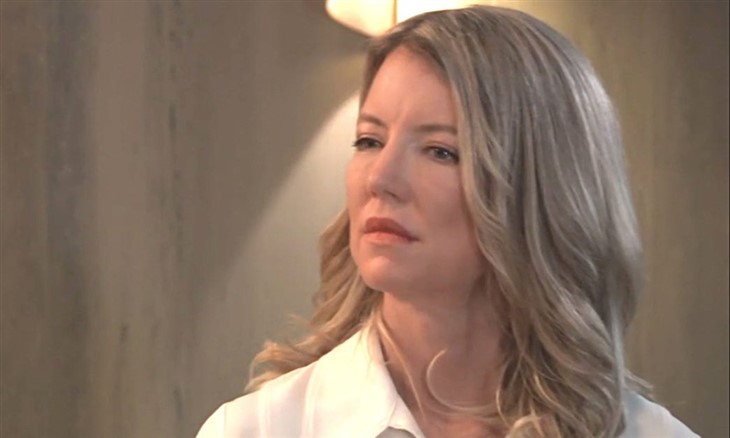 GH Spoilers – Suggest Their Relationship Spirals
Things might start off rather rosy but in the coming days — which will look like the very last days of Willow's life — Liesl is going to grow a bit too affectionate toward her new great niece. Her attachment to Willow as she fades out of this life and into the next will come off as awkward and unstable to others, but they won't have the heart to say much to Liesl. Carly is already feeling quite guilty that it was Josslyn 'Joss' Jacks (Eden McCoy) who essentially cost Britt Westbourne (Kelly Thiebaud) her life, in Liesl's eyes. When Liesl learns that truth, she may latch onto Willow even more — to the point that Nina becomes quite uncomfortable with their newfound relationship. Will Willow embrace it just to grate on Nina's nerves?
General Hospital Spoilers — Liesl Obrecht Had the Best of Intentions
Liesl did have the best of intentions at heart. She just wanted to try to bridge the gap between Nina and her daughter during WIllow's final days. But this may be all too raw for Liesl after losing Britt in such a tragic way. She won't be prepared to let go of Willow, nor will she have the stomach to watch Nina have to lose her daughter, again. No one will really blame Liesl for transferring her feelings about Britt to this situation, but she's going to need some help getting through this in a healthy way, and unfortunately, that won't come soon enough before she learns the truth about Carly's daughter's connection to her own daughter's death. Stay tuned for more GH news and spoilers just ahead.