General Hospital Spoilers: Nina Isn't Sorry, Just Paranoid She'll Get Caught
General Hospital spoilers reveal Nina Reeves (Cynthia Watros) is as shifty as they come. Nina is never sorry for the things she says or does — only for how they end up biting her in the behind! Rumor has it a change of heart is on the horizon for Nina, but we'll believe it when we see it. Sure, she might grow used to the idea of becoming family with Sonny Corinthos (Maurice Benard) now that he's pitched the idea of marriage — cementing her presence in his life for all to see.
But can Nina really carry the heavy load of her guilty conscience through the rest of her years just waiting for the truth to come out? No, and she knows it. Before, Nina was content to hurt a few people to get what she wanted, but now she may be realizing that her actions tend to come back to haunt her. That doesn't mean she doesn't still have it out for Carly Spencer (Laura Wright), though. Don't get it twisted.
General Hospital Spoilers — Nina Reeves Is Forever Selfish
It remains to be seen what might have caused this sudden shift in perspective from Nina; could Carly have said or done something that made her realize how selfish she had been behaving? Or perhaps Nina has realized that life really is too short for all of this hatred and revenge? There would be no better time to have such an awakening than when her own daughter lay dying. Unfortunately, it's probably not that simple when it comes to Nina. She can't see through her own feelings long enough to put herself in anyone else's shoes — ever.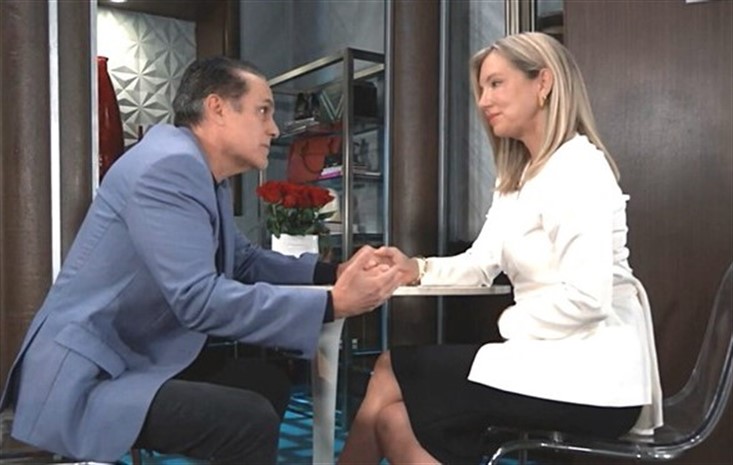 GH Spoilers – Hint She Would Do it Again
When Carly hammered it home that the SEC investigation could have led to Drew Cain (Cameron Mathison) being detained by the feds before he could bring Liesl Obrecht (Kathleen Gati) to donate the bone marrow Willow Corinthos (Katelyn MacMullen) so desperately needed, Nina realizes the full extent of the damage she had done. Still, her biggest concern wasn't seeing to it that Drew made it home but that she didn't get caught for having turned him and Carly in! We all know if Nina was given another opportunity to stick it to Carly — and she knew Willow wouldn't find out — she would do it!
General Hospital Spoilers — She Should Be Paranoid
General Hospital spoilers show Nina deserves every last bit of anxiety she's been rolling around in recently. She brought this on herself and she should lie in the bed she's made knowing it may be her last. If Sonny Corinthos (Maurice Benard) ever finds out what she has done, the consequences could be deadly.
Sonny is protective of the people he loves, and Nina is quickly going to lose her space in that category and become the person he protects everyone else from. How soon will it happen — before or after they take their vows? Let us know what you think and stay tuned for more GH news and spoilers just ahead.