General Hospital Spoilers Tuesday, May 23: Joss Briefs Trina; Dex Has Company, Sonny in Love!
General Hospital spoilers for Tuesday, May 23 reveal that Sonny Corinthos (Maurice Benard) makes it known what he wants, Ned Quartermaine (Wally Kurth) breathes a sigh of gratitude, and Spencer Cassadine (Nicholas Chavez) is looking for trouble in all the wrong places.
Additionally, Josslyn 'Joss' Jacks (Eden McCoy) loops Trina Robinson (Tabyana Ali) in, and Harrison Chase (Josh Swickard) goes out on a limb after a pep talk from Hamilton Finn (Michael Easton).
Also, Carly Spencer (Laura Wright) bumps into her bestie, Olivia Quartermaine (Lisa LoCicero), Dex Heller (Evan Hofer) has company, and Brook Lynn Quartermaine (Amanda Setton) is furious.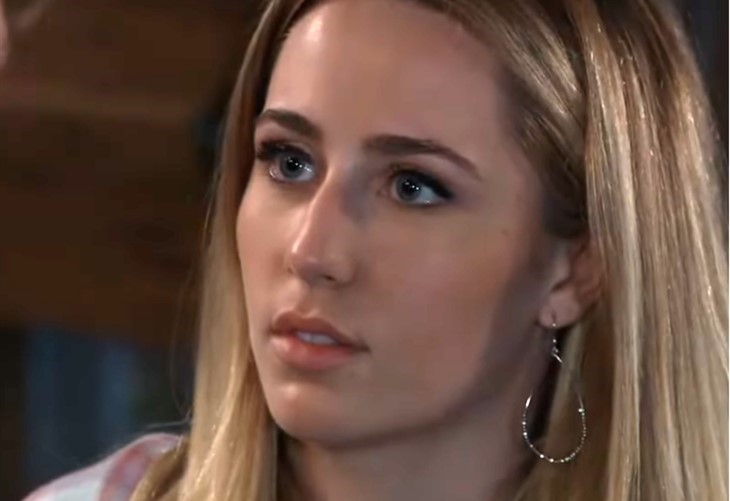 General Hospital Spoilers – Tuesday, May 23, 2023: Sonny Corinthos Lays His Heart On The Line
Sonny has just asked Nina to marry him, and we're all waiting with baited breath to hear what her final answer will be. As Sonny brings her to tears in his quest to make sure she knows she is his family, too, will she come around to the idea of being the next Mrs. Corinthos?
General Hospital Spoilers – Say Ned Quartermaine Is Grateful
Ned is going to be feeling the love. Perhaps his family has finally figured out he's not behind the SEC report.
GH Spoilers — Spencer Cassadine Won't Find A Fight
Spencer is filled with fury and struggling to figure out how he can get one over on Esme Prince (Avery Kristen Pohl), who is still looking like a reformed victim and upstanding citizen, much to his dismay.
When Trina tells him that it would be best for everyone if they all just get along, he may not take it well.
General Hospital Spoilers – Hint Joss Jacks Briefs Trina Robinson
Joss just may find that Trina doesn't necessarily agree with her choices. Going behind Dex's back and asking Sonny to let him go was a risky move that probably won't pay off well.
GH Spoilers — Harrison Chase Is Ready For Love Again
Chase is going to go out on a limb, pulling out all the stops for someone special. Obviously, this must be Brook Lynn, but does she deserve it? Will she let herself have it all?
General Hospital Spoilers – Leak Carly Spencer And Olivia Quartermaine Cross Paths
Carly finally has a few moments to sit down with her bestie, Olivia, but it's probably doomed to be a pretty uncomfortable conversation. Thus far, they both think Ned turned Carly and Drew Cain (Cameron Mathison) into the SEC, but that might change soon.
GH Spoilers — Dex Heller Isn't Alone In The Steam Room
Dex is headed to the steam room to relax and unwind after being rewarded for his hard work by Sonny. When a friend of the female persuasion walks in to join him, will he take her up on her offer?
General Hospital Spoilers — May 23 — Brook Lynn Quartermaine Flips Out
Brook Lynn is going to let her granny have it. Tracy Quartermaine (Jane Elliot) just couldn't stay out of her business, and she doesn't regret it. Tracy thinks Brook Lynn needs to steer clear of her ex-boyfriend, but how does BLQ really feel?
Which storyline are you most looking forward to following on GH on Tuesday, May 23rd? Let us know, and keep checking back for more GH news and spoilers.