General Hospital Spoilers: Sonny Corinthos Proposes To Nina Reeves, But Will She Say Yes?
General Hospital (GH) spoilers suggest that Sonny Corinthos (Maurice Benard) will pop the big question to Nina Reeves (Cynthia Watros) the week of May 22nd. The character's portrayer recently spoke to Soap Opera Digest (SOD) about this major scene that is set to take place, soon.
General Hospital Spoilers – Sonny Corinthos Has Zero Agenda, His Feelings Are True
Maurice reveals to SOD that his feelings for Nina are true and honest. He has no hidden agenda with this proposal and is doing it because he loves her. Benard relays that Sonny had an epiphany when Nina was okay with him going to the Millow wedding without her. He believes that's when Sonny "felt ready" to move forward with Reeves.
According to General Hospital spoilers, Maurice also notes that Michael Corinthos's (Chad Duell) olive branch to mend fences recently was also a factor in the mob boss feeling comfortable enough to take the next step with Reeves. Benard says in the interview that Sonny believes Michael is being sincere in his attempt to clear the air for the family's sake.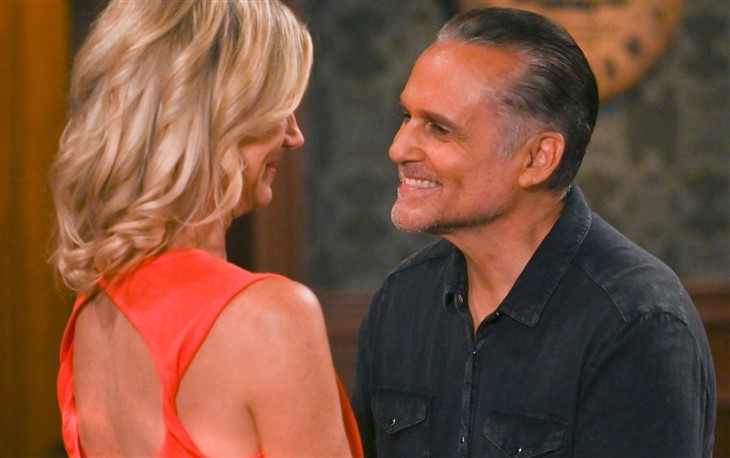 GH Spoilers – Nina Reeves Is Hesitant, At First
Benard tells SOD that the scene starts with the couple having a talk about how Michael approached him to clear the air. Still, Nina is worried that, as his son hates her. She's concerned that burying the hatchet with Michael may negatively impact their relationship.
In an effort to prove how committed he is to their romance; Sonny asks Nina to be his wife. Of course, while the mob boss is not aware of this, Reeves is still harboring some major guilt over tipping the SEC about Carly Spencer (Laura Wright) and Drew Cain (Cameron Mathison). Maurice notes Sonny will do all he can to assure Nina that he loves her and that he doesn't care "what she did in the past". It's interesting because Sonny will be caught off guard when Nina doesn't say, "yes" right away.
General Hospital Spoilers – Maurice Benard & Cynthia Watros Gave It Their All
Benard tells SOD that he and Cynthia talked about the scene and relayed how he wanted it to be a "grand slam". He notes that there was a lot of emotion from both him and Watros during the scene, and while he hasn't seen the proposal yet, a lot of those who have, are saying it is as "good as it gets". Maurice ends the interview by revealing that Sonny's done a ton of proposals in the past, but he believes it's his "best one yet".
Will Nina accept Sonny's proposal? Have your say in the comments. Tune into your favorite soap on ABC to see what happens next and visit SOS daily for the most recent General Hospital updates, news, and spoilers.