General Hospital Spoilers: Only Carly Can Save Sonny — And It Makes Nina Sick!
General Hospital spoilers hint Carly Spencer (Laura Wright) is the only person who can save Sonny Corinthos' (Maurice Benard) sinking ship — and it's going to tear Nina Reeves (Cynthia Watros) apart. The last time Sonny's business was in trouble, it was due to him being missing in action.
At the time, no one knew Sonny was alive and living in Nixon Falls, Pennsylvania as a bar hand who lost his memory and called himself "Mike" — except Nina, she knew. Is the chicken finally coming home to roost? In a surprising turn of events, Sonny is going to need coverage, and Carly will have to make a choice that will show everyone where her heart really lies.
General Hospital Spoilers — Drew Cain Is In Trouble, too
Drew Cain (Cameron Mathison) and Carly might find themselves up a certain river without a paddle, and the only comfort they'll find is knowing that they're in it together. Someone is going to report them to the SEC for insider trading, and the future they both thought they were headed for together is suddenly going to look a lot gloomier. The most practical thing they can think to do is get married. That way, they'd both be protected from being compelled to testify against one another. That being said, it's not going to be an easy decision in the first place, and then Sonny is going to throw a wrench into everything.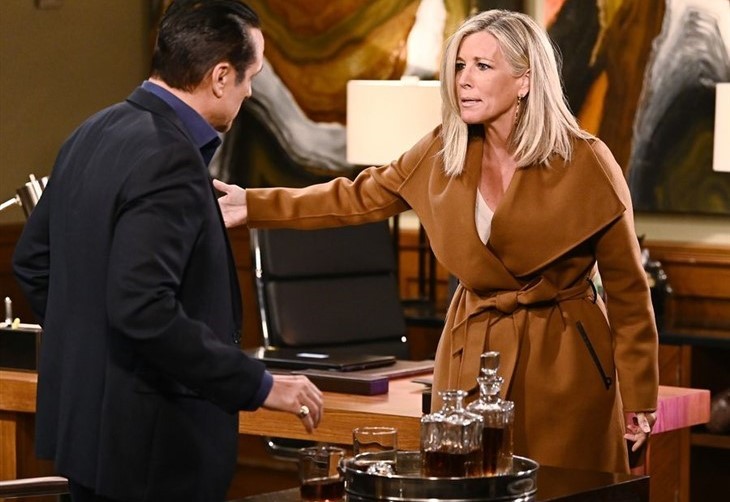 GH Spoilers – Suggest Carly Spencer Chooses Sonny Corinthos
Sonny's empire is crumbling, all thanks to Michael Corinthos' (Chad Duell) vendetta against his father, deployed by Dex Heller (Evan Hofer). Watching it all go down in flames isn't what Sonny had planned, but it's how it's going to work out, which will leave his family quite vulnerable. That's something no one in this equation wants to happen. So, when it looks like Sonny might be headed for the big house, he's going to choose the only kind of protection he knows how to offer Carly by asking her to marry him — again.
This impromptu proposal will be the strategic kind, not the romantic kind. Still, it'll sting for both of them. Someone has to take over the business if Sonny gets thrown in jail, and there is no way Diane Miller (Carolyn Hennesy) is going to be able to offer him the same confidence that she can get the charges dropped as she can for Carly. When all is said and done, Carly will have to choose the man she is going to marry and who she needs to protect more, and it will be Sonny.
General Hospital Spoilers — Nina Reeves Claims It Was All Spite
Nina might think Carly was just trying to stick it to her, but the truth is, Carly is thinking of her children. She's been through this. She knows that without Sonny's empire holding a security blanket around all of them, her children will be at risk. She is terrified of leaving them without protection — especially should both she and Sonny be locked up at some point. The only feasible person to step in and take the reins is her, and the Five Families aren't going to trust her as Sonny's ex. They have to get remarried, even if it kills Nina. Stay tuned for more GH news and spoilers just ahead to find out how this pans out.