General Hospital Spoilers: Peter Feels Responsible For Maxie, Is He Playing With Fire?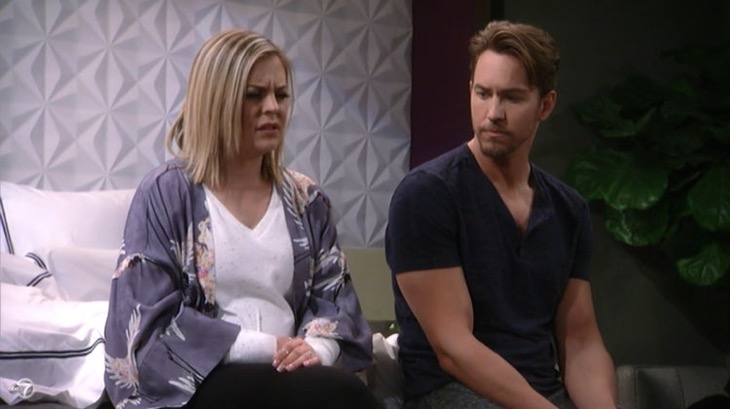 General Hospital spoilers indicate that Peter (Wes Ramsey) might be moving too fast with Maxie (Kristen Storms). After all, she's still mourning the loss of her beloved husband, Nathan (Ryan Paevey). Sure, he's lending his support for her right now, but Peter might not want to overstep his boundaries.
According to ABC Soaps in Depth, Maxie is still in a very fragile place in her life right now. Little does she know though, that she might be falling for the charms of a brother-in-law that she didn't even know exists!
General Hospital co-head writer chimed in on the possibility of a Maxie and Peter pairing. She told the publication, "It's important for her to have what she believes is a neutral friend. She needs someone who wasn't a part of the life she and Nathan created together, and, therefore, isn't a constant reminder of what she lost."
LOVE GH? SUBSCRIBE TO OUR GENERAL HOSPITAL NEWSLETTER, HERE!
On the other hand, Peter regrets that he has a brother that he never knew. Also, his knowledge in the role of Nathan's death is killing him with guilt. That's why he feels some responsibility towards Maxie and wants to make sure that she feels both safe and sound.
At the same time, Peter wants to make sure that Maxie never kinds out his true identity. Peter has a lot at stake right now, and even feels as though he might have more than just a very strong connection with Maxie. He doesn't want to do anything that will jeopardize their friendship. Once the truth comes out though, someone will end up getting burned. Shelly added, "Peter knows that, in some ways, he's playing with fire."
General Hospital airs weekdays on the ABC network. Drop us a line with your thoughts in our comments section below. Also, don't forget to check back with Celebrating the Soaps for all the latest news, updates and spoilers on General Hospital and all of your favorite daytime television shows right here!our Facebook page and 'Follow' on our twitter page
---
Read more news, spoilers, and gossip on our General Hospital homepage
Want up-to-the-minute soaps news, spoilers, and gossip on your social feeds? Just hit 'Like' on our Facebook page and 'Follow' on our twitter page