General Hospital Spoilers: Ryan Confesses To Killing Nikolas — What Is He Up To Now?
General Hospital spoilers reveal Ryan Chamberlain (Jon Lindstrom) is going to stun his beloved Ava Jerome Cassadine (Maura West) with a confession that further floors the PCPD and leaves the Cassadine family in shambles. While a plausible theory will be put into place to explain his motive, Ava will know the truth, and that's going to chip away at her until there is little left. When Ryan tells the PCPD he killed Nikolas, it will be a sign to Ava that he's playing his ultimate trump card — and she'll know it. This is going to drive Ava rather mad.
We haven't seen the last of her entanglements with the madman who killed her daughter, Kiki Jerome (Hayley Erin). Rather, their latest storyline is just ramping up, and it's going to be a doozy. Obviously, Ryan isn't going anywhere, and neither are Esme Prince (Avery Kristen Pohl) or Heather Webber (Alley Mills), but look for their roles in this trap for Ava to develop alongside Ryan's.
General Hospital Spoilers — Ryan Chamberlain Confesses!
The police are hot on Ryan's trail. They know he, Heather, and Esme broke out of Spring Ridge together, although they don't understand Heather's connection to Esme quite yet. Give it time. Esme doesn't even know yet! However, when they arrive on Spoon Island, Ava will know she's in hot water as the police start combing the area.
They're going to find her husband, Nikolas Cassadine (Adam Huss), dead in the stables. How will she explain what he's doing there and how it happened? She won't have to. Ryan is going to beat her to the punch by confessing to his murder. He's going to be carted off to prison again anyway. Still, Ava will be stunned by his announcement — even though she's going to allow it. In her eyes, taking the rap for her is the least he can do to try to make up for all that he has already done to her. In Ryan's eyes, he's both saving his darling Ava and keeping her indebted to him.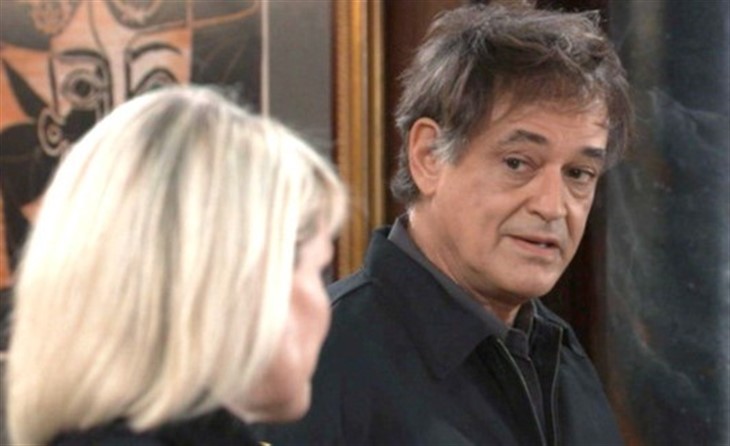 GH Spoilers – Hint Ryan Has Ava Jerome Cassadine Right Where He Wants Her
This is just what Ryan has always wanted. When Ava threw it in his face that she used to come by Spring Ridge just to see him squirm in his wheelchair while having to pretend he was an invalid, he wasn't moved by it.
Ryan enjoyed every one of those impromptu visits. He knew they meant Ava was thinking about him, and that she was still haunted by him and bothered by his memory. That's a win in Ryan's book, and this will be, too. Knowing Ava will be spinning her wheels trying to figure out why Ryan confessed to killing Nikolas when he didn't do it will nag at Ava, as will the worry that he would recant his statement to the police anytime. He knows she'll be back to visit him soon.
General Hospital Spoilers — Ava Jerome Cassadine's Guilt Will Eat Her Alive
Ava isn't going to be able to rest knowing her worst enemy knows her secret. He will read it all over her face when he confesses to murdering Nikolas and she doesn't seem the least bit surprised that he's dead. He knows the truth, and holding it over her head is going to give Ryan power and such a feeling of triumph.
Ava will hate knowing he is the one person who could really do her in, and Austin Gatlin Holt (Roger Howarth) won't be all that keen on her plan to let him take the fall and potentially take her down with him eventually either. Will Austin be able to convince Ava to come clean? How will she handle Nik's grieving family — especially Laura Collins (Genie Francis) — as they all blame Ryan for Nik's death? Stay tuned for more General Hospital news and spoilers to find out.