General Hospital Spoilers: Scary Shocks, Scathing Rebukes, Snitches Silenced!
General Hospital spoilers and updates for the week of Monday, September 18-Friday, September 22 tease scary shocks, scathing rebukes, and snitches silenced!
Valentin Cassadine (James Patrick Stuart) gets a scary shock, Tracy Quartermaine (Jane Elliot) a scathing rebuke, and Cyrus Renault (Jeff Kober) temporarily silences a snitch!
General Hospital Spoilers Highlights
Monday, September 18, Valentin receives a scary shock after he and Anna Devane (Finola Hughes) found their Metro Court suite vandalized and another scary warning for Anna.
Valentin noted that the vandalism on all Anna's clothes was done in red ink, and there was another scary warning on the bathroom mirror. Valentin tells Anna this is not a coincidence, and he's not taking any chances.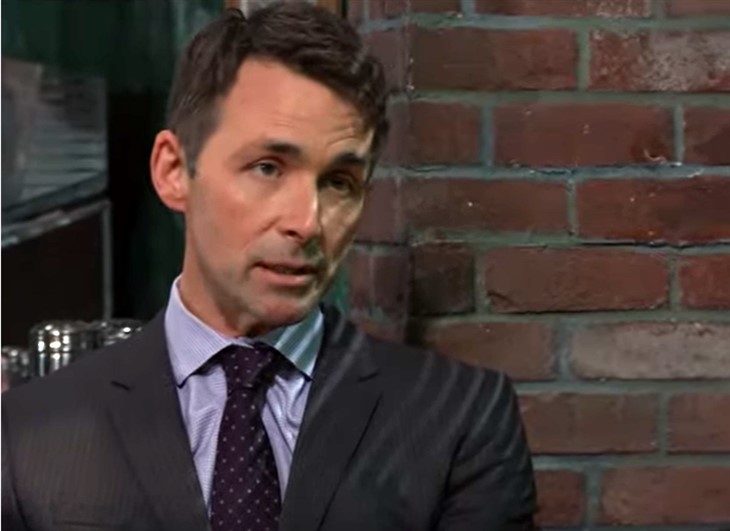 Downstairs in the Metro Court restaurant Martin Gray (Michael E. Knight) also gets a scary shock while elsewhere, Brook Lynn Quartermaine (Amanda Setton) makes a guilty confession.
Marshall Ashford (Robert Gossett) will express his concern, while meanwhile, Nina Reeves (Cynthia Watros) will offer her assistance.
GH Spoilers – Groovy Gigs And Careful Cautions
Tuesday, September 19, Eddie Maine (Ned Quartermaine) books himself a groovy gig while elsewhere, Sonny Corinthos (Maurice Benard) gives Dex Heller (Evan Hofer) careful cautions.
Marshall, who has been quite concerned for his son Curtis Ashford (Donnell Turner) will remain adamant, while Curtis' wife, Portia Ashford (Brook Kerr) will feel left out.
Elsewhere, Anna will receive a visitor-but will the visitor put her life in danger, or has Valentin put himself and her in a safe house? Will this visitor be the one who's targeting Anna?
General Hospital Spoilers – Scathing Rebukes And Sincere Apologies
Wednesday, September 20 Brook Lynn gives her grandmother, Tracy Quartermaine (Jane Elliot) a scathing rebuke while elsewhere, Cody Bell (Josh Kelly) delivers a sincere apology.
Meanwhile, Lucy Coe (Lynn Herring) and Maxie Jones (Kirsten Storms) clash; this could be more arguing over Lucy not wanting to settle for any of Tracy's deal offered previously. Elsewhere, Nina continues to tread carefully as she continues trying to help.
Gregory Chase's (Gregory Harrison) health is a continuing focus, as apparently he has another episode and this time requires medical care.
Elizabeth Baldwin (Rebecca Herbst) and Hamilton Finn (Michael Easton) will weigh in on his care this time.
GH Spoilers – Undercover Updates, Disappointing Dead Ends
Thursday, September 21 Drew Cain (Cameron Mathison) gives Carly Spencer (Laura Wright) an update, after Sonny had given him an undercover mission of sorts.
Sonny had asked Drew to see if he could find out who Austin Gatlin-Holt (Roger Howarth) had come to Pentonville to see, carrying his doctor's bag.
Meanwhile, Anna, likely disregarding any advice Valentin has given her, continues to track her stalker and comes to a disappointing dead end; Valentin will look for Dante Falconeri (Dominic Zamprogna).
Elsewhere, Attorney Diane Miller (Carolyn Hennesy) will meet with District Attorney Robert Scorpio (Tristan Rogers)-but will this be business or personal? Elsewhere, Sam McCall (Kelly Monaco) will ask Willow Corinthos (Katelyn MacMullen) for a favor.
MUST READ – Fans Pay Tribute After Billy Miller's Tragic Death – Soap Star Was Battling Depression
General Hospital Spoilers – Silencing Snitches, 'Sprina' Excited
Friday, September 22 Drew is targeted, as Cyrus silences the snitch-at least temporarily, as he'll get a bad beat down at Pentonville and be taken to GH.
Elsewhere, Spencer Cassadine (Nicholas Alexander Chavez) and Trina Robinson (Tabyana Ali) are excited about their romantic weekend trip to New York City.
Elsewhere, Curtis voices his reservations but it may not have anything to do with Trina and Spencer's trip-if it got back to Portia, she'd have put a quick stop to it.
Elsewhere, Molly Lansing-Davis (Brooke Anne Smith) gets welcome news, likely about her and TJ Ashford's (Tajh Bellow) surrogate's implant procedure. Also, Kristina Corinthos-Davis (Kate Mansi) makes a new friend.
Be sure to catch up on everything happening with GH right now. Come back here often for General Hospital spoilers, news, and updates.