General Hospital Spoilers: Selina Behind Warehouse Shooting, Tired Of Answering To Sonny
General Hospital spoilers suggest that Selina Wu (Lydia Look) may have been behind the shooting at the warehouse that almost took out Sonny Corinthos (Maurice Benard). Is Selina getting tired of Sonny's rule over Port Charles? Does Selina want Sonny's territory for herself?
General Hospital Spoilers – Selina Wu Was Upset With Sonny Corinthos
General Hospital spoilers reveal that Selina was not happy that Sonny rerouted one of her shipments very recently. Sonny laid down the rules for her shipments but Selina always wants to change things up. Sonny is not about to allow someone to run over him in his own territory. However, Selina may be getting fed up.
Selina is not used to answering to anyone. Selina has been a mob leader for some time so answering to anyone, especially a man, just does not settle well with her. Selina likes to be in charge. Selina would so like to have other mobsters run products through Port Charles, probably products that Sonny would not allow. Taking over Sonny's territory could be very profitable for Selina.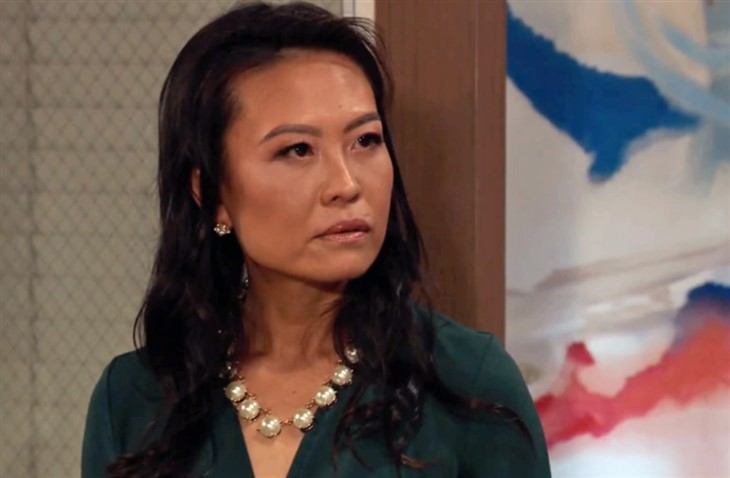 GH Spoilers – Selina Wu's Backroom Games Could Bring More Business
Selina may be able to get more business if Sonny was not controlling the docks. After all, Selina has a lot more nefarious partners than Sonny deals with. Sonny doesn't want arms dealers or drug runners in his town. However, now the Pikeman deal could be a game changer since they supposedly handle arms shipments.
Could the Pikeman deal be the catalyst for Sonny changing the types of shipments Sonny is letting in? Could Selina have made a deal with them to cut Sonny out completely? If Pikeman wants to continue to bring shipments through Port Charles, they may need Sonny out of the way for good. Is Selina the one who is out to get Sonny?
General Hospital Spoilers – Michael Corinthos May Have Brought This Down On Them
Michael wanted his family, especially his younger sisters away from Sonny and the mob. However, this may end up being a nightmare for Michael and his mother. Now that Sonny is in danger, the rest of the family is likely to be as well. Josslyn Jacks (Eden McCoy) could be in more danger than anyone because of her relationship with Dex Heller (Evan Hofer).
Will Selina cause Josslyn to get hurt or killed instead of Sonny? Is Michael partially responsible for this setup in the first place? Is punishing Sonny for leaving Carly worth his sister's life? Perhaps Michael needs to get his head on straight and stop this vendetta before his sister gets caught in the cross fire. Will Sonny catch on to Selina and Michael before someone gets hurt?
Be sure to catch up on everything happening with GH right now. Come back here often for General Hospital spoilers, news, and updates.