General Hospital Spoilers Wednesday, March 22: Nina Frantic, Liz Anxious, Esme Conflicted, Brook Lynn Stunned
General Hospital spoilers Wednesday, March 22, reveals Elizabeth Baldwin (Rebecca Herbst) is anxious to know the fate of her future. Nina Reeves (Cynthia Watros) has a long list of questions for Jordan Ashford (Tanisha Harper). Trina Robinson (Tabyana Ali) bumps into Curtis Ashford (Donnell Turner) and they share an awkward moment, as do Trina and her mom, Portia Robinson (Brook Kerr).
Esme Prince (Avery Kristen Pohl) deliberates over what to do. Brook Lynn Quartermaine (Amanda Setton) clears the air. Alexis Davis (Nancy Lee Grahn) and Diane Miller (Carolyn Hennesy) chew the fat over Gregory Chase's (Gregory Harrison) strange behavior.
General Hospital Spoilers – Wednesday, March 22, 2023: Elizabeth Baldwin Can Hardly Wait to Hear From the Hospital Review Board
Elizabeth is biding her time waiting for the review board to return from deliberating over her hearing. Elizabeth came clean with the PCPD, her son, and Esme. Now, she will learn whether the truth will cost her the career she has loved for so many years.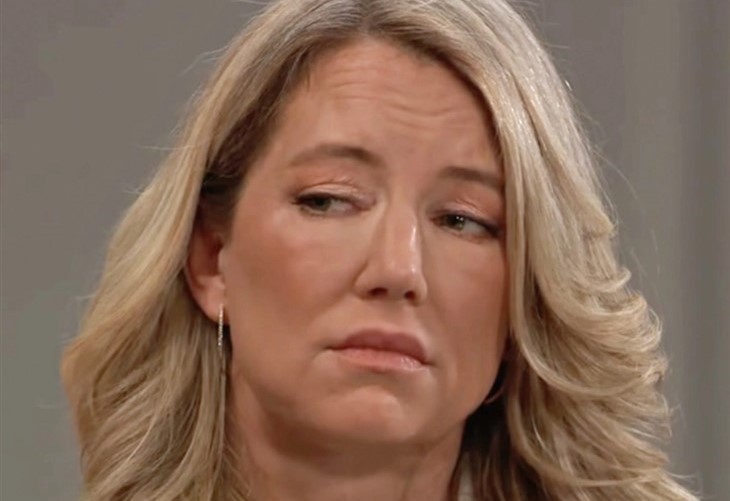 GH Spoilers – Say Nina Reeve Worries Something Has Happened To Sonny Corinthos
When Jordan approaches Nina at Charlie's, she's going to jump to the conclusion that something might have happened to Sonny Corinthos (Maurice Benard). Given all that is going on, that's not a big leap for her to make, but it'll catch Jordan off guard. As the two take a few moments to chat, Nina is going to use the opportunity to ask Jordan some hypothetical questions about insider trading and the SEC. Should somebody warn Carly Spencer (Laura Wright) and Drew Cain (Cameron Mathison)?
General Hospital Spoilers — Trina Robinson Can't Keep Dodging Portia Robinson And Curtis Ashford
Trina is doing her best to avoid her mother and Curtis. She isn't ready to get a DNA test or confront the potential for moving forward with a relationship with either one of them. Running into them won't help resolve matters. If anything, it's going to push Trina further outside of their orbit as she hyper focuses on Spencer Cassadine's (Nicholas Chavez) problems instead of her own.
GH Spoilers Tease Esme Price Doesn't Know How To Move Forward
When Laura Collins (Genie Francis) and Spencer hop over to Spring Ridge to share the good news with Esme that all charges against her in the revenge porn case have been dropped, she's going to be stunned. Will she trust that this isn't just another Cassadine ploy?
General Hospital Spoilers — Brook Lynn Quartermaine Has To Tell All
Brook Lynn will be stunned to hear Harrison Chase (Josh Swickard) say he's willing to give things a shot with her again. However, Brook Lynn has learned her lesson the hard way. So before they take any steps forward, she'll need to tell Chase the truth. Does that include looping him in on her NDA decision with Linc Brown (Dan Buran)?
GH Spoilers — March 22 — Alexis Davis And Diane
Miller

Wonder About Gregory

Chase

Gregory's behavior as of late has concerned Alexis. She's not sure if he's really messing with alcohol or pills, or whether something else is amiss. Still, the thought that he's suffering from illness never even entered her mind. When she sits down with Diane to explore her own feelings about the situation, will it dawn on her that Gregory's health might be the matter at hand?

Which storyline are you most looking forward to following on GH on Wednesday, March 22nd? Let us know, and keep checking back for more General Hospital news and spoilers.