General Hospital Spoilers: Sonny's Sinking Suspicion Might Sink His Marriage — Did Nina Do Carly Dirty?
General Hospital spoilers claim Sonny Corinthos (Maurice Benard) is starting to question his new bride's loyalty to him. While Nina Reeves (Cynthia Watros) may not be stepping out with another man, she sure is keeping her fair share of secrets. Sonny didn't want to entertain the idea that Carly Spencer (Laura Wright) might have been over the target when she suggested Nina never has altruistic reasons for the things she does.
She is always self-serving. But now, having heard what Anna Devane (Finola Hughes) has gone through and that Valentin Cassadine (James Patrick Stuart) knew all along, Sonny will start to question Nina's character as she confesses she knew too.
General Hospital Spoilers — Nina Reeves's Guilty Conscience
Nina knew when she deleted that file of the video footage showing Charlotte Cassadine (Scarlett Fernandez) trashing Anna's hotel room, that she was committing to seeing this through with her ex-husband —- and all behind her new husband's back.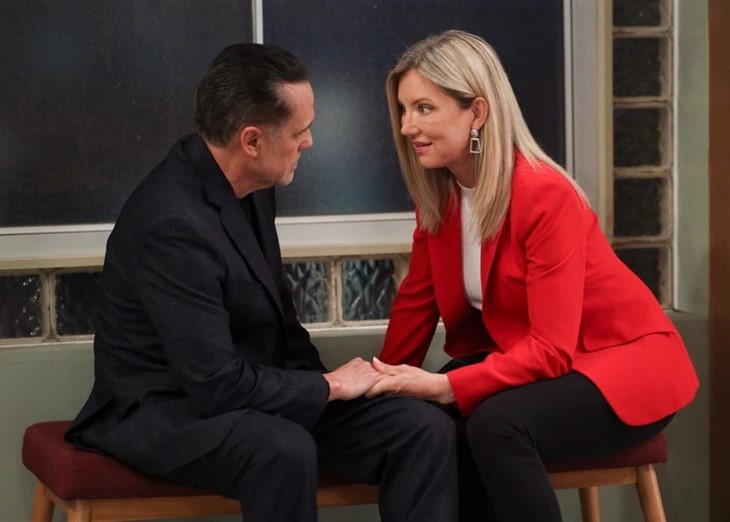 But now that Sonny knows the truth, he's going to put two and two together and realize Nina is the person who helped Valentin pull this off.
When she confesses that she knew about Charlotte's fixation on Anna and said nothing all of this time, Sonny will have enough empathy to understand why she would want to protect her former stepdaughter, but that still won't make him feel very good about sleeping with Anna's enemy.
GH Spoilers – Report Sonny Corinthos Starts to Wonder
If Nina kept this misdeed to herself, it'll dawn on Sonny that it's not impossible she has kept other secrets close to her chest.
Could she be hiding something that led her to want to sell her half of the Metro Court Hotel back to Carly?
When she fails to give Sonny an answer that really makes sense — and also fails to tell him she was involved in the mess with Valentin at all until he presses her on it — he might lose some trust in his wifey while she remains oblivious to it. What else could she be hiding that she won't cop to until he puts her on the spot?
General Hospital Spoilers — Nina Reeves Is Clueless
Lucky for Sonny, Nina will have no idea he's into her or suspects anything about her behavior at all. He may not even mention to her that Carly came by with questions.
He might prefer to wait and see if she mentions it to him herself. When she doesn't, it's going to give him even more food for thought. Stay tuned for more GH news and spoilers to see how this shakes out.