General Hospital Spoilers Thursday, March 23: Gladys Stunned, Esme Suspicious, Elizabeth Paranoid, Alexis Confronts
General Hospital spoilers Thursday, March 23, reveals Maxie Jones (Kirsten Storms) makes Cody Bell (Josh Kelly) an offer he may not be able to refuse. Sasha Gilmore Corbin (Sofia Mattson) stuns Gladys Corbin (Bonnie Burroughs). Marshall Ashford (Robert Gossett) props Portia Robinson (Brook Kerr) up. Curtis Ashford (Donnell Turner) questions Jordan Ashford (Tanisha Harper). Alexis Davis (Nancy Lee Grahn) puts Gregory Chase (Gregory Harrison) on the spot.
Elizabeth Baldwin (Rebecca Herbst) and Terry Randolph (Cassandra James) worry that the review board made their decision in haste. Spencer Cassadine (Nicholas Chavez) and Trina Robinson (Tabyana Ali) talk strategy and feelings; Laura Collins (Genie Francis) and Esme Prince (Avery Kristen Pohl) do the same.
General Hospital Spoilers – Thursday, March 23, 2023: Maxie
Jones

Brings Good News

Maxie is hoping everyone else will be as excited as she is for the good news she has coming their way. In the meantime, she might also convince Cody to come on board as a performing act for the Nurses' Ball. What talents does this guy have up his sleeve apart from grifting?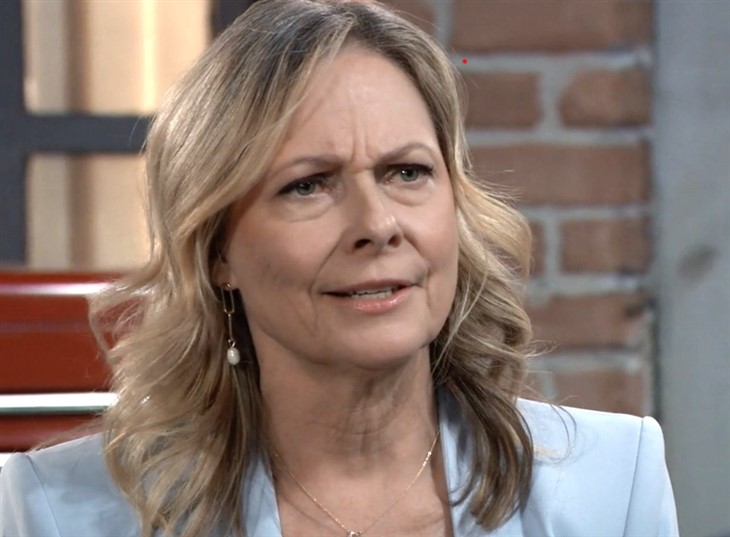 General Hospital Spoilers – Say Sasha Gilmore Corbin Takes Gladys Corbin By Surprise
When Sasha tells Gladys she has talked with Cody and knows what's up, Gladys is going to be shaking in her boots. Is Sasha about to unravel everything Gladys has been up to with her money?
GH Spoilers — Marshall Ashford Encourages Portia Robinson
Marshall just wants to see Portia and Curtis back together again. When he tries to push Portia to fight harder for Curtis, she's going to push back. What gives?
General Hospital Spoilers – Leak Curtis Ashford Peeks Into The Past With Jordan Ashford
Curtis has a heart-to-heart with his ex-wife, who might encourage him to seek Portia's side of things and try to forgive her. Would Curtis and Jordan still be together today if he had done the same for her?
GH Spoilers — Alexis Davis Confronts Gregory

Chase
Alexis will be stunned when Gregory shows up in her office at The Invader. He's certainly not there looking for a job. Is he ready to tell her the truth?
General Hospital Spoilers – Tease Elizabeth Webber And Terry
Randolph

Are Concerned

Elizabeth is going to get word that the review board has made their decision about the fate of her future as a nurse at GH. The look on Terry's face will say it all when Elizabeth stresses that such a fast turnaround cannot be a good thing. Is Elizabeth on her way out?
GH Spoilers — Spencer Cassadine And Trina Robinson Talk Feelings
Spencer and Trina are going to talk about the future and the possibility of Ace ending up with Esme long-term is a part of that. Trina is not ready to lose Spencer to his hatred for Esme, but she's worried that might happen.
General Hospital Spoilers — March 23 — Laura Collins Tries To Reassure Esme Price
Laura has welcomed Esme into her home and now she needs to gain her trust. Esme might think she's just another Cassadine family cult member who has an agenda, but Laura genuinely wants Esme to have a real shot at being a mother to her son.
Which storyline are you most looking forward to following on GH on Thursday, March 23rd? Let us know, and keep checking back for more General Hospital news and spoilers.