General Hospital Spoilers Thursday, September 7: Trina Hears Joss Out, Molly And Kristina Argue, Nina Wants Carly's Help
General Hospital spoilers for Thursday, September 7, show that
Sam McCall (Kelly Monaco) comes clean. Mac Scorpio (John J. York) isn't giving up. opens up to Josslyn 'Joss' Jacks (Eden McCoy).
Elsewhere, Gregory Chase (Gregory Harrison) backpedals. Molly Lansing Davis (Brooke Anne Smith) and Kristina Corinthos Davis (Kate Mansi) butt heads again. Cody Bell (Josh Kelly) makes a bold move at Ferncliff. Gladys Corbin (Bonnie Burroughs) is worried and confused.
Meanwhile, Nina Reeves (Cynthia Watros) asks for help from an unlikely ally. Harrison Chase (Josh Swickard) puts Brook Lynn Quartermaine (Amanda Setton) on the spot.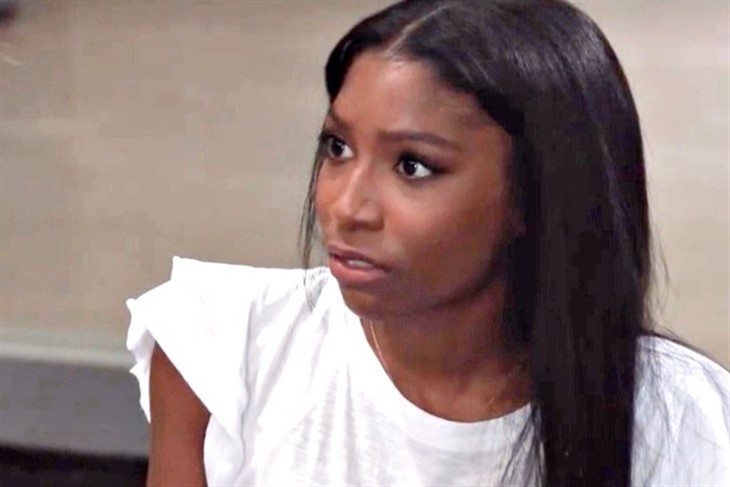 General Hospital Spoilers – Thursday, September 7, 2023: Sam McCall Tells The Truth
Sam could be caught up in her charade with Cody on Thursday, September 7th. Who is she sharing the truth with this time — Dante Falconeri (Dominic Zamprogna)? She better watch out. It might be Dr. Damon Montague (Darin Toonder) who is on her tail.
General Hospital – Spoilers Say Mac Is Committed
When Mac sits down with his Mrs and lets Felicia Scorpio (Kristina Wagner) know he is planning to go see Cody at Ferncliff, she's going to put her foot down. How will Mac take to his wife telling him what he's not going to do?
GH Spoilers — Trina Robinson Needs Her Bestie
When Joss and Trina catch some rays by the Metro Court pool, things are going to get a bit more serious than either one of them expected. Joss has been concerned for her friend for a while now, but Trina hasn't been open to talking about it.
When Joss inquires as to why Trina isn't bothered by how much time Spencer Cassadine (Nicholas Alexander Chavez) is spending with Esme Prince (Avery Kristen Pohl), will she have an honest answer?
General Hospital – Spoilers Hint Gregory Chickens Out
Gregory is preparing himself to tell his other son the truth about his condition, but he just can't bring himself to shatter Chase's world like that. Will Hamilton Finn (Michael Easton) give him the push he needs, or might be to credit for his hesitation?
GH Spoilers — Molly And Kristina Face More Conflict
Molly and Kristina are going to continue their bickering, and to anyone else it will be clear that they are both feeling hurt. Will Alexis Davis (Nancy Lee Grahn) be able to force these two sisters to come together and make up?
Cody came to Ferncliff to help Sasha Gilmore Corbin (Sofia Mattsson) and that's just what he'll intend to do when he gets into her room and tries to gain her trust. Is Sasha going to be far too out of it to recognize Cody's olive branch for what it is?
GH Spoilers — Gladys Is In Trouble
Gladys won't know what to make of it when she's led to a remote location. Is she in trouble that Sonny Corinthos (Maurice Benard) couldn't possibly bail her out of now? Will Selina Wu (Lydia Look) offer her any grace, or has she made a more serious enemy out of Dr. Montague now?
Nina is a fish out of water. She has no idea how to function in the world anymore without Sonny's constant reassurance that everything is going to be okay.
The other women in Sonny's life seem to know how to tread these waters better than she does. As Alexis and Ava Jerome (Maura West) continue to be blunt with Nina, will Carly Spencer (Laura Wright) offer the support she needs?
GH Spoilers — September 7 — Chase Calls BLQ Out
Chase will be surprised to see Brook Lynn skirting the issue again and acting as though she doesn't belong at his place. He thought this matter was settled. Is she moving in, or is she just staying over?
Which storyline are you most looking forward to following on GH on Thursday, September 7th? Let us know, and keep checking back for more GH news and spoilers.