General Hospital Spoilers Wednesday December 27: Ava Misunderstands – Maxie Corners Amy – Anna Hears Disturbing Info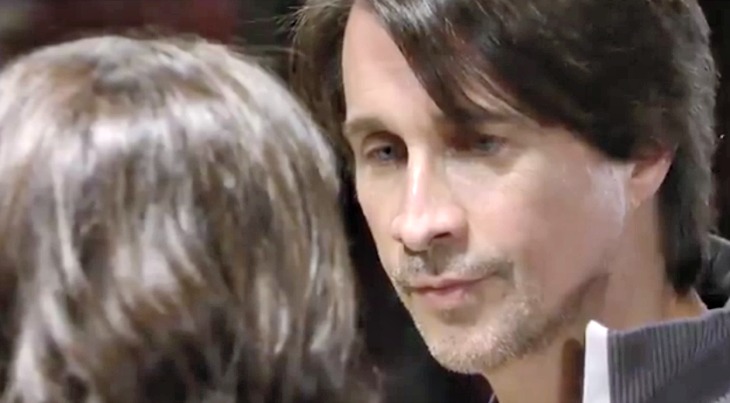 The General Hospital episode for Wednesday, December 27 promises plenty of action and drama. Please be sure to tune in, you don't want to miss any of the drama.
Kiki (Hayley Erin) and Griffin (Matt Cohen) may be sharing a secret. Ava (Maura West) over hears a private conversation between her lover Griffin and her daughter Kiki. ABC General Hospital spoilers state Ava worries she may have overstepped, as she hears Griffin whispers to Kiki that she can't know yet. Ava looks worried and wonders what they could be talking about. The other day Ava witnessed Griffin wiping her daughter's tears and it appears a tiny streak of jealousy ran across her face. Perhaps she fears Kiki may be after her boyfriend. It would not be so far-fetched, as Ava has been guilty of the same behavior. Will Ava confront her daughter and demand she stay away from Griffin? Could it be something so innocent on Griffin's part; a ring maybe?
Lulu (Emme Ryland) is anxious to begin her investigation into the missing ballots from the mayoral election in 2014. She goes to the PCPD and asks Dante (Dominic Zamprogna) and Police Commissioner Jordan Ashford (Vinessa Antoine) how long before Mayor Lomax is forced out of office. Dante and Jordan are not as gleeful or hopeful as Lulu. ABC General Hospital spoilers indicate Dante is worried about Lulu's safety regarding this story. They may try to warn her off. Will Lulu listen or is her desire to become an investigative Journalist and prove herself to Peter August (Wes Ramsey) overshadow the dangers. Lulu is after all, a Spenser by nature.
The Christmas wedding was a success with a few bumps in between but now the newlyweds hope to settle down to their peaceful lives in Port Charles. Laura (Gene Francis) and Kevin (Jon Lindstrom) meet up at General Hospital and Laura is so excited to be married she tells him "My last name, we have never talked about that". Will Laura decide to keep her last name of Spenser? Does it even matter to Kevin?
After Maxie (Kirsten Storms) and Nathan (Ryan Paevey) visit Dr. Kim Nero (Tamara Braun) to express their concern about unknown health issues Maxie has a plan to help her husband put his mind at ease. Since his mother, Dr. Obrecht (Kathleen Gati) has been less than honest about his true paternity, Maxie decides to hatch another plan. In other General Hospital spoilers Maxie corners nurse Amy Driscoll (Risa Dorken). Maxie pleads with Amy to help her put Nathan's mind to rest. Nathan has been a very good friend to Amy this past year, and the opportunity to help him may sound like a great idea however, will Maxie's little plan cause trouble for Amy, and will she be willing to risk her career for him?
While his wife works her plan, across town Nathan decides to confront his mother Dr. Obrecht and demands to know what it is that she is not telling him about his father. Will Obrecht finally come clean and tell her son who his father is or will she continue to lie to him to cover her own secrets?
LOVE GENERAL HOSPITAL? SIGN UP FOR OUR GH NEWSLETTER!
Cassandra (Jessica Tuck) has a heart to heart talk with Finn (Michael Easton) and tells him he is not the man she thought he was. Has Cassandra figured out Finn is playing her? Has she found out he is working with Anna Devane (Finola Hughes) to bring her down? Perhaps Finn will need to brush up on his boxing skills after all.
As Anna listens in via headphones to a conversation, she suddenly hears something very disturbing as she jumps up and shouts "Damn no!!". Has she been listening in on Finn's conversation with Cassandra and suspects something has gone wrong and Finn could be in danger? Or could she have some information on the missing Disco Ball Christmas ornament.
Be sure to tune in to watch General Hospital on ABC on Wednesday December 27 you won't want to miss any of the exciting drama.
Also, don't forget to check back with Celebrating the Soaps for all your latest news, updates, and spoilers for General Hospital along with all your other favorite daytime television soaps.
Also, don't forget to check back with Celebrating the Soaps for all your latest news, updates, and spoilers for General Hospital along with all your other favorite daytime television soaps.