General Hospital Spoilers: Will Lucy's Need To Control The Nurse's Ball Event Blow Everyone's Cover?
General Hospital (GH) spoilers suggest that Lucy Coe's (Lynn Herring) patience is about to run thin in the safe house. Felicia Jones (Kristina Wagner) recently visited her friends and filled Lucy in about plans to move forward with the Nurse's Ball. Lucy seemed okay with Maxie Jones (Kristen Storms) taking on the project but was very concerned about her abilities to execute the tasks for such a major event. However, when Bobbie Spencer's (Jacklyn Zeman) name was mentioned as Jones's "helper" Coe almost lost her mind. Could Lucy do something drastic and blow everyone's cover, all in the name of the 2023 Nurse's Ball?
General Hospital Spoilers – Lucy Coe Does Something Drastic
GH spoilers for the week of March 20th reveal that Lucy will make a "bold" move that may risk everyone's safety, including her own. Coe can be quite impulsive at times and is protective of the Nurse's Ball event. After all, the project has been "her baby" for decades now. She's not only the founder of the event that raises both awareness and funds for HIV and AIDS, but she's also handled organizing the entire gala, from the donations to the talent show aspect and so much more.
The idea of Maxie taking the reigns made Lucy nervous, but she loves Jones and was warming up to the concept that her partner did this to pay homage to the work Coe has done in the past. However, there's a tremendous amount of negative history between her and Bobbie. Coe could do something drastic to ensure Spencer stays well away from the event until she can come back to it herself.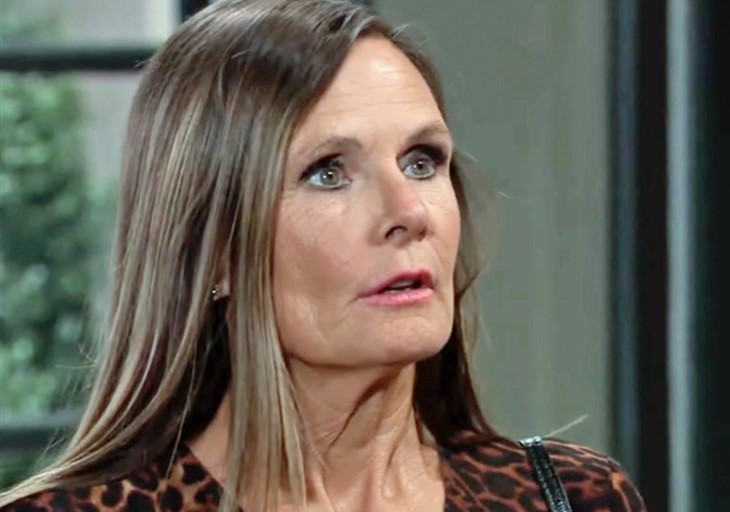 GH Spoilers – What Will Lucy Coe Do & How Will It Impact The Others
It's hard to say exactly how desperate Lucy will get in the days ahead and what she'll do. She not only should think of her own safety, but that of Anna Devane (Finola Huges), Valentine Cassadine (James Patrick Stuart), and Felicia. Could she try to escape the safe house to stop Bobbie from being a major part of the Nurse's Ball? Would she simply try and send Spencer (or Jones) a threatening text from the "great beyond"? Either move would be a terrible idea, but Lucy is known to be a loose cannon at times.
Will Lucy go off the rails and do something stupid because of the Nurse's Ball? Have your say in the comments section. Don't forget to tune into the ABC soap to see what happens next. Plus, visit this site often for the latest General Hospital spoilers and news.