Days Of Our Lives Spoilers: Will Maggie Help Reunite Xander & Sarah
Days of Our Lives (DOOL) spoilers promise plenty of drama and shockers in Salem. Maggie Horton (Suzanne Rogers) is a busy bee right now as the CEO of Titan Enterprises, but will she also be the driving force to help reunite Xander Kiriakis (Paul Telfer) and Sarah Horton (Linsey Godfrey)? She's not the meddling mom type, but she does want what's best for her daughter. Plus, Maggie and Xandy are getting close in Sarah's absence.
Days Of Our Lives Spoilers – Maggie Horton's Giving Xander Kiriakis A Chance, Will She Convince Sarah Horton To Do The Same?
Maggie clearly has a soft spot for Xander. Why else would she give him a chance at Titan to get his act together? After all, Xandy messed up majorly during his short marriage to her daughter Sarah. Most ex-mother-in-laws would not be as gracious as Maggie is being to Xand right now.
While Ms. Horton is off in Chicago with Rex Brady (Kyle Lowder), it won't be long until she re-emerges in Salem. Will that be when she's farther along in her pregnancy or will she come back to the little town with a baby in hand? Either way, when Sarah returns, she may see a new and improved Xander that finally has his act together.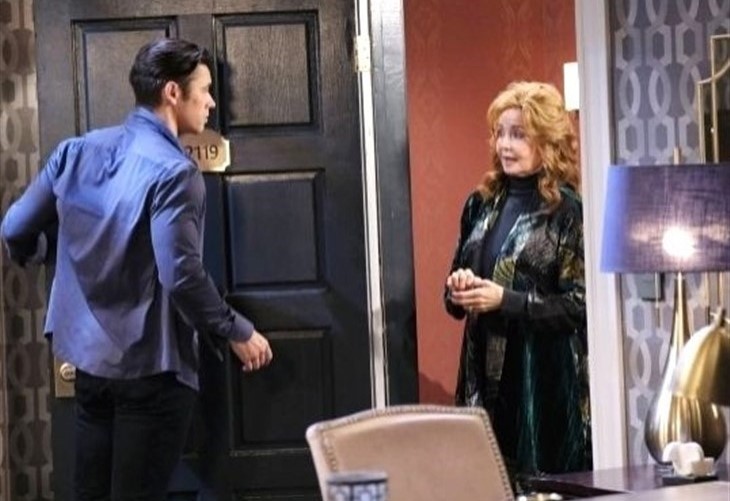 If she sees that Maggie has given Xander another chance, then she may be convinced to do the same. Especially in light of the fact that he is her child's father.
DOOL Spoilers – Maggie Horton Encourages Xander Kiriakis To Become A Better Man
Moreover, working closely with Maggie may encourage Xandy to be a better man. Maggie will be there alongside Xander to keep him honest while working at Titan; back him up; believe in him and show him a better way. This may finally keep him on a straight and narrow path.
Xander's new job at Titan, with Maggie's influence and support, could finally transform him into the man Sarah wants him to be. Therefore, when she returns and she sees the change, she may be tempted to give him and their romance, one last shot.
Will Maggie be the link that reunites Sarah and Xander? Have your say in the comments section below! Don't miss a moment of the DOOL drama, now exclusively available on Peacock. Plus, visit this site often for the latest Days spoilers and updates.