General Hospital Spoilers: Willow Finds Out What Michael's Up To, Stops The Wedding
General Hospital (GH) spoilers hint that Michael Corinthos (Chad Duell) and Dex Heller (Evan Hofer) are gearing up to place the final nail in the plan to bring down Sonny Corinthos (Maurice Benard). For months now, the two have been searching for an opportunity, and it looks like they've finally found one in the Pikeman shipment that is set for two weeks from now. With that said, Michael has a lot on the go right now.
He's planning his wedding to Willow Tait (Katelyn MacMullen), not to mention the stress of knowing that time is ticking for his love, and he has a newborn to take care of. Willow has no clue about his revenge plans and his secret partnership with Dex. With all that's going on, could Michael slip up?
General Hospital Spoilers – Willow Tait Learns The Truth
GH spoilers imply that Liesl Obrecht (Kathleen Gati) will likely be a bone marrow match for Willow. Things in the land of soaps can either move painfully slowly or at rapid speeds. Once doctors realize that Liesl's a match, they will move quickly to perform the transplant on Willow. She may even get it and recover before her wedding.
With Tait feeling better, she'll be functioning at a hundred percent and more in the loop. Whether she overhears Michael talking to Dex, runs into the two plotting and scheming, or puts two-and-two together; Willow will learn about the secret Michael's been hiding.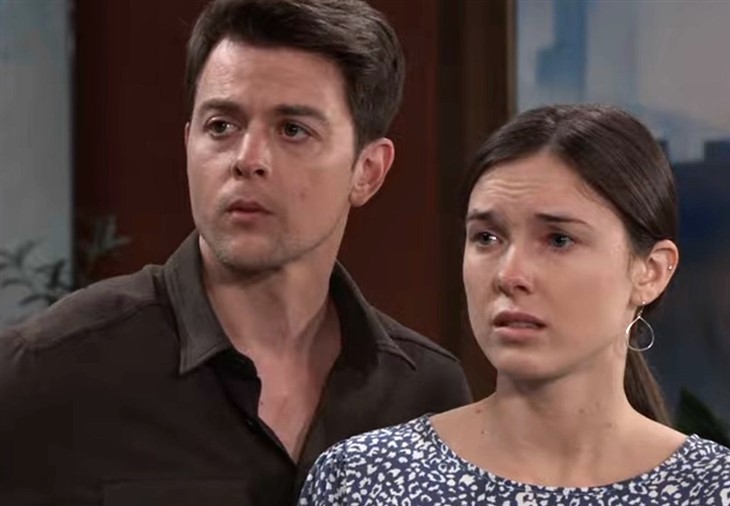 GH Spoilers – Willow Tait Calls The Wedding Off, Michael Corinthos's Devastated
GH spoilers suggest that the Millow wedding and this Pikeman shipment could coincide. If Willow overhears Michael talking about his revenge plan against Sonny, could she call the wedding off? What if she learns about all this the day before the wedding? Or even minutes prior to walking down the aisle? Willow will feel betrayed on so many levels. She'll also see Michael in a very different light. Having hostility towards Sonny for "breaking" up his marriage (and family) with Carly Corinthos (Laura Wright) is one thing.
However, actively seeking revenge and bringing your father down is another. That's crossing a line. Tait's always had a soft spot for Sonny, and Corinthos has been there to support her during her illness. When she learns the truth, she'll not only second-guess her feelings for Michael, but she may also second-guess the type of person he is.
GH spoilers tease some over-the-top plot twists ahead. What do you think? Could Willow learn the truth about Michael's plans? Would she stop the wedding if she does? Share your thought in the comment section. Plus, tune in daily to see what happens next on your favorite ABC soap opera, and don't forget to visit this site regularly for the latest GH updates, news, and spoilers!