Days Of Our Lives Spoilers: "Heavenly Help", Who Will Save The Day For Marlena, Kate, And Kayla?
Days of Our Lives (DOOL) spoilers imply that Kayla Brady (Mary Beth Evans), Marlena Evans (Diedre Hall), and Kate Roberts (Lauren Koslow) will still be locked away in the purgatory afterlife as the week of February 20th rolls around. It sounds like it'll be a struggle for them to avoid Satan's wrath. With that said, it also seems as if help might be on its way. Who could come to the three ladies' rescue?
Days Of Our Lives Spoilers – It's Time To Believe In Miracles …
DOOL spoilers suggest that despite their respective "deaths", there is hope for Kayla, Marlena, and Kate. While their circumstances seem dire at the moment, this is the land of Salem, where anything can happen. After all, if Will Horton (Chandler Massey) can return from the dead, along with a slew of other characters, these three ladies can come back from the afterlife, too. It's unclear exactly where this is going, and with Days storylines always over the top, fans need to expect the unexpected. From the sound of it, it looks like a miracle is about to unravel.
DOOL Spoilers – The Ladies Get A "Heavenly" Helper
Days spoilers hint that a "heavenly advocate" is set to place some pressure on the Devil's secretary, Nick Fallon (Blake Berris), on behalf of the ladies. While they've been surrounded by demons, looks like an angel will swoop in and offer a divine intervention. But who could that be?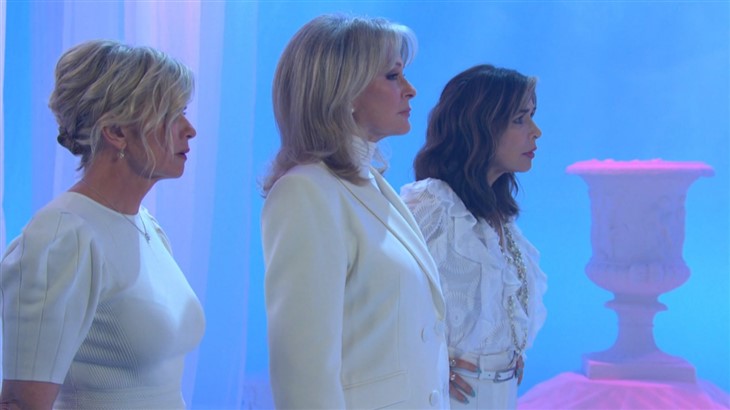 There are several possibilities. First off, there's the go-to of Adrienne Kiriakis or Susan Banks as both actresses (Judi Evans and Stacy Haiduk) are still on the DOOL roster, but fans have already seen these characters, albeit in "devilish" form. What about a visit from Marlena's twin sister Samantha Evans (Deidre Hall)? She may want to swoop in and save the day for her sister, Kayla, and Kate. It would also be fairly easy for the soap opera to have Jake DiMera (Brandon Barash) take angel form. While he wasn't overly close to Marlena or Kayla, he did care deeply for Kate and might want to help her and the other two out, the best he can.
Then, there's also the idea of Zack Brady (Scott Shilstone). He recently appeared on the Peacock special Beyond Salem, and he has ties to all three women. While he's closest to his Aunt Kayla, his parents are Marlena's BFFs, and he has a connection with Kate, as she is/was married to his Uncle Roman Brady (Josh Taylor).
Who will Days bring back as the ladies' "heavenly helper"? Leave your comments below! DOOL spoilers note a ton of twists and turns on the horizon, so fans need to stay tuned to their favorite Peacock daytime drama. Lastly, don't forget to check this site regularly for Days' updates, teasers, and news.