Rebecca Budig Opens Up About General Hospital Exit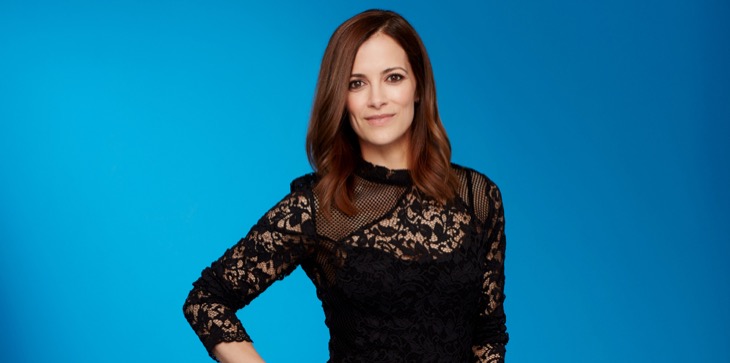 Rebecca Budig is opening up about her exit from the hit daytime television drama, General Hospital. In fact, many people were surprised to see Rebecca at Michael Easton and Roger Howarth's late night fan event at the Embassy Suites hotel in Glendale, California on Saturday, August 5 even though she's not returning.
Rebecca wasn't at the main cast even but she did want to show her support for Roger and Michael at their fan gathering. Speaking to Soap Hub, Rebecca said that while seeing her character Hayden leave the show definitely hurts, she's also not delusional about the situation.
In fact, Rebecca even told the site, "I'm fine. I'm not delusional. I know this stuff happens. I'm practical," adding that Hayden's upcoming exit will be, "Bittersweet. But I hope it's interesting to watch. It was interesting (for me) to watch (Michael's performance). I hope everyone else will enjoy it was much as I did."
Rebecca also hinted that she wouldn't mind returning to General Hospital one day but at the same time, she would love to explore other soap avenues. She even revealed that she played a previous role on The Bold and the Beautiful.
Rebecca explained, "I was directed by Susan Flannery (ex-Stephanie) and I was terrified! Susan and I are friends now. I was so intimidated, but now I know her and…(laughs) she still intimidates me! But I love her. It was a small little part. I was someone's friend in a college dorm. It was one day of work. So far, nothing has come my way (yet). But I'm open to anything. We'll see."
Tell us, are you surprised by Rebecca's comments? What do you think is next for her and her career? Let us know by dropping us a line with your thoughts in our comments section below. Also, don't forget to check back with Celebrating the Soaps for all the latest news and updates on Rebecca Budig along with General Hospital spoilers right here!
To read the rest of the interview head to Soap Hub!