Neighbours Spoilers: Shocking Kiss And Sudden Proposal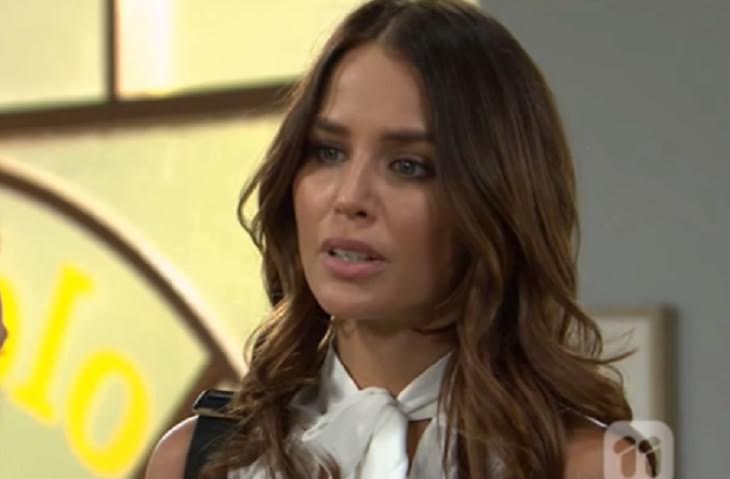 Neighbours spoilers tease viewers are set to be stunned next week when Chloe Brennan deceives her brother Mark by kissing his girlfriend Elly Conway.
Though Chloe was pretty flirty when she first met Elly, making her attraction no secret, the two have had a purely platonic relationship since. Especially because Chloe's brother is Elly's serious boyfriend.
However, after the two have a heart-to-heart at the Kennedy house, Chloe suddenly reveals the secret feelings she has for Elly in the form of a kiss.
The storyline begins next week when Elly is fired from her job as teacher at Erinsborough High School. She was actually hoping to take over as temporary head of the school, but instead familiar face Jane Harris is given the job, and sacks Elly almost immediately.
Jane – also known as Plain Jane Superbrain – has been told by the school board that she needs to reduce the number of staff numbers. When Elly leaves the school site during school hours Jane's decision is made easy, leaving Elly unemployed.
Tune in to hear Mark give his brother a bit of much needed perspective on #Neighbours pic.twitter.com/M9u1L0alod

— Neighbours (@NeighboursTV) November 29, 2018
Not wanting to bother her aunt with her problems when she's already burdened with her upcoming conviction, and also not wanting to bother Mark in the mist of his possible health diagnosis, Elly seeks advice from Chloe. Though she does help Elly process her horrible news, she makes a mistake when she feels a deeper connection than friends.
She leans in a kisses Elly, who is understandably shocked and withdraws right away. Realising that she confused any kind of signal, Chloe immediately apologises and tries to brush off the kiss, playing it cool.
The girls don't get chance to discuss the kiss any further as Mark shows up, worriedly revealing that his Huntington's test results will be through in the morning.
The next day Elly reveals to Mark that no matter what the tests say she wants to be with him forever, accompanying this with a surprise proposal. A delighted Mark says yes and is further elated when his tests reveal that he doesn't have the Huntington gene.
Once the eventful day is over, Chloe pulls Elly to one side and reassures her once more that the kiss meant nothing. But is Chloe actually falling for her soon-to-be sister-in-law?
Check out our exclusive Neighbours spoilers page for more details!
Want up-to-the-minute soaps news, spoilers, and gossip on your social feeds? Just hit 'Like' on our Facebook page and 'Follow' on our twitter