90 Day Fiance' Recap Sunday, December 2: Mommy Issues, Wedding Woes, Trouble In Paradise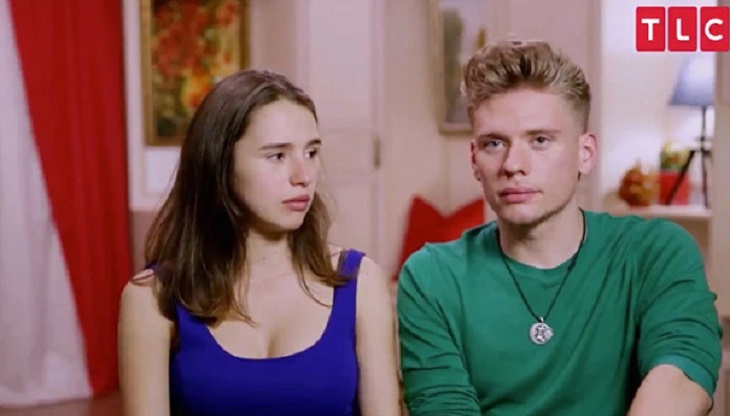 90 Day Fiance' Recap Sunday, December 2 kicks off with Colt and Larissa are fighting about everything, he thought proposing would change that but it hasn't. Larissa is unhappy because she believes Colt flirts too much.
90 Day Fiance' Recap – Colt and Larissa
Larissa wants a house without his mother. Larissa thinks Colt should be a man. Colt and Larissa look at a one bedroom apartment. Larissa says they have no privacy living with Debbie and that she manipulates the situation to make herself look like a victim. Colt doesn't want to live without his mother and tells Larissa she can't make him choose between her and his mom. Colt feels like it's his responsibility to look after his mother.
Colt and Larissa talk about the loft the checkout out today. Colt thinks they should share with his mom that they are looking at places of their own. Debbie seems shocked that they are looking for places to rent. Debbie tells Colt she can find a senior apartment to move into if Colt wants to get another place. Debbie says they have lived together for 33 years. Larissa doesn't want to live with Debbie or next door to Debbie. Colt hopes his mother and Debbie can be friends before the wedding.
90 Day Fiance' Recap – Jay and Ashley
Jay has been in the U.S for about 60 days. Ashley says she has a lot of issues trusting Jay right now. Jay leaves in Ashley's car all the time. Ashley doesn't have good luck finding faithful men. Jay asks if Ashley is still upset. Jay says Ashley has trust issues and needs to learn to trust him. Jay tells Ashley he as to work on having to inform people where he is going. Jay apologizes to Ashley about last night.
Ashley appreciates Jay's apology. Ashley realizes that Jay is going through a lot of stuff. Ashley thanks Jay for dinner last night. Jay came to America to be with Ashley, and he will always be there for her. Jay is trying to make up for everything that has hurt Ashley. Jay and Ashley promise to talk things through from now on.
Jay and Ashley are going to the venue to see what it looks like inside. Ashley has the wedding planned in a rustic barn. One of Ashley's friends tells her to check out the wedding website immediately. There are hundreds of comments on the website using the N-word as well as other comments. They even have comments about slavery on the site.
Ashley didn't expect any of this, and some people are threatening them at the wedding. Ashley doesn't realize how anyone could have so much hatred toward someone they don't know. Ashley tries to convince Jay that not everyone is like this. Ashley can't fathom how Jay feels. Ashley was naïve in thinking she didn't have to worry about these things. Jay wants to go back to Jamaica and not be in America anymore.
90 Day Fiance' Recap – Fernanda and Jonathan
Jackie and Fernanda go to the bridal shop to look at wedding dresses. Fernanda is upset that Jonathan's mom isn't embracing her more. Fernanda is embarrassed by Ceci's questions. Fernanda wants to prove that she is the right woman for Jonathan. Jonathan's mother shows up to look at dresses. Ceci decided to be there to support Fernanda and be there to help her pick out her dress. Ceci thinks this is happening too fast but wants to be there to help Fernanda choose a dress.
Ceci says this wasn't what she planned on doing today. Jackie loves the first dress; it's very sophisticated. Ceci believes Fernanda needs something more age appropriate. Jackie says Fernanda's boobs look good in the dress. Ceci keeps making comments about age appropriate dresses. Jackie asks what Fernanda's mom would think about the dress. Fernanda breaks down and cries. Ceci hugs Fernanda and tells her she looks beautiful. Fernanda picks the Jackie O dress. Jackie tells Fernanda she looks like a princess. Fernanda feels that Ceci is more open to welcoming her to the family.
90 Day Fiance' Recap – Olga and Steven
The baby is hungry; he wants Olga to feed him. Steven says they need to balance being parents with being a couple. Steven walks to go out on a family walk. Steven wants to drive to the park. Olga doesn't know how to put the baby in the car seat. Steven tries to fix the car seat, Olga is ready to take the baby home. Olga is still hurting from the operation and is mad because of the way Steven is acting. Steven is annoyed that Olga doesn't want to drive to the park. Olga wants to walk close to the apartment; Steve wants to go to the fancy park. Steve thinks Olga doesn't appreciate what he is doing for her.
Steven says things have been hard for him because to do things because he doesn't speak Russian. He is running around trying to do everything, and Olga doesn't appreciate it. Steven had had a lot of time to think; he thinks Olga isn't excited to see him anymore and asks what happened. Steven wants to know if Olga is happy he is there. Olga says Steven doesn't understand she has to take care of the baby. Steve demands Olga not put the baby before him. Olga asks Steven if he is jealous of the baby. Steven says all Olga does is stay home and take care of the baby.
Steven wants Olga to show him she appreciates what he does for her. Olga tells Steven he needs to think about her hormones. Steven says Olga doesn't understand how he feels inside. Steven goes out to clear his head. Steven doesn't believe that Olga loves him. Olga is afraid things are not going to work out for them. Olga tells Steve she is sorry she was rude. Olga wants to know why Steven only blames her. Steven wants Olga to be happy when he sees him. Steven is worried if things don't work out, how it will affect the baby. Steven wants Olga to assure him thing will work out for them in America.
90 Day Fiance' Recap – Leida and Eric
Leida and Eric are going to see the venue for the wedding. Leida is still upset with Eric because he didn't tell her the truth about Tasha and the bills. Leida and Eric only have two months to get ready for the wedding. Leida knows it is not going to be extravagant. Leida's first wedding cost $300,000. Eric says Leida has some high expectations. Leida says it is nice outside, but she doesn't know what the inside is like in the ballroom. Leida thinks the wedding venue is bland. Leida's family is not coming to the wedding because they would not be happy with this wedding. Eric hopes the florist can make things better. He has no idea what Leida expected, but it is obvious she expected more than she has seen so far.
Leida shows the florist pictures from her first wedding. Eric only plans to spend $400 on flowers for the wedding. Leida finds out that one centerpiece would cost that about the full budget amount. Leida wants to spend more money on the wedding and blames Erics child support payments for that. Eric agrees to spend twice as much on flowers. Leida feels better because Eric is trying hard to make her happy.
Leida says her son needs his room and they need a bigger bed. Eric needs to prove to Leida that he can provide for her and her son. Leida and Eric go to find a new bed and a new couch. Leida finds a couch and wants to spend $4000 on one. Leida needs Eric to do better especially since he turned her dad down. Everything in this furniture show is too expensive. Eric tells Leida there are some things she has to accept. Leida feels like she has been lied to by Eric. Leida gets mad and leaves Eric sitting. Eric doesn't have the money right now to buy what Leida wants but doesn't have the finances.
Eric asks Leida what that was all about. Leida wants to get what she wants right now. Leida was promised better than this, but Eric doesn't make enough money to get her what she wants. Leida wants to know why she is there and when it is going to be her time. Leida is disappointed there is nothing left for her son because he has to spend his money on everything else. Eric tells Leida that he told her what it would be like when she came here. Eric says she was fine before. Leida is giving up her family and her life to be in America. Eric tells Leida she needs to stop being selfish. Leida doesn't want to get married then. Leida says she will give the ring back to Eric and says let's just end this. Eric says this is heartbreaking and he feels horrible.
Last night's wedding dress shopping was anything but enthusiastic! Catch up on #90DayFiance NOW. https://t.co/z7s4xbMl66

— TLC Network (@TLC) December 3, 2018
90 Day Fiance' Recap – Kalani and Asuelu
Kalani misses California, and she feels like Asuelu is immature in the ways he takes care of Oliver. Kalani says Asuelu is on his phone and doesn't watch the baby. Kalani's mom and sister Kolini are coming to go dress shopping with her. Kalani says she wouldn't be dress shopping if it weren't for the 90-day limit she wouldn't be looking at dresses. Kalani says it seems weird to be looking at dresses. Kalani feels rushed and panicked about the wedding. Kalani feels weird because this is a reality check for her. Kalani wants to try on more dresses; she doesn't want to commit to a dress right now. Kalani's mom thinks Kalani needs to commit to something. Kalani wants to have a more in-depth conversation with Asuelu before she buys a dress.
Kalani says dress shopping brought up doubts about getting married at the end of the 90 days. Kalani takes Asuelu and Kolini out for lunch. Asuelu likes it in Utah because he is with Kalani and their son. Asuelu dreamed of coming to a different country since he was a boy. Asuelu liked Kalani because she was beautiful, he didn't just want to come to America. Asuelu sometimes says Kalani doesn't like his family. Kalani doesn't like his brother because he came onto her. Kalani says she has done a lot for his family. Kalani says she went against her dad to take the baby to see Asuelu's family. Asuelu wants to go home, and he walks out of the restaurant. Kalani feels she's giving her sister validation of her worries. Kolini wants her sister to realize she doesn't have to marry Asuelu. Asuelu thinks Kalani will not marry him and send him back to Samoa.
Want up-to-the-minute soaps news, spoilers, and gossip on your social feeds? Just hit 'Like' on our Facebook page and 'Follow' on our Twitter account.