1000-Lb Sisters Star Tammy Slaton Wows In New Weight Loss Pics, Shares Favorite Drink
1000-Lb Sisters star Tammy Slaton has posted more frequently on social media since her weight loss success. And the reality TV star just wowed her fans again with her newest pics. But Tammy also entertained her followers by revealing her favorite beverage.
Find out what the 1000-Lb Sisters star shared on social media. And learn how fans reacted. Get all the details below.
1000-Lb Sisters Spoilers – Tammy Slatton's Weight Loss Wows!
Tammy Slaton has proudly shared her weight loss success in a series of social media posts. And the 1000-Lb Sisters star earned cheers from her fans with her newest Instagram pics.
Tammy's slim-down follows her weight loss surgery on the last season of 1000-Lb Sisters. In her new post, Tammy dazzled in a green shirt. However, she does still need an oxygen tube to assist with breathing, pointed out People.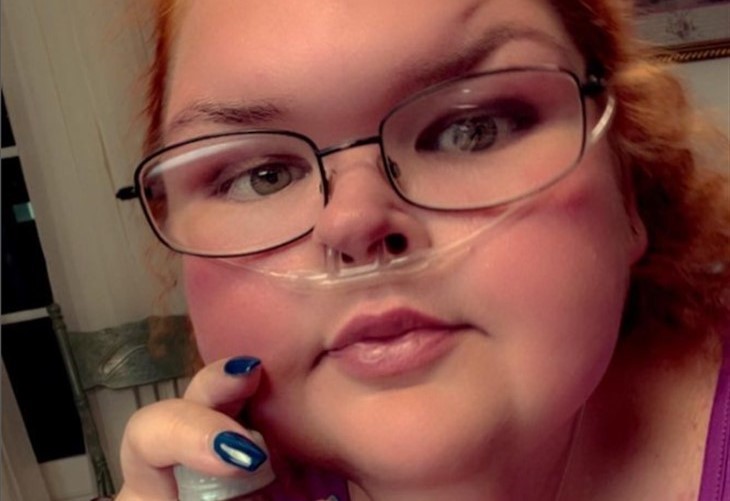 But the 1000-Lb Sisters star's followers focused on the positive. For instance, one of Tammy's fans gushed, "You're so beautiful inside & out! You look amazing!" And another 1000-Lb Sisters follower noted, "Look at your eyes. They are so big and pretty now that you've lost all that weight. Good job."
Slaton also revealed that she enjoys sipping diet sodas. And she posted some photos of herself gulping from a bottle of Diet Coke. "LOL I am a diet soda ambassador," quipped the 36-year-old. However, Tammy's joke now comes as a contrast to the tears that she shed in the past when she learned her highest weight prior to qualifying for the surgery.
'1,000-Lb. Sisters' ' Tammy Slaton Shares New Photos After Weight Loss Transformation pic.twitter.com/6rg4CM8MU3

— People (@people) May 23, 2023
1000-Lb Sisters Spoilers – Tammy Enjoys Girls' Night Out
Spring has marked a time for Tammy to enjoy relaxing with friends and her sister Amy Slaton. And Amy shared pics on Instagram from a girls' night out. The photos showed Tammy without a wheelchair or walker. And fans praised the 1000-Lb Sisters star for her improvement.
For instance, one Instagram follower wrote, ""Seeing Tammy stand on her own is so heartwarming. Proud of y'all's progress ❤️." And another shared, "Way to go Tammy! Walking on her own!!"
The most recent season of 1000-Lb Sisters has featured Slaton's slim-down journey at a weight loss rehab facility in Ohio. And one episode even revealed Tammy achieving her goal of qualifying for weight loss surgery. Slaton needed to go from her highest weight of 717 lbs. to 550 lbs. before she could get the procedure.
And Tammy showed her pride as the scale revealed she weighed 534 lbs. "When I got on the scale and I saw the scale was at 534.7, I kinda stopped breathing for a second," confessed the 1000-Lb Sisters star. "I'm like 14 lbs. under my goal weight. From over 700, that's a huge drop." And Tammy described herself as "thrilled, proud, excited — just all the emotions. I proved everybody wrong. Everybody that doubted me, I finally got mine! My told-you-so moment!"
Tell us what you think. How do you feel about Tammy Slaton succeeding with her weight loss? And after you share your views, check back on our site for more reality TV news.