Below Deck Med Spoilers: Natalya Scudder Reveals Kyle Viljoen Drama!
Below Deck Med spoilers reveal that Natalya Scudder and Kyle Viljoen provide more than their share of the drama this season. And Natalya also manages to clash with the chief stew amid an unexpected relationship on board.
Find out what Scudder revealed about her issues with Kyle. And keep reading to learn more about what to expect on Below Deck Med's upcoming episodes.
Below Deck Spoilers – Natalya Scudder Sets Boundaries
Natalya Scudder doesn't even want to wait for the yacht to set sail before establishing her boundaries on season 8 of Below Deck Mediterranean (known as Below Deck Med). The new season sees Natalya coming back for a second season in the role of stewardess. But Scudder feels aware of what happened last seaon, when she battled chief stewardess Natasha Webb's leadership methods and friendship with second stew Kyle Viljoen.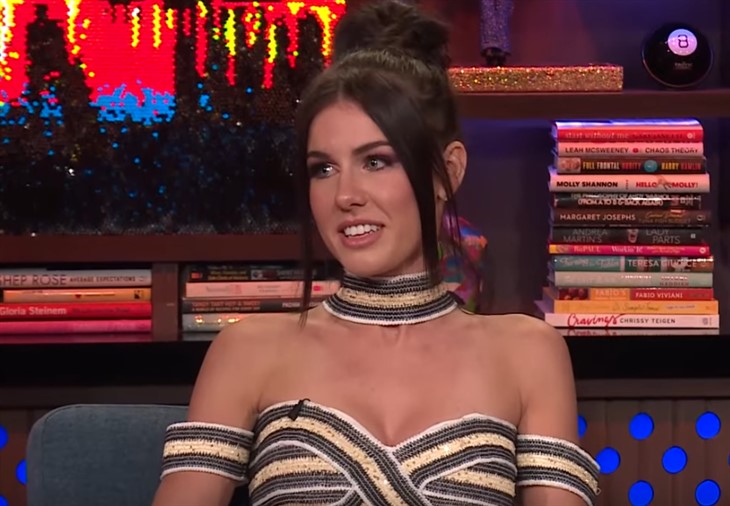 And so now Scudder feels she knows what she did wrong. And that leads to some changes in her own style this season. "I held off for way too long about confronting Natasha and Kyle about how I was feeling with the work duties," Natalya told ET.
But this season, the Below Deck Med stew decides to "definitely approach it very quickly. And it does not work out for me," admits Natalya. And her challenges include new chief stew Tumi Mhlongo, who appeared on Below Deck Down Under, and Kyle, who also returns for his sophomore season.
Below Deck Med Spoilers: Captain Sandy Gets Injured, Crew Go 'Crazy' In Season 8! #BelowDeck #RealityTV #BelowDeckCaptainSandy https://t.co/FzNOqOlUUB

— CelebratingTheSoaps (@celebratesoaps) September 4, 2023
Below Deck Spoilers – Life On Board Gets 'Intense'
And as she looks back, Natalya now declares that some "people I just would never work with again." And she warns, "If someone just disrespects me, doesn't treat me how I would treat them, I am not going to sit there and just be like, 'Oh, just because you are in a higher role than me just means I am going to take it.' Like, I will straight away, I don't bite my tongue. I just say it how it is. Some people really just like that about me," she adds. "But I do like that about myself."
However, Natalya shared that when Captain Sandy Yawn told her about Kyle's return, she initially felt "so excited. We had spoken since last season," added the Below Deck stew. "We realized like, oh my god, we were so tired, you know? Like, it's a very intense process, filming, so I went into it very excited."
And Natalya described how she even urged that the two share a cabin. Because her personal life had become complicated, she wanted Kyle as her roommate for support. And she felt thrilled at first to see him step on board.
Below Deck Spoilers – Kyle Creates Roller-Coaster Ride
However, then Natalya goes on a roller-coaster ride with Kyle. And after those relationship ups and downs, she also hopes that Below Deck viewers don't choose sides. Because the two co-stars have settled the situation, Natalya pleads, "I don't want anyone to be like 'Team Natalya' and 'Team Kyle'."
But the Below Deck star also copes with relationship issues. And she admitted feeling attracted to deckhand Luka Brunton. "Like, me and Luka, the first time I meet him, I'm very, like, the chemistry!" gushed Natalya.
And so the Below Deck star found herself seeking to focus on work while coping with "everyone's opinions on my relationship. And, you know, even Captain Sandy, she's like, 'Natalya, he doesn't love you.' Like, 'This isn't normal,' and I'm like, 'You don't understand!' But, I didn't even understand."
However, in terms of work, Tumi and Natalya also clash. And she recalled, "I wrote out a stewardess bible of how the boat should be run and stuff. And I just felt that maybe I wasn't really appreciated at that time for what I did."
But Natalya also teased that viewers should expect "the whole season of us going back and fourth. We have some good days," she added. "But mostly we are at each other's throats. This is the most drama I've been involved in." Bravo airs Below Deck Mediterranean on Mondays at 8 p.m. ET/PT.
Tell us what you think. Can you resist the temptation to choose between Team Natalya and Team Kyle this season? And after you share your views, check back on our site for more reality TV news.