Duggars Documentary Features THESE Three Brave Duggar Family Members!
TLC struck gold when the network found the Duggar family. Because their modest attire and strict rules fascinated fans, 19 Kids And Counting became an immediate hit. And the spin-off, Counting On, also did well. But then Josh Duggar destroyed that goldmine, with both 19 Kids and its spin-off Counting On cancelled. And now a new documentary reveals the dark side of the Duggars, thanks to three brave family members who dared to break free and tell all.
Find out which Duggars appear in the new documentary series. And learn why producers hope that patriarch Jim Bob and matriarch Michelle Duggar watch it. Get all the details below.
Duggar Documentary Spoilers – Which Family Members Appear?
The new four-part documentary series seeks to expose all the Duggar family secrets. And it does so with help from three family members. The series examines both the stars of reality TV shows including the now-cancelled Counting On and their religious organization, the Institute in Basic Life Principles (IBLP). But the producers of "Shiny Happy People: Duggar Family Secrets" told Yahoo they hope Michelle and Jim Bob watch.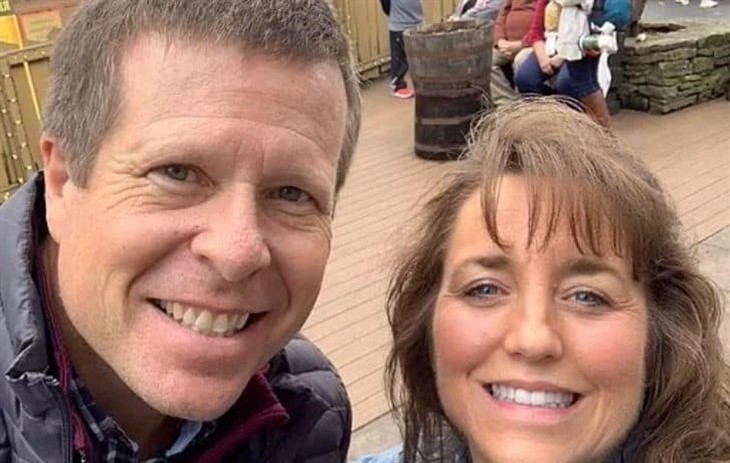 Jim Bob and Michelle Duggar showcased their conservative religion on their TLC shows for years. And the 19 Kids And Counting clan also drew attention to the IBLP. But the new documentary series examines the family's ties to the organization. And Jill Duggar Dillard, one of Josh Duggar's childhood sexual abuse victims, speaks out against her family in the documentary.
In addition to Jill, Jim Bob's sister, Deanna Jordan, and niece, Amy Duggar King, also speak out in the Amazon documentary series. And director Olivia Crist revealed, "It wasn't until I really started digging into the research of the insidious organization behind the family, the IBLP, that [I] started to kind of go down the rabbit hole of this cult." But executive producer Blye Pagon Faust described the story as "so much bigger than the Duggars."
In a new documentary called "Shiny Happy People: Duggar Family Secrets," Jill Duggar is speaking out about her family's ties to a controversial church. pic.twitter.com/F4hL2CkDRL

— Inside Edition (@InsideEdition) May 27, 2023
Duggar Documentary Spoilers – Will Jim Bob And Michelle Watch?
Jim Bob and Michelle Duggar once claimed that the IBLP changed their lives. But former members describe both physical and psychological abuse. And Jill describes her own challenges. "We have Jill Duggar Dillard on the record," shared producer Faust. "And she was so incredible and so forthcoming and so honest, and just laid things bare."
Jill shared that growing up, she felt she could not reveal what she thought or felt because of the institute's guidelines. And Amy described seeing punishment with a rod. "They called it 'encouragement.' They literally said: 'You need to come into the room," recalled Amy. "But it was in the sweetest tone ever: 'Do you need encouragement? I think you need encouragement.'"
And Amy also described the Duggars holding a bonfire to burn Disney items. But Jill remembered that her parents taught them at home to avoid the kids getting "brainwashed" in public school. As a result of these revelations, the producers hope that Jim Bob and Michelle "actually will take a look at it themselves," said Faust. "And maybe there's some sort of reflection and changes." The documentary series premieres Friday, June 2 on Prime Video.
Tell us what you think. Do you hope to learn more about the Duggars by watching the series? And after you share your views, check back on our site for more reality TV news.