Joy-Anna Duggar DEFIES 'Counting On' Dress Code: Here's How!
Michelle Duggar and hubby Jim Bob Duggar repeatedly shared their views on proper dress choices on 19 Kids And Counting and the spin-off, Counting On. And the strict couple put the emphasis on modesty for their children. For instance, Michelle instructed her girls to wear dresses and skirts, with lengths longer than traditional fashion.
However, Joy-Anna Duggar just ignored all those 19 Kids And Counting dress code rules. Find out what the Counting On alum wore. And learn what she revealed below.
Joy-Anna Duggar Spoilers – Flaunts Baby Bump In Banned Styles
Counting On alum Joy-Anna Duggar decided to share her pregnancy progress in a YouTube video. And so the reality TV alum proudly flaunted her baby bump. But to display her pregnancy, Joy-Anna defied the Duggar family dress code, noted the Sun.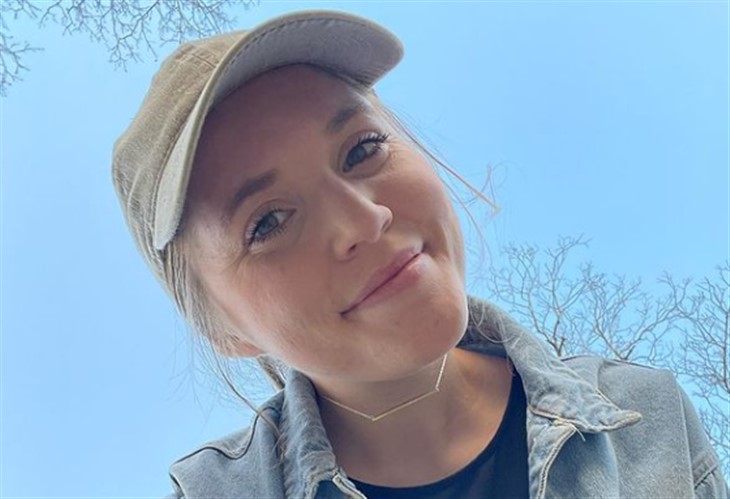 In her most dramatic dress rebel display, Joy-Anna wore extra-tight skinny jeans. And defiant Duggar then donned an equally tight black T-shirt. As a result, she showed off her pregnancy bump to its full advantage. But the Counting On alum also included a Bible in her lap as part of her video.
And for most 25-year-old women, jeans and a T-shirt represents normal attire. But the Duggar clan knows that matriarch Michelle and patriarch Jim Bob specifically view such attire as banned. And the video shows clearly that Joy-Anna won't let her father Jim Bob choose her clothes.
Pregnant Joy-Anna Duggar breaks family's modesty rules and shows off her baby bump in new photo
https://t.co/ZrTnsDhCm2

— The US Sun (@TheSunUS) March 4, 2023
Joy-Anna Duggar Spoilers – Duggar Rebel With A Clothes Cause?
Joy-Anna's new video includes a surprise for her daughter with husband Austin Forsyth. The couple gave their child Evelyn, age 2, her very own miniature bike. And that means the little girl can learn to ride as she awaits the arrival of her baby brother.
Pregnant Joy-Anna has increased her videos and social media posts recently. And she seems to love those maternity jeans. For instance, a recent pic showed the Counting On alum wearing distressed blue jeans. And she paired them with a casual style shirt and bare feet.
Joy-Anna first shared her pregnancy news in October 2022. And after some social media hints, the Counting On alum revealed that she looked forward to welcoming her third child into the world. In a pic with Austin and their children, Joy-Anna wrote, "Baby #3 is on the way! Full Video Is On YouTube Now!"
A few months later, the Counting On alum shared her gender reveal news. And her parents as well as some of her 18 siblings gathered to cheer the news. Joy-Anna also recently revealed the latest baby news during her doctor's appointment. "Baby boy is doing good. His heartbeat…we got to hear it today. Next week I have an appointment."
And the Counting On alum got tearful in her joy. "I get to do an ultrasound. I'm so excited! You can see so many little features!" Joy-Anna then gushed, "Anyway, I cannot believe I am getting so close! It's crazy! About 10, 11 weeks to go!"
Tell us what you think. How do you feel about Joy-Anna Duggar defying her parents' dress code? And after you share your views, check back on our site for more reality TV news.