Real Housewives Star Vicki Gunvalson Returns To RHOC To 'Whoop It Up'!
Real Housewives of Orange County (RHOC) spoilers reveal the return of original cast member Vicki Gunvalson. And Vicki comes back with her famous chant of "whoop it up" intact. But of course her return also includes tequila shots and a get-together with friends Tamara Judge and Shannon Storms Beador.
Find out about Vicki's return. And learn what happened when the famous trio of pals reunited on RHOC. Get all the details below.
Real Housewives Spoilers – 'O.G. Of O.C.' Returns!
Some RHOC fans worried that Vicki Gunvalson had burned too many bridges for Bravo to let her return. But this season, the Real Housewives of Orange County star known as the "O.G. of the O.C." returns. And where Vicki goes, her friends and RHOC co-stars Tamra Judge and Shannon Storms Beador follow. But according to People, Gunvalso appears only in a guest role in season 17.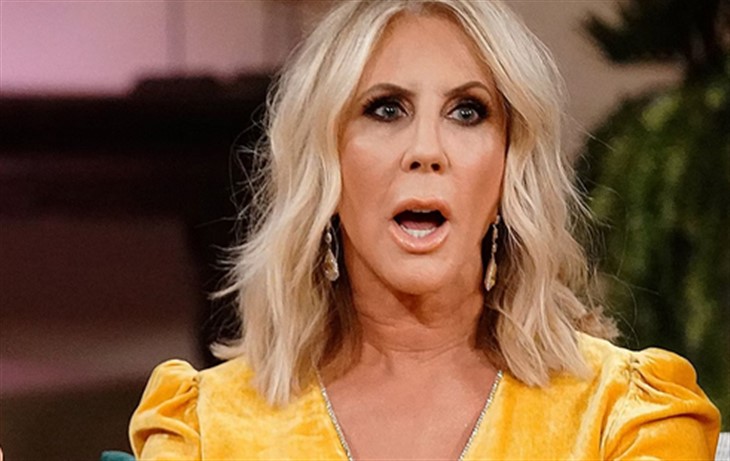 However, the delight of the long-time trio bonding again over tequila shots will charm viewers. And their friendship dates back to season 10. Gunvalson, 61, Judge, 55, and Storms Beador, 59, enjoyed an alcohol-fueled night in Tahiti that year. As a result, they later named themselves "The Tres Amigas."
But Vicki left RHOC after 13 years as a Real Housewives star. And though she did return as a guest star later, Judge got fired. However, Tamra's return this season coupled with Vicki's comeback promises some "Tres Amigas" fun for Shannon and her pals. And Vicki, who works as an insurance agent, even leads her pals in a prayer to whoop it up!
https://twitter.com/jacobpetkovic/status/1684554590564532224
RHOC Spoilers – Vicki Prays To 'Whoop It Up'
However, Gunvalson adds an unusual twist to her prayer of thanks. "Lord, thank you for bringing us together again. I miss my friends," admits the RHOC star as she holds hands with Judge and Storms Beador. "Let's learn how to whoop it up again!" And Judge giggles, "I love that you're telling Jesus that we need to whoop it up. That is amazing."
However, Gunvalson insists, "He understands who I am!" And Judge chimes in, "Praise the Lord, praise the Lord!" Meanwhile, Shannon partakes in the constant flow of tequila. But Storms Beador insists, "I'm not going to lie, I don't take that many shots, except when I'm around these two girls."
But after prayers and tequila, Tamara asks Vicki about her friendships among the current Real Housewives Of Orange County cast. And Gunvalson throws shade at RHOC stars Emily Simpson, Gina Kirschenheiter, and Heather Dubrow. "I don't talk to Emily and Gina," announces Vicki.
And after dismissing Emily and Gina as "not in my wheelhouse," Gunvalson writes off Heather as well. "I saw Heather a year ago," recalls the RHOC O.G. of the O.C. "And she was a little standoffish." But while Vicki doesn't fan-girl over the current RHOC cast except for Tamara and Shannon, the "Tres Amigas" have earned their own circle of fans. For instance, earlier in the summer the trio performed at the Irvine Improv in front of a sold-out crowd. And they even teased the potential of taking their act on the road.
Tell us what you think. How do you feel about the return of Vicki Gunvalson to RHOC? And after you share your views, check back on our site for more reality TV news.