Teresa Giudice Allegedly Got Plastic Surgery For RHONJ, Claims Melissa Gorga!
Real Housewives Of New Jersey (RHONJ) stars Teresa Giudice and Melissa Gorga just can't seem to get along. And now Melissa has fueled her feud with Teresa again. But this time, Gorga has focused on Giudice's appearance.
Find out about Melissa's claims that Teresa underwent plastic surgery for RHONJ. And learn what other Real Housewives Of New Jersey stars went under the knife in an attempt to look more attractive. Get all the details below.
Real Housewives Spoilers – Teresa Giudice Gets 'Tune-Up'?
Andy Cohen, known for hosting the Watch What Happens Live talk show and Bravo's reality TV show reunions, loves to ask stars about their plastic surgery procedures. But now Real Housewives of New Jersey star Melissa Gorga has decided to unveil sister-in-law Teresa Giudice's procedure before the RHONJ reunion. And Gorga claimed, "Everybody gets a little tune-up after the first time [they see themselves on TV]. Teresa did her forehead. She went back a little further [with her hairline]," clarified Melissa via Page Six.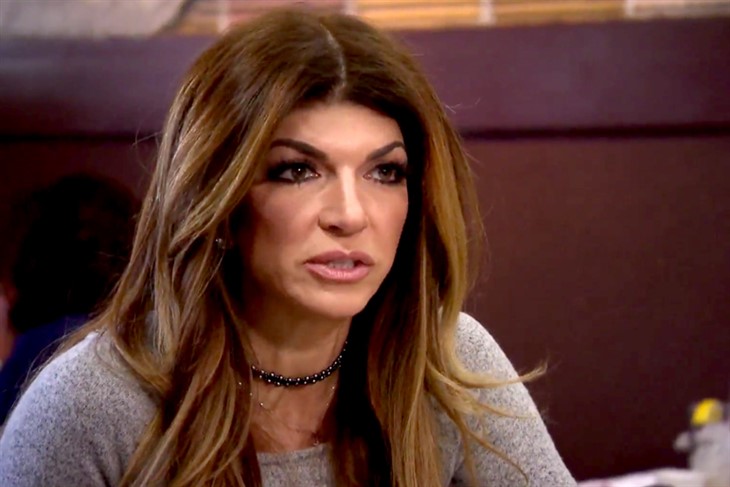 However, RHONJ star Rachel Fuda then felt prompted to reflect on a forehead-changing plastic surgery procedure for herself. And she insisted, "I need to go a little forward. I got a little bit big of a forehead." But Melissa then took back the spotlight, asserting, "Me, too. I could give half of mine."
As a result, Fuda then topped Gorga. And Rachel claimed, "Pretty girls have big foreheads." But Giudice has not yet responded to requests for comments on whether she did indeed undergo some sort of plastic surgery to change her hairline.
RHONJ Spoilers – Guess Who Had Plastic Surgery?
And if Teresa did go under the knife, she definitely has company. For instance, Gorga admitted that she decided on a rhinoplasty procedure after seeing herself on RHONJ. "I watched myself on TV; I went and got a nose job," revealed Melissa. And she also opted to get her "boobies" done earlier in her life.
Ready for another episode?! ♥️ #RHONJ we love a good baseball game for charity. Xox https://t.co/q2vyLNFOsX

— Melissa Gorga (@melissagorga) March 15, 2023
However, Fuda didn't even wait for her first season as a RHONJ star to begin before changing her appearance. And she revealed that she "got [her] teeth done" before her Real Housewives debut. In addition, Rachel went for a nose job, which RHONJ co-star Jennifer Aydin slammed as "terrible."
But another Real Housewives newcomer, Jennifer Fessler, delayed her face lift surgery. And when her friend Jackie Goldschneider viewed the results, she compared Fessler to a "walking filter." Fessler reacted, "That is the nicest thing that anyone has ever said to me."
Real Housewives Spoilers – Mommy Makeovers And 'Glow-Ups'
However, leave it to Gorga to alert RHONJ viewers that Goldschneider "got new teeth as soon as she saw herself" on Real Housewives. And Jackie also has admitted that she underwent a "mommy makeover." Danielle Cabral, another newcomer, teased that Fessler was "the only person that got a Season 2 face in Season 1."
But Aydin put her own spin on the situation. "I mean, everybody goes for their glow-up, Danielle. You'll find on this show, we all get a big glow-up. Hello!" she said after undergoing a breast reduction, breast lift, and liposuction from her plastic surgeon hubby. And she also opted for a chin implant and nose job from another plastic surgeon.
However, Dolores Catania believes that she wins for the most plastic surgery in all the Real Housewives cities. For instance, Dolores underwent full-body liposuction. She also opted for a Brazilian butt lift. And Catania even chose to get a face lift and tummy tuck.
Tell us what you think. How do you react to Real Housewives Of New Jersey star Melissa Gorga claiming that Teresa Giudice underwent plastic surgery? And after you share your views, check back on our site for more reality TV news.