Teresa Giudice And Melissa Gorga's Teens Enjoy Prom Amid RHONJ War!
Real Housewives Of New Jersey (RHONJ) spoilers reveal that Teresa Giudice and Melissa Gorga don't intend to end their feud anytime soon. But their mothers' war didn't ruin prom fun for Teresa's daughter Milania and Melissa's teenager Antonia. And the two girls even posed together despite the RHONJ battle.
Find out how Gorga's and Giudice's daughters enjoyed prom weekend. And discover what they wore. Get all the details below.
Real Housewives Spoilers – RHONJ Daughters Go To Prom!
Fans who began with season one of the Real Housewives Of New Jersey (RHONJ) became acquainted with the stars' daughters from a very young age. And now they cheered to see two of those children grown up enough to attend prom. But some fans noted that Teresa Giudice's daughter Milania and Melissa Gorga's teenager Antonia did so amid their mothers' feud, noted the Daily Mail.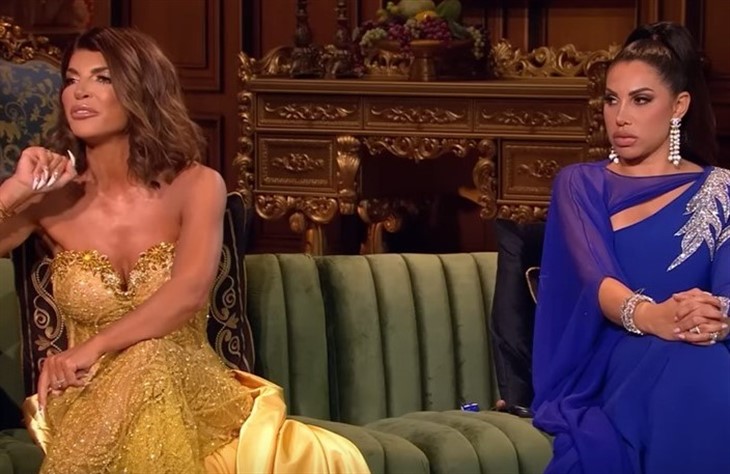 The cousins, 17, wore similar outfits. And both chose mermaid frocks. Antonia wowed in an electric blue dress with spaghetti straps and a bodice. She styled her hair in loose curls. And Gorga's daughter wore gold bangles and a gold chain.
In contrast, Milania went for a teal gown. It featured lace on the bodice and a low back. Teresa's daughter took hairstyle cues from her mom. And Milania went for a high ponytail with long loose curls. But like Giudice, the teenager wore dramatic makeup and dangling diamond earrings.
Teresa Giudice and Melissa Gorga's daughters both went to prom this weekend — see their gorgeous gowns! (via @toofab)https://t.co/x9YZUdP9em

— TMZ (@TMZ) June 5, 2023
RHONJ Spoilers – Real Housewives Gush Over Daughters
However, one Real Housewives Of New Jersey star didn't feel content to let her daughter celebrate prom alone on social media. And so Melissa gushed over Antonia and posted Instagram pics. "It's all happening," wrote Gorga. "Such an exciting time in her life. Her original high school!! One more week until the next one! Love my sweet girl."
Because of Melissa's phrasing, she seemed to indicate that Antonia went to a dance at her former high school. The teenager changed high schools when the family moved. But amid Melissa's feud with Teresa, the two teens showed their love for each other.
And Antonia proudly posed with Milania to celebrate their prom milestones. Starting this fall, Melissa's daughter will begin college at the University of Delaware. And Teresa revealed that her daughter considered several colleges in California. Giudice discussed Milania on an episode of the talk show, Watch What Happens Live.
Milania "looked at two colleges in San Diego," revealed the Real Housewives Of New Jersey star. But Teresa hinted that she wants her daughter to go to a university near home. And Giudice posted a video showing a family trip to Tampa, Florida. Teresa then made a point of tagging Milania in photos from the University of Tampa.
Tell us what you think. How do you feel about the Real Housewives Of New Jersey stars' daughters showing their love amid their mothers' feud? And after you share your views, check back on our site for more reality TV news.