Vanderpump Rules Spoilers: Raquel Leviss Caught At Tom Sandoval's Home Amid Ariana's Absence!
Vanderpump Rules spoilers reveal that the explosive love triangle of Raquel Leviss, Tom Sandoval, and Ariana Madix continues to produce drama. And this time, the spotlight shines on the home that Ariana and Tom own. Because while Madix spent time away filming a Lifetime movie, guess who got caught visiting Sandoval?!
Find out the latest in the saga of Raquel, Tom, and Ariana. And learn if Leviss enjoyed a sleepover in Madix's absence. Get all the details below.
Vanderpump Rules Spoilers – Raquel Leviss Visits Tom Sandoval And Ariana
Madix'

s Home

While the cat's away, the mice will play. And that saying just came true on Vanderpump Rules. Because amid Ariana Madix's absence, Raquel Leviss got caught leaving Tom Sandoval's house, which he purchased with Ariana. As a result, rumor soared that Leviss spent the night. However, a rep for Sandoval told Page Six, "Raquel certainly did not sleep over. She stopp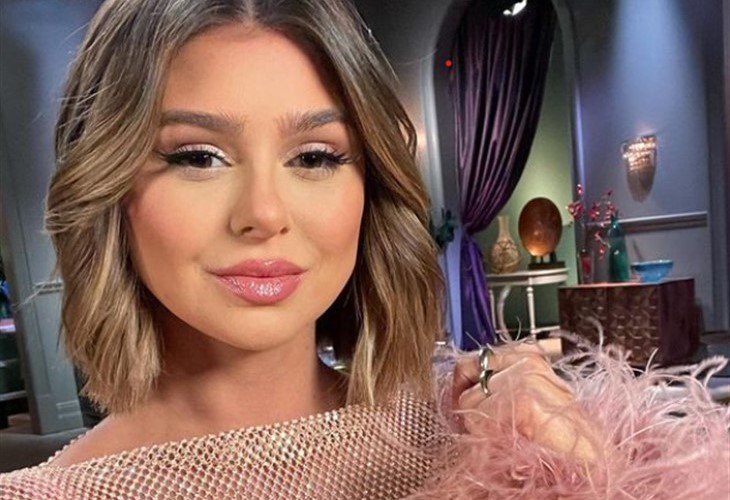 And Leviss, famed as a former beauty queen, didn't seem to care about the paparazzi taking her photo as she left Sandoval's and Madix's home. Raquel slid into a car that looked like a Lyft, based on her phone's open app. And the Vanderpump Rules star seemed prepared to travel, with an overnight bag and a tote as well as her purse.
But while Leviss walked away from the house in her gray sweatpants, dark long-sleeve blouse and beige slides over black socks, did she also walk away from ever repairing her former friendship with Ariana? At the time of Raquel's visit to the house, Madix was involved in filming a Lifetime movie, Buying Back My Daughter. However, Leviss' visit to Sandoval's home reportedly marks her first time since their affair shocked fans as well as their co-stars.
Peter Madrigal blasts 'manipulative' Raquel Leviss for using him as 'scapegoat' https://t.co/akBqaWChCY pic.twitter.com/DHKaVNGTSk

— Page Six (@PageSix) March 31, 2023
Vanderpump Rules Spoilers – A Game Of House Musical Chairs
And as more details emerge about Tom's and Raquel's affair, some questions remain unanswered. For instance, does 28-year-old Leviss want to move into a new home with Sandoval, 40? And what happens to the house that Tom and Ariana, 37, bought for $2 million in 2019? As a result of his affair with Raquel, Sandoval and Madix have ended their decade-long relationship. But Kristen Doute revealed that Tom remains in the house.
And thus far, Leviss and Sandoval decline to share their relationship status. For instance, Raquel recently claimed that she does not know what happens in the affair aftermath. "We're just kind of trying to get through these next few steps," she said. "And trying to, you know, make amends, hear everybody out."
And Tom admitted to regrets. "Hindsight's always 20/20, man," the Vanderpump Rules star told a photographer. "When you look back at a situation, you think of all the things [you] should've, would've, could've done to make it better. Yes, I could've handled things way better. Of course."
But an insider shared that Sandoval feels like he longs to give his romance with Leviss a chance. And he feels "emotional" about the situation. However, the insider admitted that the couple faces obstacles. "He wants to make it work with Raquel. But he knows the odds are stacked against them as a couple."
Tell us what you think. How do you feel about Vanderpump Rules stars Tom Sandoval and Raquel Leviss secretly having an affair amid his relationship with Ariana Madix? And after you share your views, check back on our site for more reality TV news.