Rosalynn Carter Dead At 96, Former First Lady and Mental Health Advocate Passes Away
Former first lady Rosalynn Carter, the wife of former President Jimmy Carter, has died at home just two days after entering hospice care with dementia. She was 96.
During her lifetime Carter was a dedicated mental health advocate and she is survived by her husband who has been in hospice care since February, and their four children. Carter has 11 grandchildren and 14 great-grandchildren.
The Carter Center Announces Death of Rosalynn Carter
In a statement released by the Carter Center, Jimmy Carter said "Rosalynn was my equal partner in everything I ever accomplished. She gave me wise guidance and encouragement when I needed it. As long as Rosalynn was in the world, I always knew somebody loved and supported me."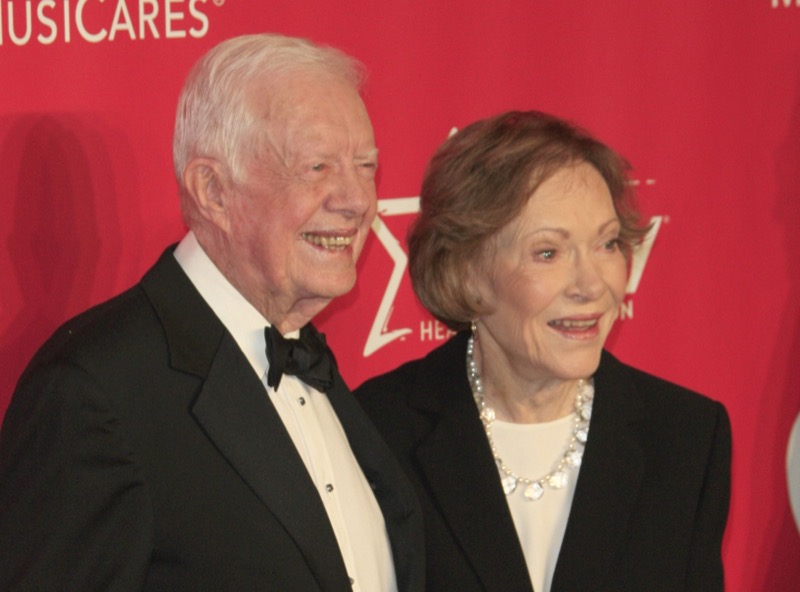 Her son Chip Carter stated of the former first lady "Besides being a loving mother and extraordinary First Lady, my mother was a great humanitarian in her own right.
Her life of service and compassion was an example for all Americans. She will be sorely missed not only by our family but by the many people who have better mental health care and access to resources for caregiving today."
Rosalynn Carter Dead at Age 96
After Rosalynn's dementia diagnosis the Carter Center said in a statement: "Mrs. Carter has been the nation's leading mental health advocate for much of her life. First in the Georgia Governor's Mansion, then in the White House, and later at The Carter Center, she urged improved access to care and decreased stigma about issues surrounding mental health."
According to MSN "The former first lady carved out a profound role at the White House, serving as an envoy abroad and as a political surrogate to her husband. She also raised four children, 11 grandchildren and 14 great-grandchildren."
Carter served as the country's first lady during her husband's single term as U.S. president, from 1977 to 1981.
Rosalynn Carter Was a Mental Health Advocate
After leaving the White House, the Carters founded the Carter Center in 1982. The nonprofit organization is "devoted to advancing human rights and alleviating human suffering."
The outlet notes that Eleanor Rosalynn Smith was born in Plains, Georgia on Aug. 18, 1927, to Wilburn Edgar Smith and Frances Allethea Murray, one of four children.
Carter's father died of leukemia when she was 13 and as the oldest child Carter helped to raise her siblings and worked at a hair salon for spending money.
In 1944 Carter graduated as Plains High School's valedictorian. After attending the same high school, Jimmy and Rosalynn corresponded while Jimmy was at the U.S. Naval Academy in Annapolis, MD.
The former president told The Atlanta Journal-Constitution in a 2016 interview celebrating the couple's 70th anniversary that "her letters were about all the boys she was going with … I was in the Naval Academy and I was kind of isolated from the outside world."
Undeterred, Jimmy Carter proposed in December 1945 but Rosalynn declined, instead devoting herself to finishing her degree at Georgia Southwestern College. Rosalynn and Jimmy were married on July 7, 1946, in the Plains Methodist Church.
The Carter Center Announces the Death of Rosalynn Carter
Rosalynn once told PBS that her early years of marriage and motherhood were lonely due to her husband's career as a Navy engineer and commissioned officer. She said "I felt inadequate and very lonely. Sometimes I cried, though I didn't let Jimmy know. He has no patience with tears, thinking instead that one makes the best of whatever situation with a smile."
In 1962, Jimmy Carter was elected to the first of two terms as a Georgia state senator and in become the state's 76th governor.
According to MSN, "As the first lady of Georgia, Rosalynn Carter took on the duties of managing the operations and gardens of the governor's mansion. She also became a member of the Governor's Commission to Improve Services to the Mentally and Emotionally Handicapped, as well as the honorary chair of the Georgia Special Olympics."
Our co-founder, former U.S. First Lady Rosalynn Carter, passed away this afternoon in Plains, Georgia.

For more information: https://t.co/82bHoZQvkk pic.twitter.com/2exvnQdtab

— The Carter Center (@CarterCenter) November 19, 2023
First Lady Rosalynn Carter
In 1976 Jimmy Carter defeated incumbent president Gerald Ford launching Rosalynn into the national spotlight. "Not content to play the traditional first lady role, Rosalynn routinely asked her husband about his decision-making process – to the point that he invited her to attend Cabinet meetings …
The first year Jimmy was in office, I became so frustrated. Every night, Jimmy would get off the elevator at the White House and I would say, 'Why did you do this?' or 'Why did you do something?'" she recalled. And one day he finally said, 'Why don't you come to Cabinet meetings? Then you'll know why we do these things.' So I started going. It was always on my calendar. And I just listened. I didn't participate. But I listened. And then I knew why the decisions were made."
Rosalynn also sat in on National Security Council meetings that were traditionally reserved for only the president and senior staffers.
In 1984 Rosalynn Carter wrote her autobiography "First Lady from Plains" and the Carters are the figureheads of Habitat for Humanity, the nonprofit for affordable housing. Together they "helped to build, renovate and repair 4,390 homes in 14 countries."
The couple told ABC News in 2021 that they had a wonderful marriage with Rosalynn noting "Everything with Jimmy Carter has been an adventure" and Jimmy stating that marrying Rosalynn Carter was the "most important thing in my life."
Be sure to catch up on everything happening in the world right now. Come back here often for entertainment spoilers, news, and updates.
Editorial credit: Kathy Hutchins / Shutterstock.com