Royal Family News: The Most Bizarre Oddities That Blinged Up Charles' Coronation
British royal family news shows that King Charles made history today with his coronation ceremony at Westminster Abbey. The last coronation was in 1953 for his mother, the late Queen Elizabeth.
She reigned for 70 years and there are generations of people who have never known a regent other than her.
Coronations have been a thing for hundreds of years and suffice it to say there were some rather bizarre ancient objects on display today as the pomp and pageantry played out. Here is a list of truly weird items that came out of mothballs for the service.
Royal Family News – Swords Of Spiritual Justice, Mercy, And Temporal Justice
There were plenty of flashy swords whipped about today including The Sword of Temporal Justice which symbolizes the monarch's role as head of the Armed Forces, the Sword of Mercy or Curtana which Signifies the sovereign's mercy, and the Sword of Spiritual Justice which represents the monarch's role as Defender of the Faith.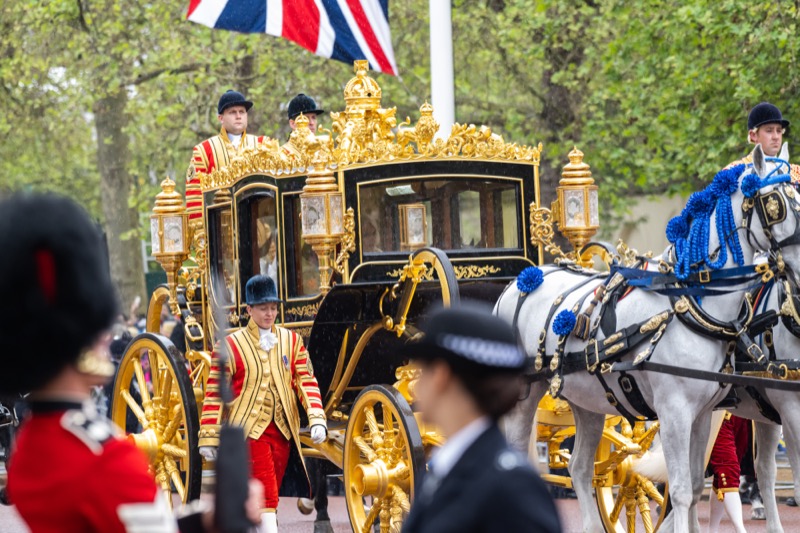 They were carried unsheathed and pointed up just before Charles walked into the Abbey. According to HuffPost "It's a practice which dates back to Richard the Lionheart in 1189, apparently, although these specific swords were made in 1626 for Charles I."
Royal Family News – Coronation Chair
Charles is now King of the realms and that means he gets to sit in the big boy, aka the coronation chair. According to Westminster Abbey it is "one of the most precious and famous pieces of furniture in the world," used for some 700 years of crowning.
"It was made by order of Edward I to enclose the Stone of Scone, and has been in use since around 1308. It was even stolen briefly by Scottish Nationalists on Christmas Day in 1950, but recovered the following year."
Royal Family News – Diamond Jubilee Coach
You didn't think the king would travel to his crowning day in a Mazda, did you? He was carried to the event in The Diamond Jubilee Coach which looks very ancient yet is very high-tech and weighs three tons. It stands at 18ft and was built in 2014. The coach conveyed Charles and Camilla from Buckingham Palace to Westminster Abbey for the coronation.
Royal Family News – Supertunica And Colobium Sindonis
Supertunica is not a fancy tuna sandwich served on sourdough. It is "a full-length coat of gold silk inspired by Byzantine Empire and embroidered with symbols of home nations" and worn by Charles during his ceremony. Likewise, the Colobium Sindonis is a white garment which Charles also wore during the anointing, with the color white symbolizing purity before God.
Royal Family News – The Stone Of Scone
Finally, the Stone of Scone made an appearance, and no, it's not a biscuit that sounds like it could break your teeth if you bit into it. Also known as the Scone of Destiny, this item is a 335 pound block of red sandstone which remains underneath the Coronation Chair. Just because it can.
So there you have it, a list of some of the more colorful items on display today, notwithstanding flame haired Harry dressed to the nines in a Dior suit which made him look like a duck out of water, or should we say a royal out of court?
Be sure to catch up on everything happening with the royal family. Come back here often for royal family news and updates.
Editorial credit: Michael Tubi / Shutterstock.com