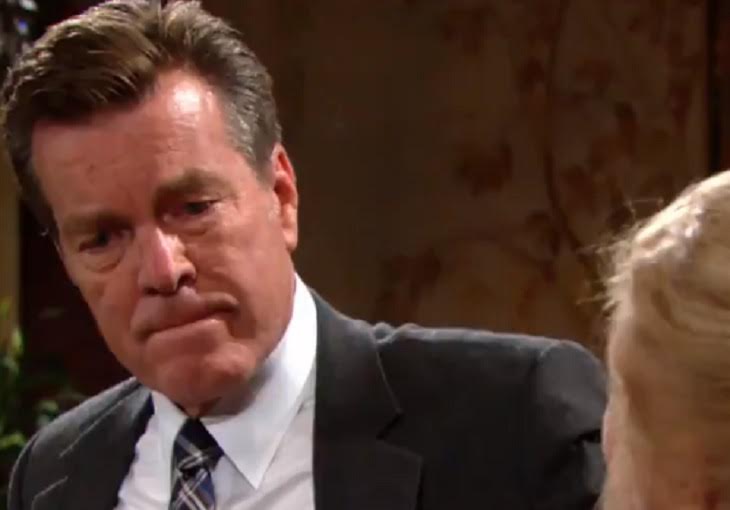 The Young and the Restless (Y&R) begins today with Lily (Christel Khalil) sitting in prison, imagining she is sitting in GCAC, waiting for Cane (Daniel Goddard) to arrive for their date. Meanwhile, Cane is at home on the phone while Devon (Bryton James) and Neil (Kristoff St. John) talk; Devon notices he is on edge. Neil informs him that Cane has messed with Lily's head.
Jack Busts Kyle And Dina
Abby (Melissa Ordway) walks into Crimson and Ashley (Eileen Davidson) finishes her coffee saying she is going to Jabot to check on things before people kick her out. At Jabot, Dina (Marla Adams) is desperate to stop Kyle (Michael Mealor) from shredding the document her and John (Jerry Douglas) to protect Ashley; but Jack (Peter Bergman) walks in demanding to know what is going on. Kyle insists she is out of her mind, but she says she is not and calls Jack, "John!"
Devon learns that Lily waited on Cane to show up, but never did. Neil knows its tough for Cane to find a sympathetic ear and he is stressed to the brink. Cane returns to the room, still arguing with Charlie (Noah Alexander Gerry), Neil takes the phone and deescalates the situation. They tell Cane, before they go see Lily there are a few things they need to discuss and he is going to make the time!
Devon And Neil Corner Cane
Lily puts some candy in water, takes some sparkles from her cards from the kids, mixing it with vaseline and creates some homemade makeup. Cane doesn't want to talk as he can't miss the visit with Lily again. Neil doesn't think he is tough enough to deal but he is setting himself up for more of the same. Neil and Devon tell Cane that saying "I need help" does not make him weak. He admits he misses Lily as Neil tells him they need to do this together and Devon says they can all pitch in around the house and with the kids. Cane doesn't deserve them but Lily does and appreciates them too much to mess this up for Lily.
Jack wants to know what is going on with her and that "atrocious boy". She reveals to Jack/John about the signed contract. She points her finger at Kyle saying he is trying to make her look like a liar as Jack wants to know what he signed contract is all about and she tells him about the contract that is set to protect Ashley from Jack.
Jack Stunned By Secret Contract
Kyle produces it, asking Jack to read it; Jack is completely stunned. Dina says this makes things right for Ashley, as Traci (Beth Maitland) has her writing and Jack's charm and ambition will make him rise and so will Jabot, causing Ashley to be left behind.
Dina apologizes for her actions and this document will make things better and more fair; long after they are both gone. She shouts for Kyle to stay away from the that document and tells Kyle to stop changing the issue as John is a hell of a lot sharper than he is. Jack admits he sees it with painful clarity and can see why Kyle was trying to bury it as Jabot would be bankrupt in a week if they honor it; Ashley arrives at Jabot.
Today on #YR, Nick gives Rey a warning, Phyllis reaches out to Jack, and Mariah finds herself in danger. WATCH FULL EPISODE: https://t.co/H1belHRw0a pic.twitter.com/UtR68q0Y6u

— Young and Restless (@YandR_CBS) October 22, 2018
Lily Surprises Devon And Cane With Her New Look
Devon and Cane are happy to see Lily, saying Neil had to work. She admits it was a little unnerving that he missed their last visit. They both comment on her makeup and she reveals she was looking up hacks in the library; Devon worries about the prison etiquette and how she is doing certain things to survive inside and not be a target.
Abby follows Ashley to Jabot, hoping they could talk. Meanwhile, Dina asks Jack for the contract to put it back in the safe. Jack pretends he is John, saying so much has changed, saying they can protect Ashley in another way, asking her to trust him and she agrees.
Jack Shreds The Document
He says for Ashley's sake they need to make sure this contract doesn't confuse anyone else. Abby and Ashley are getting into the elevator and Ashley is sure she hears a sound from the office but Abby doesn't hear it and they leave; Dina sobs as Jack shreds the document.
Abby is still in shock about what Ashley did to Jack, while Ashley can't fathom everything what Jack did to her. Ashley admits that she did this to make herself equal in the family again, and used her DNA to assert her and Abby's place in the family again. Abby would have told her to stop and would have helped her accomplish it another way because now she is worse off than she was before.
Dina is asleep at the Abbott home while Jack and Kyle talk about what they did; Jack feels the document was an act of love. Jack never thought he would be destroying the most important gift his father would give to his sister but Kyle feels John never would have made it if it meant the end of Jabot.
Jack feels Ashley would have never gone down this road if they had known about the document while John was still alive; they were interrupted by Traci. Kyle feels Jabot needs a new CEO, but Jack says they have time to reflect and repair and the last thing they need to do is make a decision in a rush. Jack leaves for a meeting at Dark Horse as Traci tells Kyle that doing what is right for Jabot is doing what's right for this family! Kyle says that is his chief focus.
Cane talks to Lily about an alternative beauty consultant, talking to the warden about playing salon. Lily really likes the idea, feeling they are thinking of her and now it reminds her of what is waiting for her when she gets out. Devon leaves, giving her and cane some alone time.
Ashley And Abby Try To Make Amends
Ashley talks about how angry and bitter she was towards Dina, and vowing she would never be like her. She can't bear the thought that Abby would feel that way towards Ashley, but Abby hopes they are able to fix this. Jack walks into GCAC and Abby encourages her to talk to him, saying they have made a promising start and pushes her to talk to Jack. Jack is more than willing to let her sit beside him at the bar.
Traci likes to see Kyle excited about Lola, saying he has a good heart and encourages him to go find her. As soon as he leaves the house, Dina emerges from the room, very upset. She says he is a liar and doesn't trust him, revealing that he was supposed to help her with Ashley but she doesn't think he did. She tells Traci it is family business but she can't share it with someone she doesn't know.
Dina Tells Traci All About The Shredder
Traci walks her to the living room and Dina tells her all about the document and how John redecorated the office and she showed "that boy" the document and they put it in the shredder. She frets that it is gone and now she doesn't know if Ashley will get anything. Dina picks up a picture and asks who the beautiful girl is, Traci says it is Ashley. She puts the picture down, saying it isn't and if Traci can't help her she will finds someone who can. Dina walks back to her room and Traci rushes off with her coat in hand.
Cane tells Lily to close her eyes, telling her to pick the place and he will paint the picture. She picks dinner at the Athletic Club. They have their romantic date, where she is in a beautiful dress she picked just for him and he feels like the luckiest man in the world. He tells her to hold on to this moment as no one can take it away. He says for her to hold onto this moment whenever she feels down, she needs to come back to this and keep it going, knowing wherever he is, his heart is there with her and they will make it a reality as soon as possible. The only thing making this more perfect is a kiss, which he is more than willing to oblige in the vision.
Traci Puts The Document Back Together
Ashley feels there is a little bit of hope as he offered her a seat; he doesn't want to hear her motivation as he feels he may have helped push her to that point and wants to set all of this aside and start new tonight. She would love to move as Jack thinks it would be a good thing if neither of them work at Jabot for a while, and she agrees it would be worth it. Meanwhile, at the Jabot CEO office, a startled Traci finds the shredder and pieces together the paper shocked at what she discovers.
The Young and the Restless airs weekdays on the CBS network. Check your local listings for times. In the meantime, drop us a line with your thoughts in our comments section below. And as always, don't forget to check back with Celebrating the Soaps for all the latest news, updates and spoilers on The Young and the Restless and all of your favorite daytime television shows right here!