The Young And The Restless Preview: Phyllis Strangled, Diane Caught 'Killing' Rival
The Young and the Restless spoilers for the week of March 27 reveal that a new promo clip has been released. At the gala, Phyllis Summers (Michelle Stafford) corners Diane Jenkins (Susan Walters) in an empty hotel suite. As Phyllis pushes Diane's buttons, a brawl ensues. However, Diane is caught red-handed strangling Phyllis.
Jeremy Stark's Scheme
Y&R spoilers for the week of March 27 reveal that Jeremy Stark (James Hyde) will continue working with Phyllis to take down Diane. Jeremy blames Diane for him being set up to take a criminal fall. Meanwhile, Diane and Phyllis have been at war for years, decades before the character's miraculous resurrection.
Even though Phyllis appears to have gone over the edge, she justifies working with Jeremy. Phyllis knows that Jeremy is a dangerous criminal. However, Phyllis feels that she has to risk everything – including her own life – to protect her loved ones from Diane.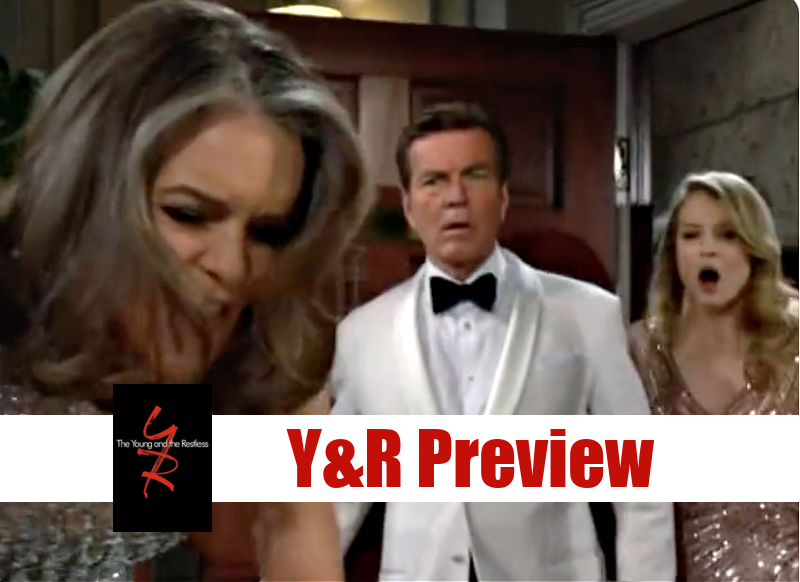 Y&R Spoilers: Diane Jenkins Cornered
It is teased that Phyllis approaches Diane at the gala, telling her that Kyle Abbott (Michael Mealor) has fallen ill. Phyllis explains to Diane that Summer Newman-Abbott (Allison Lanier) took Kyle to a hotel suite. Phyllis tries to get Diane to come with her to the hotel suite where Kyle is at.
At first, Diane is skeptical. So, Phyllis uses the "bad mother" strategy to get Diane in the hotel room. Once there, Diane realizes that she's been tricked. Then, Phyllis pushes all of Diane's buttons to get the reaction she needs… boiling-hot rage.
Y'all like catfights… right? #YR #YR50 pic.twitter.com/SN5oPKRiNI

— Michelle Stafford (@TheRealStafford) March 25, 2023
Phyllis Summers Strangled
The Young and the Restless spoilers for the week of March 27 reveal that the promo begins with Jack and Diane kissing. Then, there are multiple scenes featuring Phyllis and Diane's explosive confrontation. A punch is thrown, then Diane reaches for Phyllis' throat to strangle her.
As Phyllis lays on a piece of wooden furniture, most likely a desk or small table, Diane is on top of her. Diane is using every ounce of her strength to strangle Phyllis. However, the door opens and Diane is caught red-handed by Jack, Kyle and Summer.
The Young And The Restless Spoilers: Fake Murder?
This promo looks like Diane might go down for Phyllis' murder. However, chances are that Phyllis is very much alive. So, what happens next, and will Diane go down for a murder she didn't commit?
What do you think is going to happen after Diane is caught strangling Phyllis? Will this be a fake death scheme? If so, what will be the outcome? Share your thoughts and remember to keep watching the CBS soap to find out what happens next.
Be sure to catch up on everything happening with Y&R right now. Come back often for The Young and the Restless spoilers, news, and updates.